キッチンのお姫さま/Kitchen no Ohimesama 04
Kitchen Princess Volume 04 Manga Review

Kitchen Princess Volume 4 is now included in Kitchen Princess Omnibus Volume 2. It is out of print as an individual volume.
–> Purchase Kitchen Princess Omnibus Vol. 2 from RAKUTEN.COM (formerly BUY.COM)
–> Purchase Kitchen Princess Omnibus Vol. 2 from BARNES & NOBLE
–> Purchase Kitchen Princess Omnibus Vol. 2 from RIGHTSTUF!
*WILL CONTAIN MILD SPOILERS!*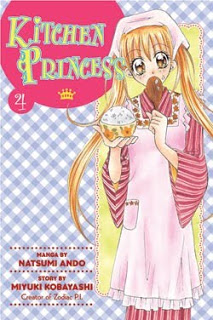 Thanks to Akane's telling Daichi that Najika didn't want his watch and thus gave it to Akane, Daichi is bothered greatly by this. Sora buys Najika a watch and upon his return from Paris, confesses to being Najika's Flan Prince. Akane attempts to move in on Daichi when Sora confronts him over his harsh words to Najika. It is then that Akane confesses to having stolen the watch because she didn't want Daichi to buy anything for Najika. As a result, Daichi goes and makes up with Najika.
Now that Sora has confessed to being Najika's Flan Prince, Najika has fallen completely for him. Meanwhile, Najika learns the truth about the watch and when she overhears Akane's excuse for why she suddenly is wearing a new watch, Najika confronts her which results in a fight. At the end of the fight, Akane confesses that she has feeling for Daichi and cries, leading her friends to show disdain for Akane. Najika defends Akane and the two go off to clean up and have a chat. The two make up and Najika tells Akane her feelings for Sora, gaining courage to confess her feelings to Sora.
Because the truth of what Akane did and her reactions, she is now being shunned by the other girls save for Najika. As a result, Akane begins to pay regular visits to the cafe that Najika works at. Meanwhile, Najika's entry into a competition has been accepted and Daichi's jealousy of his brother grows, leading him to kiss Najika as a means of congratulations.
In the story extra, Najika helps a female student named Komugi prepare a dish for her beloved Kazu. It turns out that Komugi is a ghost but thanks to Najika, Sora, and Daichi, she and Kazu are able to have one final meeting before she moves on.
Heh. I had a feeling that Najika and Akane would become friends. It just seemed like it was in the cards. What I didn't expect was for the two of them to have an actual fight. Najika is pretty timid in some regards so for her to end up dumping a bucket of water on Akane as payback for being sloshed with a beverage was unexpected but I liked it.
So, Sora is Najika's Flan Prince. Hmmm. Kobayashi-sensei isn't about to resolve the love triangle as revealed when Daichi kisses Najika at the end of the regular storyline. Obviously, Daichi likes Najika so it seems like that Daichi and Sora will have to fight about Najika. However, what chance does Daichi actually have if Sora is the Flan Prince?
The extra story with Komugi took up about a quarter of the manga, which surprised me. I'm not sure if the events that happened in this side-story are considered to have actually happened in the canon or not. If so, Kobayashi-sensei has introduced a supernatural element to the series, which is completely unexpected. If it is something akin to what CLAMP loves to do (have their characters in a "what if" story), then it doesn't matter.
On the Del Rey side, things are pretty standard. I like that terms like "Aniki" were left untranslated. The recipes for different dishes made in the manga are given (and I still haven't bothered to try to make any of them). There are a couple of pages of translator notes and a preview of the next volume.
As I've said before, this manga series is not something that I'll likely be rereading but I can't deny a certain charm in the manga. I'm pretty sure that when my niece is old enough, I'll give it to her and she'll love it. ^_^