ユーキューホルダー! Manga Review
UQ Holder Chapter 127
SPOILER Summary/Synopsis: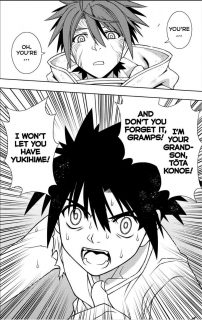 Seeing the panicked Karin, Kuroumaru asks whom the four people are who joined Cutlass, presuming the one in the center is Negi. Karin introduces them as the legendary class heroes whom were supposed to have died in the last war — the Magical Detective, Yue the All-Knowing; the Mind Reader, Nodoka the All-Perceiving; the Librarian of a Thousand Faces, Gravity Mage Albireo Imma (Ku:Nel Sanders); and the Man of a Thousand Blades and unstoppable mercenary swordsman, Jack Rakan. Karin can't believe these heroes would join the enemy and knows that they could easily defeat Yukihime.
Yukihime orders Touta to take the girls and flee since the six might be too powerful for her. Negi-MotB shifts back to Negi, where he embraces her, telling her he's missed her, but telling her he can't stop it any longer. As he explains that the cries of grief and other negativity follow him all over, MotB takes back over, telling "Evangeline-san" that she should come with them since she once wanted the same thing MotB does.
One of the Touta's pushes Negi-MotB back, warning him off Touta's woman. Negi-MotB seems to recognize Touta, so he introduces himself, saying he won't allow Negi to take Yukihime. This amuses Negi-MotB as two of the Touta's attack while one goes for Kirie. However, Nodoka, using wings and her artifact book, blocks Touta from kissing Kirie and stopping time while Jack uses his fist to block the attack from the two Touta's, after which he then butchers them.
Using her artifact, Yue obtains information about Touta, revealing that he was created as part of research on cloning Negi, and he was the only one of 72 experiments who inherited the powers of Negi and (his former partner) KAGURAZAKA Asuna, the Imperial Princess of Twilight, the White of Mars. Since Asuna is no longer around, Touta is the only one who can help them reform the world.
Thoughts/Review:
Funny how the UQ Holder stories that return to the Negima plot threads are the best UQ Holder stories.
To get things started, I found it interesting that Yue, Nodoka, Jack, and Al were supposed to have been killed in the war that happened. While it doesn't actually prove anything for sure, the fact that Yue and Nodoka (as well as Jack and Al, or so it appeared to me) have their original artifacts strongly suggests they are the real deal. Considering how MotB made Eva immortal, it is very possible that she made the girls immortal as well. Al and Jack, being creations of the Magic World, would be simple enough to keep alive and well over the years.
Still, I loved seeing Nodoka and Yue back, even if they are dark versions of themselves. This is where I wish that Mana, Ayaka, Chachamaru, and Zazie would show up and be horrified as well.
And where'd Nodoka get those wings? Never mind 'cause her lip blocking maneuver just had me laughing.
I didn't think there would be any action, but it is interesting that Negi-MotB, nor his crew, actually initiated combat. It was all started because of Touta. If he hadn't have attacked, there would have been no fight.
Jack may have brutally taken out two of the Touta's, but this appears to be the method that Akamatsu-sensei is using to combine the three. If you notice, there's a swirl that forms after Jack slaughters them, then there's a swirl over the remaining Touta's head, implying he's been combined and is now at full strength. I had thought that Honoka and Isana might have eventually come back into play to combine the three. I had also wondered if we might get the story following the three Touta's, but that's out now.
As to Negi, I'm unwilling to say that he's been completely taken over. It is possible that Negi hugging Eva there was him saying goodbye, but I just have a hard time believing that Negi is consumed. Otherwise, Touta's goal of saving Negi for Eva is over right now. If that's the case, then the manga is ending this year, and I don't believe that. (I did kid about that, but I don't believe it.)
The look on Eva's face when she's being held by Negi should be all anyone needs to know about whom Eva loves as a woman. That made MotB's resuming control of Negi even more heartbreaking. The moment is designed to have Eva fall into a pit of despair. Since MotB has to know Eva is her creation in addition to knowing Eva's past, I think this was a way to get Eva to fall.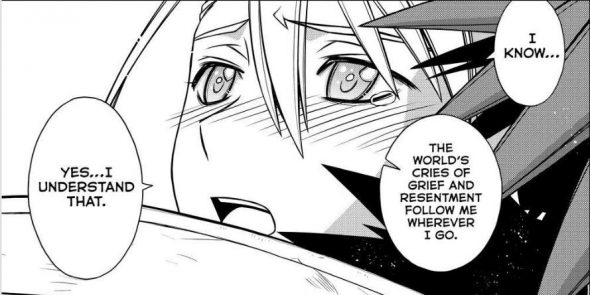 Touta does love Eva as a man, at least in the limited way his young mind works. So it was amusing to see him overcome his fear to challenge Negi, and to see his three selves work together try to defeat Negi.
With Touta being the key in Fate's plan and the key in MotB's plan (in lieu of Asuna), remind me again who was targeting Touta for destruction when UQ Holder started (three plus years ago in story time) and why he was being targeted for destruction? Ditto Cutlass — why was she targeting Touta for destruction back when she was first introduced to the story (one year ago in story time)?
In the end, UQ Holder chapter 127 was a good one, thanks to its strong Negima roots. I'm really looking forward to seeing where things go.