Negima! 231 SPOILER Images
魔法先生 ネギま!Chapter 231 (Images)
What you see are the original-sized, sneak-peek images for Mahou Sensei Negima! 231 as posted on a short-lived Japanese page (click pic to make bigger, y'all). I did a little cleanup since I had a bit of time after Japanese class. ^_^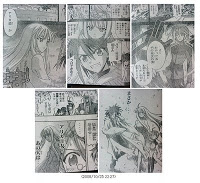 If there's a 2nd batch of images, I'll upload those as well.
I see Asuna and Arika in the image. People are abuzz that this has to be Negi's mom and maybe Asuna's sister. Their titles are different (as I pointed out here) so we'll see what happens.
The 2nd batch of images can be found here.
Originally posted at
astronerdboy.blogspot.com
. If you are now reading this on another blog, it has been scraped from
AstroNerdBoy's
blog. You are encouraged to shun this pirate blog and come by the real McCoy. ^_^