Melancholy of Haruhi-chan Suzumiya 01
涼宮ハルヒちゃんの憂鬱 Episode 01
Suzumiya Haruhi-chan no Yuutsu 01
SPOILER Summary/Synopsis:
Kyon has a strange dream where his school companions take on new forms. See the legal, subtitled video –> HERE.
Update (6-Aug-2015): The video no longer exists, of course.
Thoughts/Review:
The orgasms are already going on heavier than those lucky enough to own a copy of Rapelay before Amazon banned it are having. *_* But that's another blog entry (maybe).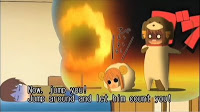 For me, there wasn't anything special, brilliant, great, superb, wonderful, outrageously funny, or even plain funny in this short. At best, I had a couple of smile moments at Haruhi-dog's crack of the whip so that Kyon could count sheep. The stuff about Itsuki being a representation of Mt. Fuji wasn't funny. I didn't laugh at Yuki being the eggplant. I didn't laugh at the crane (Tsuruya? I'm not versed enough with the characters to know for sure). I did note the McDonald's sponsorship of the anime though.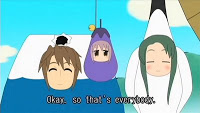 I am going to be in the very tiny minority here based on the copious amounts of male bodily fluids all over YouTube's servers, causing them to experience problems even as I write. That's fine. I've never seen the brilliance of this franchise and I never will. That said, I do give Kadokawa kudos for bringing the anime over with subtitles legally to the U.S. (even if they did drop the honorifics from the subtitles while leaving "chan" in the official English title).