Negima! 251 SPOILER Images
魔法先生 ネギま!Chapter 251 (Images)
Here's what I know many of you have been waiting for — the original-sized, sneak-peek images for Mahou Sensei Negima! 251 as brought to you buy anonymous Japanese fans (click pic to make bigger, y'all).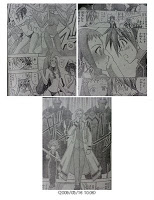 Looks like one of the old posters has returned with the small spoiler images rather than several full-sized ones. We may get some of those later today or not. Either way, I'll keep an eye open.
Additional: The 2nd batch of images can be found –> HERE!