Hagane no Renkinjutsushi – Fullmetal Alchemist Ep. 30
鋼の錬金術師 FULLMETAL ALCHEMIST Episode 30 review
Fullmetal Alchemist Brotherhood – 30
SPOILER Summary/Synopsis: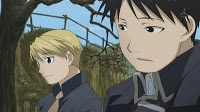 Riza is in the shower and thinking about when her father, Berthold Hawkeye (Roy Mustang's alchemy teacher) had passed away years earlier when Ed shows up for a visit. He returns her weapon to her, which she cleans as he talks about the events with Scar and not being able to kill the murderer of Winry's parents. Ed gets Riza to talk about the past, specifically the Ishval War, where she was a sniper. After a time, King Bradley ordered the extermination of the Ishval people and the military and State Alchemist were brought in to perform that task.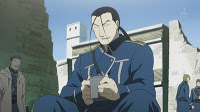 During the fighting, Roy and Riza are reunited and Roy and Hughes are also reunited. The three discuss the terrible things they are doing and are confronted by Major Zolf J. Kimbley, the Crimson Alchemist. He is polite but questions the trio on their reasons for joining the military since the military's purpose is to kill the enemies of the state. The slaughter of Ishvalian people continues even after the Ishval religious leader Rog Ro attempted to give his life in exchange for those surviving. King Bradley refuses the offer.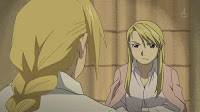 Eventually the war ended and with that, Roy Mustang gets Riza assigned to him as his personal aide. Her assignment is to watch his back, but it also carries the responsibility of killing him should Mustang stray from the path. Riza then tells Ed that the country needs to be restored but to do that, the military leadership will have to be removed as well as the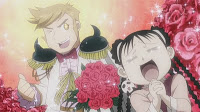 puppet legislature. She also reasons that with a new leadership, those responsible for the war crimes in the Ishval War will have to be brought to justice. Ed realizes to his horror that this would mean not only Riza, but Roy as well. In the meantime, Riza tells Ed to carry out his quest to make his and Al's bodies whole.
Al is leaving Dr. Knox's place and is thanked by Mei Chan for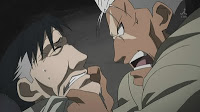 saving her. Hearing that Al is Eric's brother, she's initially afraid of what that will mean but hearing Al defend himself, Mei Chan has a new vision of what Al's restored body will look like and he becomes "Alphonse-sama" to her.
Back underground, Scar gets Dr. Marcoh to talk. Scar learns that Dr. Marcoh participated in the execution of Ishvalians in order to obtain a Philosopher Stone. That stone was taken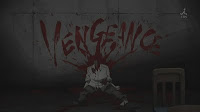 by Major Kimbley, who used it to apparently increase his alchemy power. It was Kimbley who killed Scar's family.
Sometime later, Envy comes in with food for Dr. Marcoh. Initially, Envy thinks Marcoh's silence is due to him feeling guilty about his actions during the Ishval War but soon, Envy realizes that Dr. Marcoh isn't speaking for a reason — the body of Dr. Marcoh is sitting in a pool of blood on the floor with its back to the wall. The body has no head and in blood is written (in English) "Vengeance" over the body.
Thoughts/Review: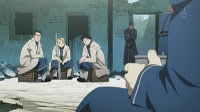 Yowza! So, Scar kills Dr. Marcoh and even removes the man's head. Nasty but understandable considering how the Ishval story is now told.
I'm glad time has been taken to expound upon the Ishval War story. What is both amazing and horrifying to me is how so many of the characters we know and love have so much blood on their hands. Further, they all felt that what they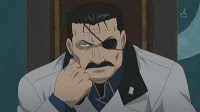 were doing was wrong, but at the same time, they followed their orders and slaughtered the Ishval people without mercy. No wonder Armstrong fled back then. I suppose that their actions are what drives Mustang to want to eventually take control of the government and why people like Hughes and Riza supported him from the start. They were all seeking a form of atonement for their actions during the war.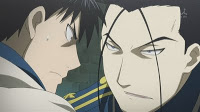 Speaking of the war, I remember Kimbley from the first anime series, but he seems somewhat different here. He seemed classically insane in the first anime series (at least, that's my memory) whereas here, Kimbley comes across as polite and reasoned but is in reality no less insane. I find this version of Kimbley to be the most frightful.
I noticed at least two alchemist that Scar killed later on during the flashback sequence — Basque Gran and Giolio Comanche.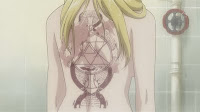 Riza is a much more interesting character now because of her story but also because she was apparently used in her father's alchemy experiments. I'm assuming that's what the tattoo on her back was about. The fact that the giant tattoo was partially destroyed in one area must mean that Berthold Hawkeye got a conscience and decided not to harm his daughter to pursue alchemy. Still, I get sick to my stomach thinking about the abuse Riza's father stated on his daughter by placing the tattoo there at all (well, to be fair, I'm assuming this is what happened but if I'm wrong, you guys correct me).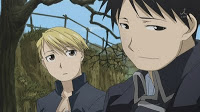 I liked how Riza and Roy are shown to have been close from even before they were in the military. I hope that when the series ends, Riza and Roy can find happiness together as a husband and wife.
Speaking of romances, looks like the path has been set for Al and Mei Chan to become a couple once Al gets his body back. Also, Ed is confronted with his feelings for Winry, which I found to be amusing especially when Black Hayate reacted the same way Ed did when Riza mentioned Ed being in love with Winry. *lol*