魔法先生 ネギま!Volume 30 Chapter 271 (manga)
Mahou Sensei Negima! Manga Chapter 271
Negima! Manga Vol 30 Ch 271 Review
SPOILER Summary/Synopsis: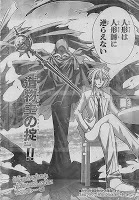 Fate's and Jack Rakan's fight appears to be coming to an end with Jack on top when Fate summons a staff in the shape of a key with a world globe at one end. The two wage an all-out war as Shirabe, Homura, Koyomi and Tamaki watch. Rakan breaks the key and with incredible power appears to obliterate Fate much to the girl's dismay.
Before Jack can enjoy his win too much, the scene of the pocket dimension where their fight took place changes to a large field. To Jack's shock, Fate is completely uninjured in a nearby gazebo and is drinking coffee, his staff again unbroken and behind him. Fate's girls are also stunned by this as Jack now has an uneasy feeling. Fate says this place hasn't been around for forty years, going back to when Jack first became a gladiator. Jack grabs Fate but suddenly finds himself seated with a hot beverage in hand and dressed in nice clothing.
As Jack tries to comprehend what is going on (as do Fate's girls), Fate tells Jack that he can't allow Jack to get in the way of his mission. Since Fate needs Jack's power to end the world, he tells Rakan that like himself, Jack is also a puppet and cannot defy the puppet master as one who looks like the Mage of the Beginning appears.
Thoughts/Review: I've long believed that Fate is a spinoff of the Spider-Zero character from A.I. Love You. Spider-Zero is the combination of Program Zero, an early A.I. program, and the Spider virus which then becomes an artificial construct who's able to have physical form and power in the real world. His mission is to destroy all data, computers, and networks. He excels when it comes to the Cyber World where he turns some of the other program characters into stone.
Whether Fate is a direct descendant of Spider-Zero or not, I believe Fate is an artificial construct of an A.I. program that has been advanced greatly with each new version. Based on what was said in this chapter, I wonder if Fate pulled himself and Jack into a cyberspace realm. That would account for the change of scenery and the key-staff seems insures that Fate cannot be destroyed (because it recreates him based on his core A.I. program, which runs undamaged). Fate then is a combination of technology and magic.
What made this chapter interesting is Jack's reactions to everything that happened. Further, Fate states that Jack is also a puppet like he is, suggesting that Jack may also be an artificial construct. Even if they were in cyberspace, there should be no way that Jack could be "reset" as he was. That also suggests Jack is an artificial construct who did not know he was such. Even if Jack is not an artificial construct, everything here suggests that Jack is a pawn of the Lifemaker.
This leads me to question the strategy of Cosmo Entelecheia. If Jack was theirs to control (no matter how), then why did they allow Jack to stay with Ala Rubra and defeat Cosmo Entelecheia? Why not have him destroy Ala Rubra and then lend his power to the destruction of the Magic World? Of course, this may all be moot as Jack may not be an artificial being but Fate's "puppet" remarks may simply mean that Jack is a slave to an ideal. That still doesn't explain how Jack was "reset" though.
And speaking of puppets and the Puppet Master (Lifemaker), I wonder if there is a connection to Eva, who is the Doll Master. That may be a big stretch but since the real Eva has been brought into the story on Earth, there could be a connection. Eva certainly did something to warrant that large bounty on her head and I don't think just being a shinso vampire and the "High Daylight Walker" would qualify.
So for now, things don't make a great deal of sense but I'm hoping that we get some answers soon.
As to the Lifemaker's appearance at the end of the chapter, there has been speculation both in and out of Japan that this will turn out to be Asuna in disguise. It is an interesting idea but then I remember people thinking that Arika might be the Lifemaker at some point. Heck, wouldn't that be a hoot if it were Arika? Better yet, why not Anya? *lol*
It may be the real Lifemaker and Asuna may not be around. If it is Asuna, then I'd say that Asuna was possessed, but Asuna may have been used to unseal the Lifemaker, who apparently wasn't killed when Nagi fought this Mage of the Beginning.
No Negima! next week (which is why there are no spoiler images yet), so Negima! 272 will come out in Japan on December 2. If December is like last year, it will be a dry month for us fans. ^_^;;;