夏のあらし!春夏冬中 Episode 08 Review
Summer Storm! Open for Business Ep. 08
Natsu no Arashi! Akinai-chuu – 08
SPOILER Summary/Synopsis: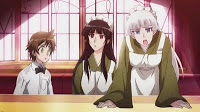 It is hot and getting hotter as Arashi begins to accurately state the temperature inside the cafe without looking at a thermometer. Kaja sees the dangers awaiting and a trip to the past is taken to try to find the remote control for the air conditioner. While a dizzying array of remotes are brought back, most with nothing more than gag effects, none are the remote for the A/C. Kaja explains that since Arashi was trained from birth to not complain, she will not complain about the heat but will instead sing a summer song followed by disaster.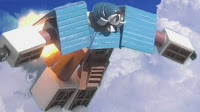 Since one of the remotes opens an underground passage, the group heads down there into a cave. However, while it is a bit cooler down there, steam from hot water pipes or even an onsen raises the temperature and when Hajime complains about the heat, Arashi grabs him with an "Iron Claw." Kaja tells a weak joke that cools Arashi off a bit to release Hajime and the group heads back where Murata produces the remote. Hajime turns on the A/C and Arashi is happy but even still, Hakobune transforms into a mecha, flies off, and explodes with Arashi singing that same summer song.
Thoughts/Review: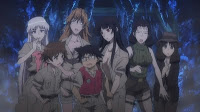 What the…?!
What a completely bizarre, whacked out episode. I guess the people at SHAFT were high on something when they came up with this episode. Not only is it not funny, it was just dumb. However, when you are high, dumb things are incredibly funny. That's the only thing that can explain this episode — too many drugs being used.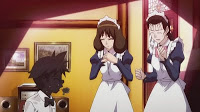 Also, since SHAFT loves fanservice, why not have Arashi's shirt blow open and she can keep it unbuttoned but just covering her breast for the trip back. Yeah, that's quality anime right there, y'all.
I will admit that the first remote used causing the glass door of the fridge to open was mildly amusing to me but that's only because I didn't expect it. However, once that door opened (literally and figuratively), it was clear that none of the other remotes would do squat other than some sort of stupid gag, including blowing up in one's face.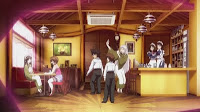 SHAFT still goes for its normal "I heard a story" and "there was an order but I forgot what it was" jokes that make me roll my eyes.
In the end, this is the ultimate filler episode as it is a complete waste of time, unfunny, stupid, boring, and makes no sense whatsoever. Ugh. SHAFT at its worst.