Hagane no Renkinjutsushi – Fullmetal Alchemist Ep. 41
鋼の錬金術師 FULLMETAL ALCHEMIST Episode 41 review
Fullmetal Alchemist Brotherhood – 41

SPOILER Summary/Synopsis: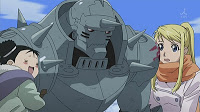 Winry, Marcoh, Scar, Yoki, Zampano, Jerso, Mei Chan, and Xiao Mei continue their way through the mines, taking the time during breaks to discuss Scar's brother's research. Making their way through, they encounter Al, who warns them of the dangers in Briggs. As such, Scar decides to lead them to the town of Asbec, which has a Ishval refugee slum there. During the trip, Al collapses as his soul once again attempts to leave the armor it is attached to.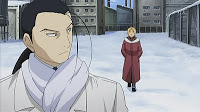 Back in Baschool, Ed objects to Major Miles plan to kill Kimblee and Kimblee's men as Kimblee decides to have his men search the town's mine shaft. Ed attempts to talk Kimblee into letting the Briggs soldiers search, leading Kimblee to reveal that he already knows he's the target of snipers. Ed battles Kimblee, who's aided by his two soldiers, who are also chimera. Ed manages to separate Kimblee from the larger philosopher's stone but doesn't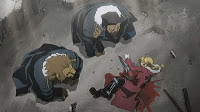 realize Kimblee has a second one. Kimblee defeats Ed and escapes, severely injuring him and the two chimera. Ed uses alchemy to free the chimera from the rubble and they remove the beam from Ed's body, at which point he uses alchemy to seal the wound before passing out. The two chimera are not happy at having been discarded by Kimblee and take Ed out to find a doctor.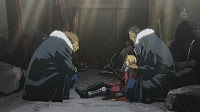 OUCH!
I got to tell you, BONES didn't really pull any punches when it came to the scene with Ed's being impaled. Wow. I felt they managed to capture the pain and sense of near loss of consciousness quite well with Ed's major injury. In any animated or drawn form of storytelling, there's usually a sense of separation from reality no matter how dramatic a scene is, even if there's a death. From time-to-time, an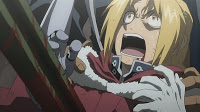 anime production teams brings the power of emotion through and provokes an emotional reaction from the audience. So even though this was an anime, I couldn't help but cringe as the two chimera soldiers pulled out the beam from Ed. It was brutal, bloody and felt very real. It is a moment like this that places Fullmetal Alchemist: Brotherhood above your traditional shounen anime.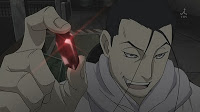 It was not unexpected that the ever crafty Kimblee sensed the Briggs soldiers were keen on killing him, nor that he apparently never completely bought the Scar kidnapping of Winry. I couldn't get a sense of how long the blizzard lasted, but with Winry and company having made it through the mountains, they have a huge head start on Kimblee. So I don't expect he'd catch them before they reach Asbec unless Al slows them down terribly.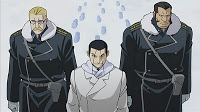 The two chimera (Darius and Heinkel; I had to look the names up because I don't think they've been mention and I needed names) with Kimblee ended up switching sides but only because Kimblee nearly killed them and Ed saved them. I suppose this means that Zampano and Jerso legitimately switched sides too. I'd been suspicious of Zampano and Jerso changing sides before, but after this episode, I'm going to say that they are for real. The question for me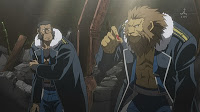 then becomes, "After Darius and Heinkel get Ed to a doctor, are they going to stick around?" If the subject of getting their original bodies comes up, I'll say an easy "yes" but otherwise, I really couldn't say. It would be more dangerous for them personally if they didn't go into hiding since they'd be AWOL. We'll see what happens. After all, they have Kimblee's other philosopher's stone.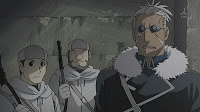 Speaking of Ed, I really liked the frank conversation between himself and Miles over the idea of killing Kimblee, Darius, and Heinkel. In a strange way, both Miles and Ed were proven right and wrong about things. Had Miles been able to take out Kimblee, Darius, and Heinkel, that would obviously save a lot of grief in the future. One doesn't leave an enemy to live lest that enemy come back to get you in the end. On the other hand, since Miles wasn't able to take them out, Darius and Heinkel ended up saving Ed's life, showing Ed was right about them to a degree. I say Miles was more correct in this situation but that's neither here nor there.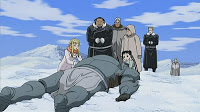 I don't know if it means anything, but Al's latest episode where his soul was being summoned out of his armor was shown to happen about the time Ed got impaled by the metal beam. I found the timing interesting considering their joint trip to the Door of Truth but I'm not sure if I should read more into this or not.
It was weird that the guy pretending to be Al just disappeared from the episode. I know the point of showing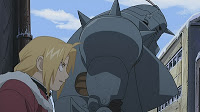 him was to show how Ed covered for Al's having gone after Winry and company. However, I couldn't help but notice how he just disappeared from the episode.
Interesting that Hohenheim turns out to be the person (Philosopher of the West) who taught the people of Xing alchemy (well, it is HEAVILY implied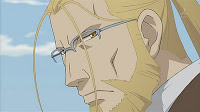 that he is, so I'm assuming this to be the case). However, it is strange that they use alkahestry and the people of Amestris use alchemy. I say this because if Hohenheim taught the people of Xing alkahestry, then surely Father-Homunculus taught the people of Amestris alchemy (the Philosopher of the East). One would think that alchemy is alchemy and that what Hohenheim knew, Father would know. Apparently not since Father could not control Mei Chan's nor Scar's abilities and indeed seemed surprised by them.
So as usual, another good episode here. ^_^