鋼の錬金術師 OVA シンプレな人々
Fullmetal Alchemist OVA (02): Simple na Hitobito
Fullmetal Alchemist OVA – Simple People
SPOILER Summary/Synopsis: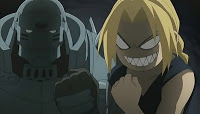 Winry receives a visit from Riza on the day Roy pays Ed a visit to become a State Alchemist. Sometime later, Ed and Al buy Winry some earrings as a peace offering since Ed has already messed up her automail arm so soon. She's happy to receive them so later on when Ed again breaks his arm, he buys another set so as to appease her wrath. When Ed asks why she started wearing them, she cites Riza's visit and the earrings Riza wore. Both Ed and Al don't see the point and take a beating as a result. They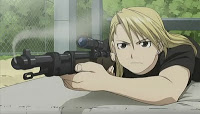 notice that Riza is piercing her ears more to accommodate her new gift, which sets Ed off as he doesn't see the point in that.
Meanwhile, Riza's hair is getting longer and when asked, she says a girl (Winry) influenced her since the girl had long hair and Riza liked it. With that, Riza heads to the firing range for some target practice with her hair down.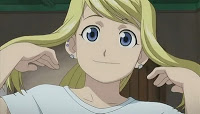 Unlike the somber first OVA episode, this second episode was rather lighthearted in nature, showing us how Riza started wearing long hair and how Winry started wearing earrings. I liked how both girls reflect on how something so simple influenced them. Winry didn't wear earrings until she saw Riza wear them. To be honest, I never noticed if Riza wore them or not. I knew Winry did as it is like a trademark for her character though I've never paid attention if she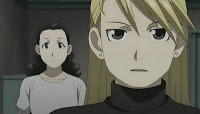 wears them in flashback sequences when she was younger.
As for Riza, it is a similar thing, only with her hair. We rarely see Riza with her hair down, which is a more relaxed feel for her character.
While the current TV series still inject humor at times, it is rather nice to have an episode mostly devoted to comedy. Gone is the darkness of the homunculi plan along with the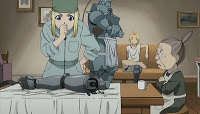 death and destruction it brings. While I certainly have no objections to the dark story, I found this episode to be a breath of different air that made me smile, both on a humor front, and on an "aw" front. I hope FUNimation licenses it.