魔法先生 ネギま!Volume 31 Chapter 278 (manga)
Mahou Sensei Negima! Manga Chapter 278
Negima! Manga Vol 31 Ch 278 Review
SPOILER Summary/Synopsis: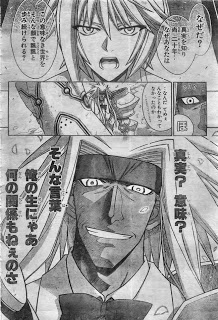 As Negi and Ku talk, Negi notices Chisame reading Nodoka's artifact diary. Chisame doesn't like what she has read and passes he book to Negi, who's shocked at what he reads.
Jack arrives unexpectedly, smoldering and with flakes coming off of him. Negi notes Jack's presence feels weak as Fate arrives, wondering if their arrival at Negi's location was Jack's doing. All of Jack's massive attacks have no effect on Fate as he holds the key-staff. Fate counters with an attack that hits Jack in the arm, dissolving it. Fate mentions that the difference in their power levels is like a deity to a mortal or an ant to an elephant. Fate wonders why Jack struggles against the truth, especially after Jack produces a weapon — Imperial Type-97 Battering Ram Form Magical Armour.
Fate goes to take Jack out but Jack gets behind Fate. Fate again moves to counter this but Jack stays behind Fate and lands an attack, nailing Fate to the ground. Despite being down, Fate says that this is meaningless as Jack is still a goner. Jack tells Fate he should enjoy things more and slams Fate again. However, Jack begins to dissolve into flakes and sees he's nearly done. He apologizes to Negi for leaving him a mess. As the "planted" Fate observes, Jack completely dissolves as Nagi screams "Rakan-san."
Thoughts/Review: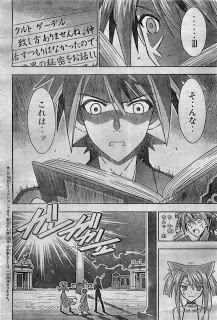 The Jack Rakan chapter finally comes.
As most of us expected, Jack has "died." As I've said, I think he and all the other members of the Magic World will return by the time the arc ends. However, Jack did have to get a chapter to go out with a bang. Having established how great Jack's powers were, Akamatsu-sensei does a good job of showing how futile that power is against Fate with the key-staff. It is interesting that Jack's artifact power was useless against Fate, but the "Imperial Type-97 Battering Ram Form Magical Armour" worked along with Jack's impressive skills. Why did this artifact work? Surely, it isn't part of his artifact is it?
While Fate was put down, he wasn't eliminated and likely will simply reset himself to an undamaged state. Now that Negi knows the final secret of the Magic World, I expect that Fate's and Negi's next conversation will be about that.
No doubt, the various key-staffs are being powered by Asuna's magic cancel ability. So why is this Imperial Type-97 Battering Ram Form Magical Armour able to plant Fate and then blast him? Could it be a non-illusion item?
Fate implied that Jack has known the truth for twenty years. I'm guessing that was about the time Jack lost his arms.
With Chisame, again I was thinking about how far she has come as a character. Knowing now that the Magic World is nothing but a mere illusion laid over the surface of Mars and combining that with the current events, I couldn't help but think of how Chisame used to rail against the mere concept of a "fantasy world." Now, her words end up being even more true than she realized as the Magic World is truly a world of fantasy — pure illusion. Yet she too has formed a connection with this "fantasy world" and the truth of things has affected her as well. It is character moments like that which adds spice to this manga.
Not a whole lot else to say since much of the chapter is dedicated to the fight between Fate and Jack. I do look forward to seeing what Negi does next.