エンジェルビーツ Episode 13 (final episode)
Angel Beats! – 13 (finale)
SPOILER Summary/Synopsis: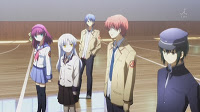 It has been three days since Yuri learned the truth of this world and awakes to find Kanade, Otonashi, Naoi, and Hinata looking at her. They've been waiting on her and know she's made peace with her past. There are no others in the world and they are there to make sure Yuri gets free. To that end, Kanade wants to have a graduation ceremony and they do, after which Naoi, Yuri, then Hinata say their goodbyes and vanish. Otonashi confesses to Kanade, who lets him know she has his donated heart. She will vanish if he says he loves her again and though he doesn't want to lose her, he gives her release by confessing a second time. Apparently, both are reincarnated and encounter each other outside a Japanese store.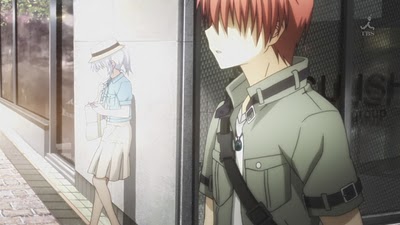 Thoughts/Review: I plan on eventually reading what other bloggers end up saying about this episode and series because frankly, it defied any sense of predictability. For now, I'll stick to the episode.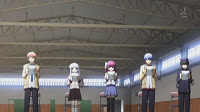 To be honest, the whole graduation stuff bored the crap out of me. Maybe if I had been younger, it might have had an impact on me, but high school graduation was ages ago and while I'm still in contact with many of my former compadres, high school is not something I'd ever want to go through again. When I left high school for the last time, there was a sense of sadness because that thing which had played such a large role in my life was over but there was also a sense of relief at never having to come back to high school again.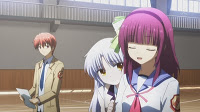 Moving on to the "moving on" bit, the flippant, "everyone but us have moved on" was rather "meh" (I'll talk more of this in my final review). Granted, there was no time to have the main members of SSS there beyond Hinata, Otonashi, and Yuri there (with Kanade and Naoi along for the ride), but things were just not there impact-wise So after being bored, the goodbyes to see Yuri, Hinata, and Naoi off didn't affect me and all seemed anti-climactic, especially Yuri's.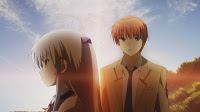 Then there was the final bit between Otonashi and Kanade, whereby he confesses his love for her (man, those early predictions of Yuri and Otonashi being the couple are such a laugh now). Then we find out that she's there because she had received his heart and even though she apparently died, she wanted to thank the person who'd given her the chance to live.
What?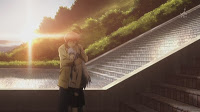 OK, so he dies but before he kicks the bucket, he signs an organ donor card. Then, his soul somehow wonders into this afterlife way station, set in some Japanese town and centering around a large high school. After he dies but before his soul arrives, his heart is transplanted to Kanade, who apparently lives for a bit then dies? Because she wanted to thank the donor for her additional life, she got sent to this way station and then for quite some time, she worked on becoming a perfect student, developed defensive weapons to fight the SSS, and then when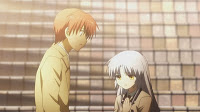 Otonashi arrived, she discovered the person whom she wanted to thank, but couldn't bring herself to do it for a long time, even after Otonashi regained his memories.
Sorry, this is plot hole city. For starters, how does Kanade die and have her soul arrive before Otonashi's when she had Otonashi's heart? It makes no sense.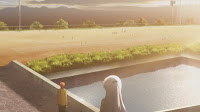 Another thing that made no sense is the sudden emptiness of the school. Seriously, where were all the NPC's? I know that Takamatsu supposedly turned from being an NPC back to being a person and moving on (how convenient), but where were all the other NPC's? Oh, they must of time-shifted to the end of the episode so that Otonashi could have them as a reference when he had his last conversation with Kanade.
Finally, there's the ending whereby we are apparently shown a reincarnated Kanade and a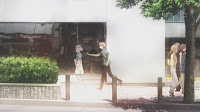 reincarnated Otonashi encountering each other. I remember that this idea of Yui having a life with Hinata despite her injuries had great impact. I found that Kanade and Otonashi finding each other in a new life didn't even though it was clearly supposed to impact me. Oh well.
I'm told that there will be a DVD-only episode (OVA) released with the final disc in Japan. If I get a chance, I'll watch that but for now, I'll work on a final review of the series.