Hagane no Renkinjutsushi – Fullmetal Alchemist Ep. 63
鋼の錬金術師 FULLMETAL ALCHEMIST Episode 63 review
Fullmetal Alchemist Brotherhood – 63
SPOILER Summary/Synopsis: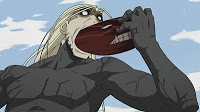 Ed beats Father with his bare fist, leaving the homunculus wondering why a mere human alchemist is able to do this. Despite the beating, Father still has enough life to charge at Greed to take his philosopher's stone. Greed decides to sacrifice himself to save Ling. Ling doesn't want this since he needs Greed to become Emperor of Xing, but Greed informs him that Lan Fan has a philosopher's stone. With that, Greed enters Father's body and turns it into charcoal. Father extracts Greed and kills him after which Ed punches Father in the chest and kills him by releasing all the souls.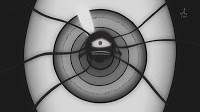 Father, now in his original Homunculus form, finds himself before Truth. Homunculus demands to know why he was unable to obtain "god" and is reminded of what Truth is by his own words. Truth scoffs at the notion that Homunculus could obtain perfection by simply extracting the seven deadly sins from his persona. Homunculus pleads that he was obtaining perfection but again, Truth scoffs at this because Homunculus went about it the wrong way and did not believe. As such, Truth opens the Door and Homunculus pleads to not be returned there. His pleas fall on deaf ears.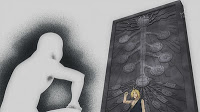 Al is "dead" and Ed assures Mei she did nothing wrong. Ed ponders what to do when Hohenheim offers what is left of his life in exchange for Al. Ed tearfully and angrily rejects this as he attempts to figure out how to get Ed restored. Because he and Al promised not to use a philosopher stone to get their bodies back, Ed refuses Ling's offer of said stone. Ed then has an idea and scratches out a human transmutation circle. After activating it, he encounters Truth who wonders what Ed will sacrifice for Al. Ed says he'll sacrifice his own Door of Truth and thus give up alchemy. Truth questions him on this but Ed is resolute, saying that without his power, he'll still be human and he'll have his comrades. This is the correct answer and Truth gives Ed Al's body and a way out.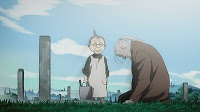 Al is returned to life in his real body and he and Ed are taken to the hospital after taking the embryo form of Pride to Bradley's wife. Alex thanks Hohenheim for the work Ed and Al did and Hohenheim thanks Alex for his kind words. As the radio announces the death of Bradley as well as the arrest of certain military generals, Hohenheim returns to Resembool to say goodbye to Trisha before he too dies. Pinako comes out and finds Hohenheim, seeing that he died with a smile on his face.
Thoughts/Review: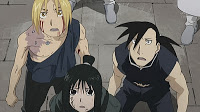 I figured that Greed would have to be taken care of since the story had been about defeating each of the seven sin-named homunculi as well as Father. Having Greed sacrifice himself is the only way that Ling could be saved, though I admit that of all the homunculi resolutions, this one is the 2nd-least satisfying, mainly because pure greed can never have enough and never settle for a lesser place. Yet that's what Greed did. However, he had to be removed from the table and so I'll let that pass.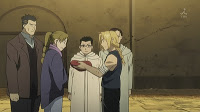 Speaking of homunculi, there's Pride. I stated that the story seemed very keen on removing all the homunculi from the table, yet Pride is still alive. Granted, he's only an embryo of sorts at this point, but he's still a homunculus. He's not dead but has instead been given to Bradley's wife, whom I suppose has been told the truth. So now what with him? It seems rather dangerous to leave him alive.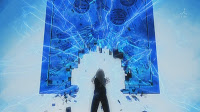 So, Ed sacrifices his ability to perform alchemy in order to restore Al. Considering how powerful Ed was as an alchemist, that did seem a sacrifice large enough to bring back Al in my mind. With the final episode still on the horizon, I wonder what Ed will do now beyond hooking up with Winry.
As to Al, I wonder if he'll wind up being with Mei Chan (assuming the anime does any "this is what happens in the future" stuff).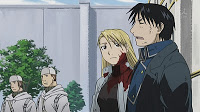 Which reminds me, there's the unresolved plot point with Mei Chan and Ling and what happens with them upon their return to Xing. There's also the issue of Scar that has to be resolved. I also want to see what happens with Roy, Riza, and Olivier. We'll see what the final episode covers.
I liked that Hohenheim returned to say a final goodbye to Trisha before dying himself. It was a nice touch, especially after Ed had basically forgiven him.
So, an interesting episode with things rapidly winding down. I'm looking forward to the final episode.