エンジェルビーツ
Angel Beats! Another Epilogue
SPOILER Summary/Synopsis: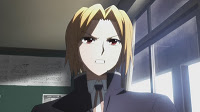 It is exam time in the classroom and as the students take the test, one male student suddenly realizes that this life he's in is a lie as he had died.  As such, the test doesn't matter.  He asks if he can get to heaven with good grades.
His outburst brings the Student Council President, Otonashi, to the classroom where he challenges the "awakened" student to do what he needs to do.  The student says he wants to challenge Otonashi, so Otonashi leaves, telling the student to stop by at any time.  Otonashi returns to the Student Council room to wait.
Thoughts/Review: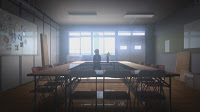 Is Key planning to do a sequel to Angel Beats!?  I ask because the way this new epilogue to episode 13 goes, it seems to be setting the stage for another series, this time with Otonashi playing the role of Tenshi. That could be interesting but to be honest, I'm not sure I could work up enough enthusiasm to return to this world with a whole new set of characters.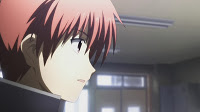 Regardless, seeing Otonashi alone for who knows how long after Tenshi and the others departed was something that the original ending didn't mention (obviously).  Otonashi was shown to be the last one there but then was shown to apparently be reborn along with Tenshi.  So apparently, Otonashi lived for however long to help kids move on before he eventually moved on.  Hmmmm.
Well, it was interesting to see this epilogue, whether a sequel comes from it or not.