Haiyoru! Nyaruani: Remember My Love (Craft-sensei) episode 09
這いよる!ニャルアニ リメンバー・マイ・ラブ(クラフト先生)
SPOILER Summary/Synopsis
Mihiro finds himself literally within the confines of an RPG.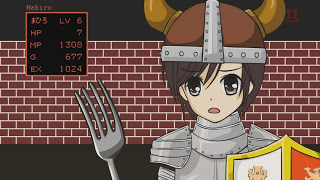 That's because an hour earlier, Nyarlko asked him to play an RPG that Atoko had picked up, which Atako calls a Virtual Reality game.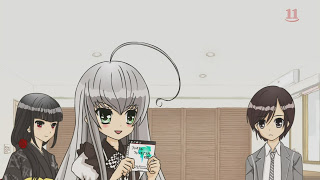 So he agrees to play and now he's just about out of hit points in the game but has a ton of magic points which he doesn't know how to use.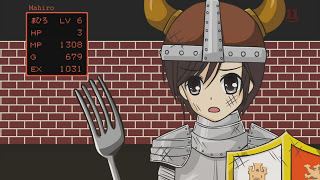 He then encounters a monster who asks if he wants power.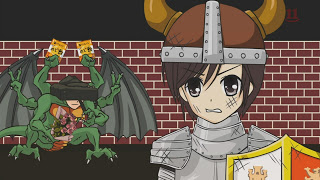 He does and receives a flask that boinks him on the head as it falls.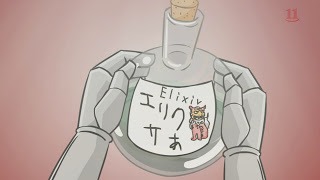 He's not pleased about it and vows never to play an RPG with them again.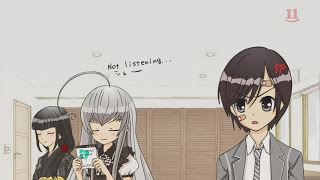 Fourteen days until the cuboid comes to Earth.
Thoughts/Review
Well, it wasn't funny but as a long-time player of RPG's, going back to the days of Rogue (which I still play to this day on occasion — good thing that this old color, ASCII graphic game doesn't require an install), I did appreciate this little parody about playing RPG games. Man, how many "pure," fantasy, computer RPG's have I played in my life?  A ton to be sure with games like NetHack, Bard's Tale, Ultima I – IV (with Ultima III being the first multi-character RPG), Pool of Radiance (the first D&D computer RPG), the various Might and Magic titles, Dungeon Siege (and DSII), and more that I can't remember.  I think the last one I bought was Elder Scrolls IV: Oblivion and I never finished it for some reason.  I just don't have the time for games any more. 🙁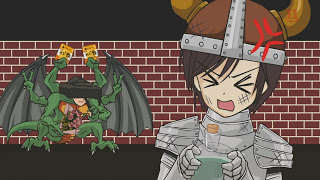 I believe the game the girls had was a Final Fantasy game (or parody thereof).  Never played those.
So, an OK parody for what it was worth.