うる星やつら episode 159 (TV anime)
Urusei Yatsura Ep. 159 review

SPOILER Summary/Synopsis: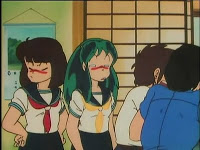 After much flair, Fujinami announces to Ryuunosuke that he has finally saved up enough money for them to build their dream hamajaya — a real beach teashop called "Umi ga Suki" (I Love the Ocean).  Shinobu, Lum, Shuutaro, and Ataru join the pair down in at the pair's home in the school and mention that it is too early to build a shop at local beaches, so they'll have to go south, where Ataru notes that the girls go topless. Ryuunosuke and Fujinami head south where Ryuunosuke finds they are incurring quite a bit more expenses thanks to her father. Eventually, they end up on a cargo ship in the cargo hold with the pigs it is carrying.  Shinobu, Lum, Shuutaro, and Ataru decide to take a trip south themselves to look for the pair. Eventually, they find the shack of a teashop in a well off the beaten track location.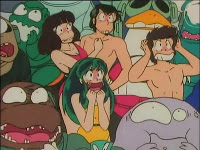 After eating their fill but having no money, Fujinami eventually agrees to let them round up customers. Lum and Shinobu round up guys who immediately realize they've been tricked when they arrive at the shop. Shuutaro and Ataru think they can gather girls but fail as Ryuunosuke has better luck and attracts lots of girls when she beats the pair. Meanwhile, Lum and Shinobu are furious at how Fujinami is treating the male customers until he reminds them that they ate up all his food. Shinobu decides she's waitress while Lum gathers more customers. With the negative word about the hanajaya spreading, Lum invites her alien friends over, which then frightens off the human female customers. A storm causes all of the alien ships to crash into the teashop, destroying it but it doesn't destroy Ryuunosuke's love of the sea.
Thoughts/Review: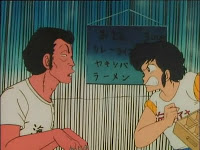 Well, it seems only fitting that after the tedious Kitsune episode that we'd have one devoted to the annoying Fujinami. *_*  I gather the production team knew they didn't have much of an episode so they front-loaded it with topless female fanservice during Ataru's fantasy about southern Japanese beaches.
Pretty much, things go as expected. Fujinami refuses to acknowledge Ryuunosuke as a girl. Ryuunosuke attracts tons of girls while Ataru and Shuutaro attracted none.  Lum gets jealous as does Shinobu. The hanajaya is a crummy place rather than something decent. Fujinami is going to frighten off the customers. The only unexpected element was Lum bringing down her alien friends but who cares about that?
Sadly, this is another "meh" episode of the series. I really wonder if this series could make it today with stories like this.