魔法先生 ネギま!Volume 35 Chapter 324 (manga)
Mahou Sensei Negima! Manga Chapter 324
SPOILER Summary/Synopsis: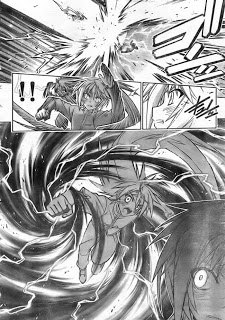 Yue awakens, thanks to having cast a delayed spell within herself just in case he was knocked out and paralyzed by the battle with the faux Fate.  She casts a revival spell on Makie, who is groggy, as Yue retrieves Kaede's cloak.  They hear the sounds of battle in the distance and Yue is able to determine that one of the combatants is Negi though she doesn't know how she knows this.  The move down the corridor and find the unconscious Asakura.
Yue begins casting the revival spell on Asakura when Makie notes that not only is Yue a great mage, but she's also in love with Negi. This causes Yue to bite her tongue and after healing it, she tries to protest Makie's statement but Makie isn't buying it. Makie says Yue's feelings are obvious and that even if Yue lost some of her memories, she never lost her feelings. Makie expresses her admiration of Yue and then tells Yue that she too likes Negi and even confessed. Makie recounts all of the girls in the class whom she believes is in love with Negi which surprises Yue.  Makie calls them for what they are — rivals.
The now awakened Asakura is amused that Yue and Makie can speak of their love lives when things are like they are. As the trio race forward, Asakura says that Yue should confess and thinks of how much Negi has matured since they've arrived on the Magic World.  Elsewhere, Kaede finds the unconscious Kotaro and can see the distant battle where Negi is fighting. She's amazed that Negi can hold his own against Fate as Yue, Makie, and Asakura arrive.  The foursome moves toward the battle area as Kaede's amazement with Negi's skills grows since Negi is winning.
At that battle, Negi has fate on the run but Negi catches him anyway, punching Fate so hard that Fate is not only sent flying into a boulder, but now also has a hole in his gut. Fate considers how that things haven't changed from 20 years ago or even 10 years ago. However, he figures the next exchange of blows will end this.  He asks Negi about Negi's alternate plan for the Magic World.  Negi remarks that he thought Fate didn't want to hear that. Fate considers this and agrees, retracting the request.
At Mahora, Eva demands some answers but Headmaster Konoemon is not sure she should be given them. Al says it should be OK since Eva is no longer the "Devil of Darkness" that she had been and has calmed down considerably, something he credits Negi and company as being responsible for.  Al talks about Eva's past and her conversion from a normal girl into a vampire, a story that even the headmaster was unaware of.  Al asks if Eva knew the person who did this to her?  Eva replies that she didn't know the identity but simply assumed it was a mage gone insane for immortality.  Since she killed him 600 years ago, she doesn't think it matters. Al states that this is not the case and that this person not only lives but is sealed under the World Tree.  This person is none other than the Mage of the Beginning — the Lifemaker.
Thoughts/Review: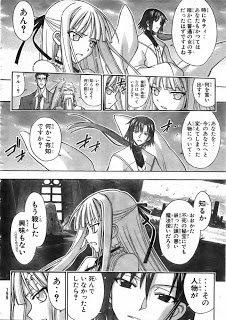 YES!  Some additional hints at Eva's backstory is exactly what I wanted and hopefully we'll get more information.  When Eva told Setsuna and Asuna her story, I'd hoped that there would be more to it.  While I didn't expect the Lifemaker to be the one to turn Eva into a vampire, I have to admit that I like it.  I'm thinking that when we learn of the Lifemaker's motives, I'll like it more.  Granted, there are other issues to work out such as why Eva thought she'd slain the one who'd turned her since Ala Rubra couldn't kill the Lifemaker 20-years ago and only barely sealed him under the World Tree 10-years ago.  With this revelation, now Eva has a reason to be involved in the fight which is the main reason I liked her being attached to the Lifemaker.
Yue continues to be awesome in her anticipating that she would be knocked out and so prepared a delayed counter-spell for it.  While Negi has pure power on his side, Yue has pure intellect with some magic to back it up.  She makes a great traditional mage and in Ala Alba's battle ranks, she not only provides information but likely will make for a good support mage during combat.
I did enjoy her and Makie's conversation about love and Negi.  Akamatsu-sensei acknowledges the inappropriateness of the conversation through Asakura, but at the same time, this allowed him to get back into the story with a bit of a lighter touch to prevent things from being so dark all the time.
With Makie, Kaede, Yue, and Asakura now approaching where Nodoka and Natsumi are, I can't help but wonder if they will turn the tide to allow Asuna to be freed.  After all, Yue has her artifact and could come up with a solution.  We'll see.
Well, I'm looking forward to the new chapter. I'm looking out for chapter 325 spoilers but we'll see if they show up.  ^_^;