魔法先生 ネギま!Volume 36 Chapter 335 (manga)  
Mahou Sensei Negima! Manga Chapter 335
SPOILER Summary/Synopsis:
Donet braces for the end of the Magic World when it doesn't happen.  All over the Magic World, people observe the massive storms disappear and clear skies return.
Over with Negi's group, Konoka heals Kotaro and Beau as Emily is recalled from the world of CE.  Her fellow knight her and weep rejoicing as Nodoka looks on and grins.
Meanwhile, Asuna continues the recall process, allowing Jack to move again as Eva looks on disapprovingly.  Asuna discovers that plants and animals were also removed, so she goes about recalling them as well.
All over the Magic World, folks come back to life and those that had been involved with people in Negi's circle are greeted by them.
Negi and company are taken to the Governor-General's residence again and given an hero's welcome, followed by a massive feast. It is here that Negi makes the rounds to speak with everyone at the party.
Elsewhere, Yuuna, Makie, Paru, Cocone (?) , and Misora arrive with a present for Johnny — the latest model Manta flyer, courtesy of a couple of governments for his help in the recent crisis.
Two days later, Theo and other leaders arrange for a celebration to reward Negi for saving the world, marking him as the new hero that 20-years before, Nagi had also saved.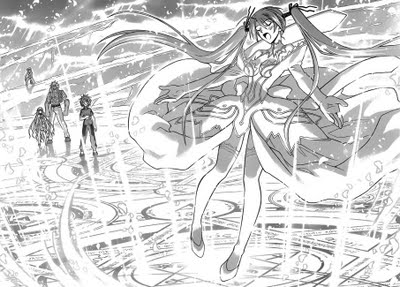 Thoughts/Review:
There's not a whole lot to talk about in the aftermath here.  I will say that Asuna being directly linked to the world of CE so that she knows exactly what was archived off is interesting.  I hope that in future, she talks a bit about her coming to terms with her past and why her original personality didn't take over as Fate expected it to.
I wonder why Eva doesn't look too pleased with Asuna as Asuna restores everything. Maybe because Eva's life was forfeit until Asuna save them and now Asuna is the true savior of the Magic World, at least in getting it back to normal for the time being.   I hope we learn more about Eva's past and her association with Ala Rubra now that we've got more time.
I notice that Shiori (Luna) wasn't around in any of the pictures.  Even Fate was shown attending the Governor's party and hanging out in the back with Jack.  I also wonder if Shiori's sister was restored since she was sent to CE.  I can't help but think that illusionary beings who just died normally, whether through war or naturally, aren't restored but those force-sent to the world of CE are.  So, its highly possible that Shiori's sister is back. That would be nice.
As I said, I expect there to be some additional aftermath in this new volume of manga, combined with some humor and general "taking it easy" on the part of Akamatsu-sensei before gearing up for the next arc.  In the meantime, I'll be on the lookout for some advanced chapter 336 spoilers, even if only a short time ahead.