魔法先生 ネギま!Volume 38 Chapter 349 (manga)
Mahou Sensei Negima! Manga Chapter 349
SPOILER Summary/Synopsis: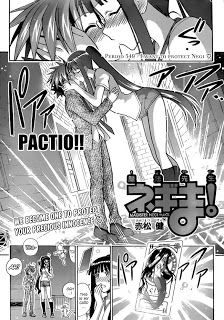 Akira still has trouble kissing Negi for a pactio for what is clearly not a life-or-death situation. Chamo argues that whatever artifact she gets will allow her to get Negi out of danger, and since Negi doesn't mind, she goes ahead and kisses him. The pactio moment is recorded by Asakura's camera artifact, followed by Kaede and the twins arriving at one end of the alley while Yuuna and Paru arrive at the other. Chamo has Akira activate her mermaid artifact and escape via a nearby puddle, allowing her to immediately travel to another body of water withing 300-meters.
Akira, Negi, and Chamo emerge in the Olympic-sized pool during a competition while Kaede senses their location.  She grabs Asakura's camera-artifact and using her ninja techniques, races to the pool to confirm this. However, the moment she appears, Akira translocates them first to a river, then to someone's private bath. Kaede reports that Akira is porting herself instantly from place to place, within 300-meters, leading Yuuna and Paru to be frustrated.
Paru contacts Chachamaru to have her detect all surfaces of water within the Academy grounds and send the data to Sakurako.  Paru then contacts Sakurako and reminds her that it was her luck that forced Yuuna and the others to spend their summer on the Magic World. With Sakurako accurately predicting where Akira will port herself, Negi and Chamo to, Paru contacts Eva and gets her in on the act.  Eva is waiting at the giant, indoor bath in the girl's dorm and freezes a chunk of the water, trapping Negi and Akira.
Eva puts her bare foot on Negi's face and asks why he was keeping such things from her, ordering him to tell her. Akira breaks free of Eva's spell as Yue flies in with Nodoka, taking a defensive position in front of Negi. Eva is joined by Makie, Yuuna, and Paru, all with their artifacts active as an amused Eva asks if Yue and Nodoka are challenging her. Makie and Yuuna attack with their artifacts, but Yue is able to deflect the attacks.  Nodoka warns of Kaede's attack, so Nodoka casts another type of wind spell to deflect Kaede's multiple kunai, causing Kaede to praise them as a pair.
The still amused Eva asks why Yue and Nodoka are so determined, wondering if they are afraid of knowing whom Negi likes. Eva presses her verbal "attack," stating that knowing such a thing would put an end to their fantasy and break the friendship between the two of them.  They try to deny this, but Paru picks up the torch, stating that one day, the two of them will have to settle this.
Akira interjects, reminding Makie and Ako that Negi didn't want to tell them and that he's just a child. However, Eva has heard enough and is going to cast an incanted spell as Yue prepares to defend against it.  However, it is the appearance of Zazie that shields Yue and Nodoka from attack, she having teleported in with Satsuki and Ku Fei.  Satsuki chastises Eva for being immature, especially since Negi is only ten and that Negi no longer has freedom.  Thus, it is Satsuki's point that they should understand and protect Negi and this one secret. Zazie adds to this, pointing out to Eva that Negi's current situation is right up Eva's ally, yet wonders if Eva is not truly satisfied by this.
Eva, somewhat humbled by the words of Zazie and Satsuki, laughs when Satsuki suggests that Eva might be the one Negi likes. Despite her rejection of such a notion, Yuuna and Paru are pretty sure that the odds are highly in Eva's favor.  However, now Paru has heard enough and wants to resolve this issue with so many girls liking Negi rather than let it linger as Negi goes off to do his thing.  Ako says it doesn't feel right to force Negi now, but before Paru can act, Asuna's blade artifact drops into the ground in front of Paru.
Asuna arrives with Hakase while Setsuna arrives with Konoka.  Hakase has an apparent backup of Chao's family registry. Opening it up, the registry has only Negi's name, but not his spouse nor children.  Hakase says that because of the events of the summer, the future has changed and no one knows what happens in this timeline.  Asuna points out that with the future undetermined, everyone has a chance at being Negi's main squeeze.
Thoughts/Review:
So, Akira gets an artifact and now can gate through water.  Considering how Fate and his comrades often traveled by water-porting (though they appeared to make their own water ports), one wonders if Akira would be able to follow them through these.  The artifact would also appear to give Akira some resistance to water-based attacks, which could prove useful.
I have a question; is Akamatsu-sensei taking some SERIOUS liberties with Eva and her powers?  In volume 3, she could fly because of her cloak. She could cast some spells via potions.  Unfortunately, there's no evidence of her using potions to freeze Akira and Negi.  Indeed, she used her activation key to begin an incanted spell. Unless the school's barrier is down for some reason (which is what seals Eva's power while the curse keeps her on the Mahora grounds), Eva shouldn't be casting spells.  The only other possibility is that there's still extra magic around because of the events from the Magic World, thus Eva can cast certain spells, but nothing major.
Still, liberties or not, the moment with Eva allowed for some nice events.  First is having Yue and Nodoka stand up to her.  It's one thing for them to stand up to others, including Kaede, but Eva, who's near the very top of the power scale, is something else.  Nodoka and Yue are a great team for sure.
Second, it had Satsuki show up, who is the only human in their class whom Eva respects.  So, Satsuki chastising Eva carried a lot of weight.
Thirst, it had Zazie switch sides (for unknown reasons), and she too had words for Eva.  Eva also appears to respect Zazie based on her reaction to Zazie's words.  It's funny that even though Zazie speaks a fair amount now, we still know little more about her other than she's a Mazoku and appears to have an older sister.  I hope that we learn more in the future.
One thing this chapter points out is how Chao would have defeated Negi back during the Mahora Festival.  It might have been easily dismissed back then, but we did get a taste when Negi's then much smaller harem dealt with the possibility of knowing whom Negi hooked up with. Now, his battle harem is MUCH larger, and look what happened.  By getting this out of the way now, it being used as a weapon against Negi in the future should have much less impact (as I see it, at least).
As to Chao's registry, I've heard some things about it from the next chapter, but I haven't verified.  As such, I won't say anything now, but I'm not convinced that the future has indeed changed.
Anyway, one more chapter wraps up this arc and I can't wait for it to show up. ^_^