灼眼のシャナⅢ(Final)
Shakugan no Shana III (Final) – 13

SPOILER Summary/Synopsis: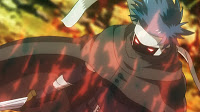 Inside the realm beyond God's Gate, Nbh'w battles Sabrac and manages to do enough to construct his giant form from the rubble around them. However, Sabrac is not impressed and simply increases the levels of attack so that Nbh'w's "armor" is defeated, allowing Sabrac to get a blow in on Nbh'w.  Meanwhile, Shana faces Yuuji, and after a few clashes of swords, the Serpent of the Festival is not pleased with Shana's rejection of Yuuji's offer to join them.  He starts Cradle Quake, which Tomogara and Flame Haze alike feel, rallying his forces and causing fear on the side of the Flame Haze and their Crimson Lords.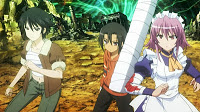 Nbh'w flees Sabrac, leading him to where Wilhelmina and Rebeca wait and attack. However, it is here that the Serpent's massive body arrives, destroying everything around it. Wilhelmina manages to latch onto the Serpent's body and save Nbh'w and Rebeca, as Rebeca fires a devastating attack on Sabrac. Sabrac is hit and going down, but as he looks at the Serpent massively coiling and moving above him, he experiences fear for the first time. As such, he suddenly understands the fear Mare felt toward him and why she left him. However, now that he's in the same boat with her, he's satisfied, even going to far as to cut his own arm off when Bel Peol attempts to rescue him with her chain. Thus, Sabrac dies.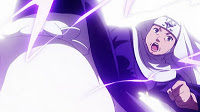 Yuuji has snared Shana with the Silver, but Alastor supports Shana's decision to walk her own path based on her words when she became his Flame Haze. On Earth, Sophie decides to destroy God's Gate to prevent the Serpent from being reborn, but her massive attack is thwarted by a dying Fecor, who manages to erect a barrier just long enough to stop her. Meanwhile, Shana breaks free from the Silver and battles Yuuji, causing him some injury. She gives him a kiss as an oath just before the Flame Haze spirits whisk her, Wilhelmina, Rebeca, and Nbh'w away. They, along with the Serpent, emerge from the gate, where Shana knows this is the start of the next battle, not the end of the world.
Thoughts/Review:
Sabrac's death would have had much more meaning had his love of Mare been more of a focus before hand. Was this even a part of Shakugan no Shana Second?  As I said before, I remember Mare being a Tomogara that Shana and company defeated, but I didn't remember Sabrac carrying a torch for her. Maybe I just forgot, or maybe it was an element that didn't make it from the light novels to the anime.
I could have sworn that Nbh'w took a hit from Sabrac, meaning Stigma would go into effect, as it has for Wilhelmina. Heck, Sabrac's death doesn't appear to have stopped Wilhelmina's wound, yet somehow, Nbh'w didn't appear affected by it.  Go figure.
Fecor's return to protect the gate at the last second and then die is heroic, but it did make my eyes roll a bit. Well, there is the rule that if you didn't actually see a character die, then said character probably isn't actually dead.  I forgot that rule and just assumed Fecor bit the dust as I didn't expect Tenmouku to let Fecor live, but what do I know?
As much as I've always enjoyed the Shakugan no Shana franchise, and the romance stuff between Yuuji and Shana, here, Shana's kissing the possessed Yuuji and the like just doesn't work for me.  Then again, neither does Yuuji joining Bal Masqué just to protect Shana, his family, and his friends. It all just smacks of "ugh" to me. *_*
Still, now that the Serpent is reborn, I'm looking forward to seeing how it is defeated and what happens with Yuuji.  I am worried that more "ugh" will be used to resolve everything, and that will be disappointing. We'll see what happens.