ラストエグザイル-銀翼のファム-/Last Exile: Ginyoku no Fam Episode 18
Last Exile: Fam, the Silver Wing – 18
SPOILER Summary/Synopsis: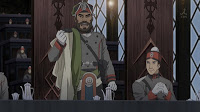 With a truce agreed to, Empress Sārā holds a forum where all parties are present. Luscinia arrives with Liliana, and presents himself before Sārā.  She is glad to see both him and Vasant, causing Vasant to give reverence and apologize for her actions, but then to point out that Luscinia's actions forced her to act. This brings an angered response from General Kayvān, who wants Vasant brought up on treason. Vasant counters by pointing out that Kayvān and others fired on Empress Sārā's ship, which Kayvān justifies as a rescue attempt. Vasant says Ades has become all about war, causing Luscinia to say that Ades' purpose is protecting Earth's resources, something Liliana of Turan supports.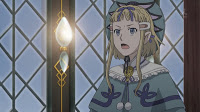 As this is going on, a woman dressed as a servant and a man in a dress military uniform observe the proceedings, where Millia is challenging Liliana's fitness to rule what's left of Turan. They see Millia as someone who will support their cause. Liliana tells Millia that Earth is too small to support the population, but Millia rejects this as an excuse. Vasant wants Liliana placed into custody in order to keep the Turan Exile from being used. Luscinia rejects this, stating that without the Exiles, Earth cannot know peace due to the greed and bloodthirsty nature of humanity, as their history proves.  As such, he will not compromise with Vasant on anything.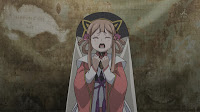 Empress Sārā cries out for them to stop, and as her tears flow, she orders Vasant to stop attacking Luscinia, and she orders Luscinia to stop using Exile. Sārā's words move Fam to tears, where she loudly proclaims that everyone should get along, even saying "Gloria Augusta." General Sadri applauds this, citing the troops' weariness of war. The others agree to this, causing Sārā to be happy and declare the fighting over. However, Dian is not happy with this.  Despite her displeasure, this peace announcement causes people outside to party while inside, an official ball is held.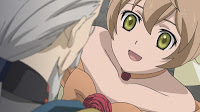 At the ball, Ōrang talks to Sadri, pointing out Fam, leading Sadri to believe Fam is the daughter of his daughter, Rahā. Fam, who's uncomfortable in such formal attire, attempts to get Millia to make up with Liliana, but Gisey stops her. Sadri asks Fam to dance, where he learns more about Fam's past, something that is observed by Dio and Tatiana. On a balcony outside, Ōrang brings Millia a drink, where they have a brief chat. Once he leaves, the female servant arrives and introduces herself as Emma. She has a message from Turan Major Geeth, who wishes a meeting with Millia regarding Liliana. Their chat is observed by Alauda as Millia leaves the party with Emma.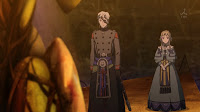 Millia's absence is not unnoticed at the party as she is taken to meet with Major Geeth and other military people, who want Millia to assassinate the witch Liliana and take her place as the ruler of Turan. Millia is horrified by this, but before she can answer, Alauda and a Guild force take the Turan rebels into captivity, causing them to think Millia has betrayed them.  Millia is taken to the Ruins of White, where she meets Luscinia. She pleads for the rebels, but follows Luscinia in, where he explains this is where the Guild was formed and why it was formed, including the power they had and the Exile project.  He then escorts her to where Liliana awaits.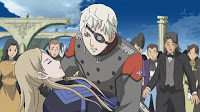 Millia wants Liliana to stop what she's doing, but Liliana won't.  Millia picks up a long, glass shard and charges Liliana, but she can't attack her sister, even after Liliana demands that she do so according to Turan law. Liliana tells Millia that with all of the people returning from off world, Earth cannot support the population, and it will be a disaster. Thus, she chose to become a witch and be as Luscinia's side. She chose this self-sacrifice on her part in order to try to solve a great problem. With that, she gives Millia her hairband tiara, before Millia is returned.  Luscinia apologizes to Liliana since they must move forward with the plan. The next day at the peace ceremony, Dian attempts to assassinate Luscinia, but Liliana takes the bullet and dies. However, this causes control of Exile to go to Millia, where she sees a vision and understands why Liliana did what she did.
Thoughts/Review:
For some reason as I watched this episode, I thought of the book, The Population Bomb, by Paul R. Ehrlich (first published in 1968), in which he predicted that the world could no longer support the exploding growth in population, which would lead to mass famines, and by the 1970's, it would be all over for humanity unless governments stepped in to control people's lives. While there are still true believers in the ideas set out by Mr. Ehrlich, his predictions were wrong as food production has constantly outpaced the continued population growth. Further to that, it is shown that famines are mostly due to political reasons, not food shortages (as Stalin and Mao both proved). Corruption is the chief cause of malnutrition, not overpopulation, as seen in many 3rd-world nations. Despite being proved wrong over and over again, the book just gets republished with the failed predictions excised, and new predictions inserted, which are then excised once they don't come true.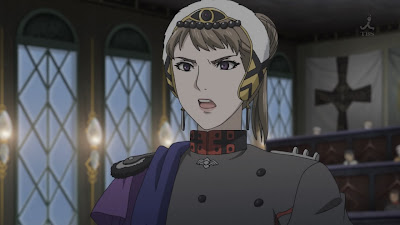 Sorry to ramble on like that, but I remember reading this book many, many years ago as a teen and thinking, "Sheeze! We gotta do something because the situation is dire!" However, as I have always been taught to do, I did further research, where I learned that his predictions looked good on paper, but as is often the case, reality does not match what academia thinks it should be or will be. It's like the young manager or young executive who has little practical experience, but has all of the management theories down from college.  Thus, dumb decisions are made because according to their college education, the decisions should cause certain results, whereas in reality, the chaos principle, combined with other factors learned from practical experience show that the paper decision could never produce the results it claims.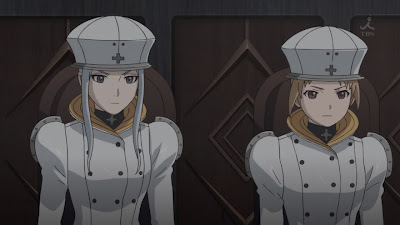 Anyway, as I hear Luscinia and Liliana blather on about the Earth not being able to support the population due to the folks returning from the colony worlds, I couldn't help but think of all I said above, and how the they are justifying tyranny and mass slaughter for a supposed greater good to prevent starvation and the like. Apparently, the idea that humans, even the returning ones, will find a way to survive, prosper, and grow is not even on the table. Thus in my opinion, Luscinia and Liliana become that which Luscinia despises about humanity's past — greedy in that THEY must control all of Earth's resources and bloodthirsty because they need to slaughter people deemed unworthy for the crime of being alive and consuming resources.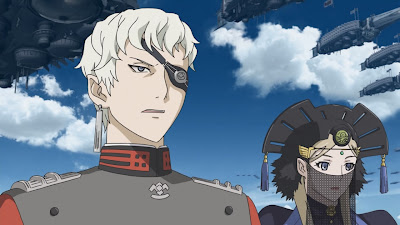 All that aside, I feel bad for Sārā, since Luscinia seems marked for death.  She truly does love her generals, which is understandable since they were like surrogate parents to her.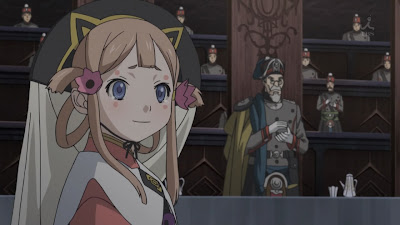 Speaking of death, I didn't expect Liliana to be assassinated. Although Luscinia won't get the message that this means he can't control everything, it does mean that he will likely do more to cause the Guild to try to control Earth and prevent all this, since he apparently did care somewhat for Liliana.  That kind of control is a pipe dream.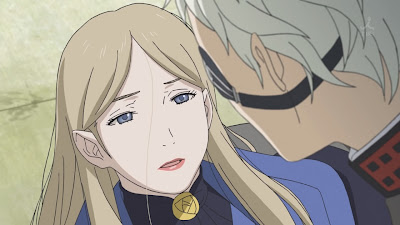 Question is, what happens to Millia now that she's in control of the Turan Exile, and has had a vision of things? Does she start supporting Luscinia, or does she follow another path?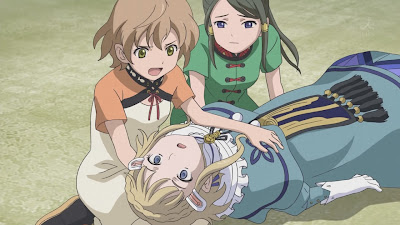 Fam is now implied to be the granddaughter of Sadri.  Not sure what this means, nor of what the supposed, accidental death of her parents means, but one gets the feeling that since the series is named for Fam, something big will happen. Maybe she has master control over all the Exile ships.  That's the kind of vibe I'm getting.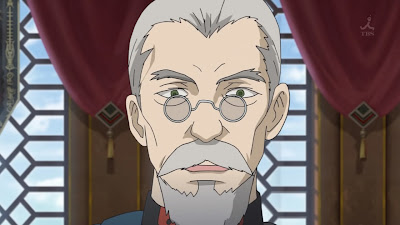 I wonder what happens to the Turan rebels? They'll probably be executed.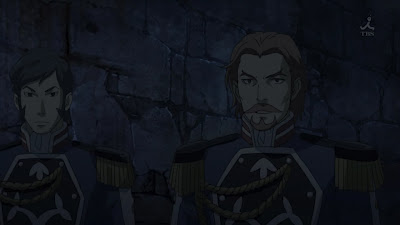 Ditto Dian, who's been understandably angry for a long time.  I suppose she thought that if she could kill her version of Hitler/Stalin/Mao (Luscinia), problem solved.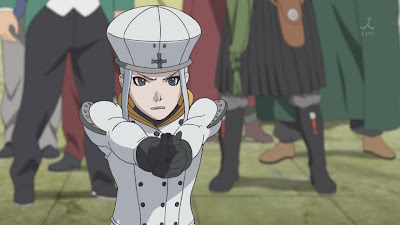 So, a good episode that got me thinking a lot. Fortunately, I have another episode queued up, so let me go watch it now.