魔法先生 ネギま!
Mahou Sensei Negima! (Manga) Final Thoughts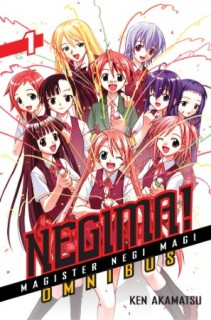 In July 2003, I was only a little over a year old as an anime fan, having discovered a taste for harem anime titles such as Tenchi Muyo! Ryo-ohki, Hand Maid May, Love Hina, and others. At that time, I really wasn't much of a manga fan, as I was only collecting the Oh My Goddess (Ah! My Goddess) series from Dark Horse and Love Hina from TokyoPop.  I only started buying the Love Hina manga because everyone kept saying, "The Love Hina anime is nothing. Read the manga to get the real story. It is MUCH better."  They were right.
TokyoPop had just released volume 12 of Love Hina when Del Rey officially made its entry into the manga market, announcing that they'd licensed two manga, one of which was the new manga series from Love Hina's manga-ka, AKAMATSU Ken — Negima!  Believe it or not, the announcement left me somewhat apprehensive.  I was certainly very much interested in reading Akamatsu-sensei's new manga creation before seeing any anime adaptation, but I feared that Del Rey would trash the series by editing the content, including self-censoring the artwork due to its ecchi, Barbie Doll style nudity.  Further to that, while TokyoPop was showing more of an acceptance in using Japanese honorifics, I felt pretty sure that Del Rey would try to domesticate Negima! as much as possible.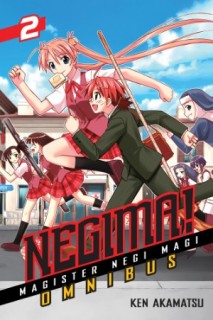 I wasn't alone in my concerns over how Del Rey would handle Negima! as a lot of other fans became quite vocal on various message boards and on Usenet.  Fortunately, Del Rey heard the fan outcry and announced that Negima! would not be edited nor censored, but would be sealed in shrink wrap due to the ecchi nature of the manga.  Well, I could live with that, but how would the adaptation be treated?
It was in April of 2004 when the first volume of Negima! hit the bookshelves and I picked up a copy from a local B. Dalton bookstore. I recall being much relieved when one of the first pages I saw inside the manga stated Del Rey's policy to include ALL honorifics, followed by a list of the honorifics and how they were defined.  Back then, I wasn't nearly the "honorifics snob" that I am now (heh!heh!), but I recall thinking, "If this is how Del Rey is going to treat all their manga, then I'll be giving them lots of my money."
It wasn't until much later that I discovered how the early volumes of the manga contained heavy rewrites and translation errors, but on the whole, I was pleased with how Del Rey handled things.  Likewise, despite the rushed and poor ending of the manga series, I was mostly pleased with how things went as a whole regarding the story.
*SPOILERS*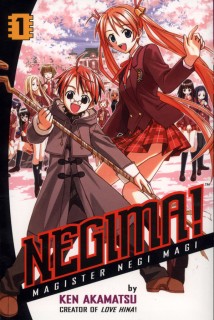 Story-wise, Negima! gets off to a slow start (which wasn't helped by Peter's rewrites, but I digress…) about a young boy (Negi) from Wales, who just happens to be a wizard, and who just happens to get assigned to be an English teacher at a private, all girl middle school in Japan.  Volume 1 covers Negi's arrival at the school, and his being found out by a student in his class named Asuna, who despises the fact that a kid is now her teacher rather than the adult male she has a crush on, Takahata-sensei.  Negi ends up being forced shack up with Asuna and her roommate, Konoka, since Konoka is the headmaster's granddaughter.  Thus the first volume is basically about Negi trying to fit in, trying to make peace with Asuna, and it ends with a volleyball match against a group of high school girls.  Along the way, there are plenty of "oh so funny" magical sneezes by Negi, which conveniently cause the girls' clothing to dissolve into petals.
Volume 2 doesn't see much of an improvement as much of the volume is dedicated to Negi's attempts to get his class's test scores out of last place.  However, to keep himself from using magic to cheat, he seals his magic and ends up taking a three-day trip down into the bowels of the Mahora campus under the school's library, along with the "Baka Ranger" students (Asuna, Kaede, Yue, Ku Fei, Makie), as well as Library Exploration Club member Konoka.  Fellow Library Exploration Club members Nodoka and Haruna stayed above, while everyone else went looking for a magical book that could make the Baka Rangers smarter.  While the story is somewhat amusing, and this wild place under Mahora sparked the imagination, it really wasn't that great of a story.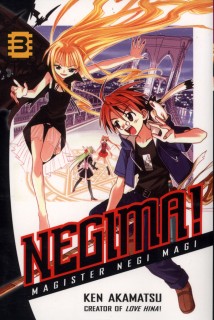 Negima! didn't get good until volume 3, when the character of Evangeline A.K. McDowell was introduced.  As a shinso vampire and powerful wizard, who was imprisoned at Mahora and stripped of her magical powers by Negi's father, Nagi, Eva gave the manga something beyond some harem-styled comedy featuring a 10-year old boy wizard.  Eva introduced a dark edge to the manga, which was made more interesting because Negi's father had snared her.  Since Nagi was missing, and Negi had never known his father, we readers got to learn things as Negi learned them, which made it more interesting.  Further to that was Eva's love of Nagi, which sadly, Del Rey's releases pretty much completely flushed (the omnibus editions from Kodansha Comics have that all restored though).
Using volume 3 as a launching point, Akamatsu-sensei takes the manga to the next level with his three-volume Kyoto story arc, where Negi and his class take a class trip to Kyoto for a few days. Negi attempts to learn more about his father, but instead discovers a great deal more going on, including a "boy" who would become Negi's rival in battle for nearly the rest of the series, Fate.  While Akamatsu-sensei does make sure to include the ecchi fanservice and comedic elements (such as the contest to see who can score a kiss on Negi and win a great prize), the darker elements of trying to protect Konoka from being kidnapped, demons (youkai, mazoku, oni, etc.), Fate, and the incredible "Ryomen Sukuna no Kami", whom was summoned by those wanting to use Konoka's power (that she didn't know she had). It was defeated by Eva, who showed us a glimpse of how powerful she could be when freed of the confines of the curse.  This arc also marked the beginning of Negi's "battle harem," as Nodoka and Setsuna both score pactiones with Negi, joining Asuna as Ministra Magi.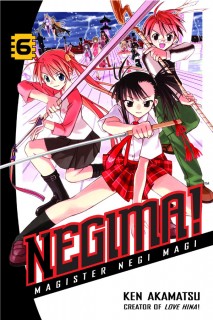 Outside of Fate, Tsukuyomi, and Konoka's father Eishun, who'd been a companion of Nagi's, the other elements of the Kyoto arc were sadly forgotten for the most part. Sukuna was name-dropped once or twice, but it never came up again, nor was there an explanation given as to why Nagi and Ala Rubra had to battle it years earlier.  Further to that, the character Chigusa is never mentioned again, nor is the organization she worked for, as the whole "Eastern Mages vs. Western Mages" thing later changed to "Magic World" vs. Earth (or something like that).  I would have liked to have seen the mage faction issue further explored, as well as why Fate was so keen to help Chigusa.  Considering what his goals were stated to be later on, it really doesn't seem to fit that he'd come to Earth to help Chigusa unless he were bored or something.
That aside, Akamatsu-sensei does a brief venture to allow one-time Negi foe, Kotaro, become a male friend and ally for Negi as they battle Count Herrman and his three little minions. Herrman was a character that I really wanted to see again, especially since he was the one who petrified Negi's village.  Sadly, beyond a couple of name-drops, Herrman is never brought up again.  In addition, we never did learn why Kaede was with Eva to watch Negi battle Herrman. It may have been a minor thing, but I wanted to know.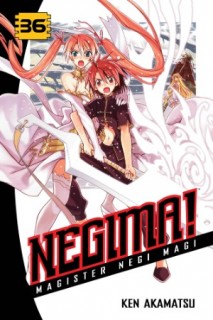 The next arc is a big one — the Mahora Festival arc.  Here, Akamatsu-sensei accomplishes three things.  First, he introduces time travel into the story, with which Negi is then able to visit with various students, allowing Akamatsu-sensei to do stories about them that otherwise couldn't get done.  Second, Akamatsu-sensei has the Mahora Budokai, allowing Negi to show that he's growing in power, and keeping a battle element in the story.  He also uses this to introduce us to another of Nagi's companions, Al, and tease us with more of Eva's past.  Finally, he has one of Negi's classmates reveal that she's his descendant from the future, is from Mars, and is on a mission to prevent some major tragedy in the future.
Volume 19 starts what would turn out to be the penultimate arc, which is known as the Magic World arc. This arc is the longest of the series, as it runs through volume 36.  Here, Negi and his "Ala Alba" members train up, head to the Magic World to look for more clues about Nagi, where they are accidentally joined by five students who know nothing of magic and the like.  There are multiple sub-arcs here, where Nagi and his battle harem are attacked and split up all over the world before making their way back to where Negi sets ups "shop."  Negi is joined by the final member of Nagi's former group, who trains him up.  Along the way, others also become stronger as Negi and Kotaro fight to free three of their group, who've been made slaves.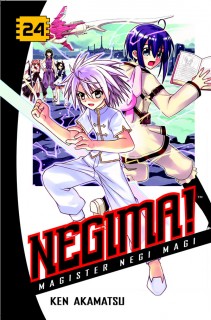 Along the way, Asuna becomes so powerful, she's removed from the manga and replaced with a doppelganger, which after Negi manages to gather everyone and free the slaves, his final mission is to rescue Asuna and Anya.  That leads to a final confrontation between himself and Fate.
It is here that the manga starts to falter. At the time, I blamed the release of the Negima! movie (which I've yet to watch even though I own it), as the rescue of Asuna suddenly leads to an abbreviated end to the Magic World arc. In fact, the story ends so quickly, some characters are never heard from again, even though they played a central role in rescuing Asuna.
The penultimate volume seems to be laying the groundwork for another arc while allowing Akamatsu-sensei to take it somewhat easier without a frantic action-packed story to tell.  This leads to the final, short arc, known as the Sports Festival arc, which is a comedic story that allows Akamatsu-sensei to include the entire class one final time and allow Asuna to have some final memories before she is sent to the Magic World for one hundred years to keep it stable while Negi's transforming plan of Mars presses forward.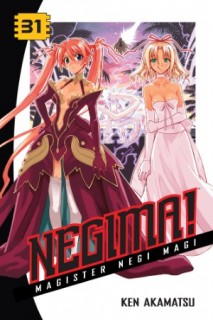 The final volume has Asuna up much later in the future than she had intended, where Akamatsu-sensei officially introduces alternate timelines to explain how Chao can come back in time and return, but also to give Asuna a way to return to the past and her friends. Akamatsu-sensei wraps things up with a final story featuring an adult Yue as a magic detective, and a pretty good one. After that, we are given blurbs about what happened to the students in the class, and that's that.
It is this rushed and abbreviated ending to the manga that has left such a bad taste in so many fan's mouth.  There were so many plotlines that were left unresolved.  While the main plotline of Negi finding Nagi is officially solved, it all happened "off screen" and with no real explanations.
My own opinion of what happened is that Akamatsu-sensei was planning on ending the manga with the Magic World arc, but things changed when he was requested to end the Magic World arc with the start of the Negima! movie.  After that, he had a few months still left on his exclusive contract with Kodansha, thus he had to fill the void and did so the best he could with the final two volumes.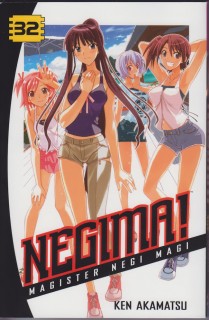 So, what do I think Akamatsu-sensei will do?  Well, after a long vacation (if he follows his previous manga titles A.I Love You and Love Hina, it will be a one-year break), I have to think that he would like to fill in the gaps of Negima! by writing a series of side-stories for his J-Comi website.   That way, he doesn't have to focus on Negi specifically, but could tell more of Eva's backstory, including her time with Ala Rubra; he could tell us what happened with Arika; he could tell us what happened with Ako; he could show us what happened with Shiori after the Magic World arc; he could tell us what happened to Anya after the Magic World arc; he could give us more insight into the mazoku world that Mana and Zazie (and Poyo) belong to; and so much more.  Further to that, he could then fill in the gap to show how Negi and company found Nagi and what really happened to Nagi when Negi was born.
Although I was very shocked and even dismayed to learn of Negima! being ended, now that the manga is over, I have to say that I am not displeased with the manga as a whole.  Yeah, it has a crappy, rushed ending, but ever since I bought the first volume from Del Rey, I have been highly entertained, and have enjoyed the discussions I've had with various Negima! fans all over the world.  Negima! sparked the imagination as we all tried to piece together what would happen in the future based on the clues Akamatsu-sensei had left for us in the past.  I for one do not consider these past several years to be a waste.
So, would I still recommend Negima! to new fans?  Sure, especially since I think there is a very real possibility of getting the unresolved plotlines and elements resolved sometime in the not too distant future.
To that end, I'd again like to thank all of the Negima! fans who've participated on this blog, provided me (or gave me alerts about) spoiler images, and helped make the series the fun experience it was. I hope to continue to see you all on other anime or manga series in the future. ^_^