灼眼のシャナⅢ(Final)Episode 24
Shakugan no Shana III (Final) – 24

SPOILER Summary/Synopsis: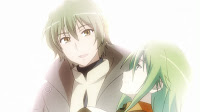 As the Flame Haze observe the Tomogara rise up as energy to Xanadu, Kazumi presents the artifact she is carrying to Wilhelmina, stating that Johann's final message was his request that Wilhelmina care for this new child, whom he named Justus. The object absorbs some of the surrounding energy and becomes a half-Tomogara/half-human child.  Wilhelmina gratefully takes the child as Kazumi explains that Johann knew he was dying and thus he and Pheles used their Power of Existence to create this new being, which Shana notes is what Shaher had proclaimed.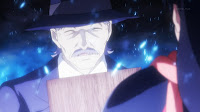 Yuuji and Sydonay observe the Tomogara rising, Lamies emerges with what he came for, and a gift for Yuuji — a special Hougu that will activate at the proper time.  He also names Yuuji's Unrestricted Spell, "Grammatica."  Lamies disappears and a young girl is there in his place, holding a painting before she too vanishes. Meanwhile, Shana asks Wilhelmina to take Justus to be raised on Xanadu.  Wilhelmina and Tiamat aren't sure about this, but Chiara and Sāle arrive, having guided Tomogara to Xanadu.  Rebeca also arrives on Tendoukyuu with 1225 Flame Haze, who want to go to Xanadu, their names provided by Sophie, who did so without being caught by her superiors.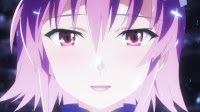 Rebeca says her goodbyes and leaves in Tendoukyuu for Xanadu, followed by the three Gods of Earth after they say their goodbyes. Chiara and Sāle also say farewell and leave for Xanadu, after which Wilhelmina and Tiamat say their goodbyes a leave.  It is then that Shana, Kazumi, and Margery notice that the damaged Misaki City, still under a Fuzetsu, is being repaired. It is Yuuji, who reveals that he plans to not only restore the city, but also cause those who were forgotten to be remembered.  In addition, he wants to restore YUKARI Hirai, who's remaining Torch existence is held by Shana.  In doing so, those not involved, such as Yuuji's parents, Ogata, or Ike, won't remember Shana.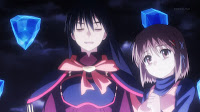 After revealing that Misaki City won't exist in Xanadu, despite it being a perfect replica of Earth, Yuuji grabs Kazumi, and has Sydonay go on the attack. Sydonay powers up into a massive, armored form, so Margery transforms into a multi-headed werewolf. The two battle, while Yuuji reveals he wants to punish himself for the killing of Flame Haze and humans, after which, he can be with Shana. Shana rejects this and defeats Yuuji.  Meanwhile, after a fierce battle, Margery finally defeats Sydonay, killing him.  Upon his death, he is greeted in the afterlife by a surprised Hecate, but they know that one day, they will be reunited with Bel Peol and the Serpent.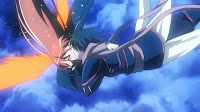 While still reluctant and admitting he'll still do selfish and stupid things, Yuuji accepts Shana's love and the two kiss.  It is then that Lamies gift activates, restoring Yuuji as a normal human.  Yuuji and Shana go to Xanadu, while Kazumi completes the restoration of Misaki City.  Hirai is restored, and ends up with Ike. Kazumi returns to her life, and Margery Daw continues to live with Sato. Other Flame Haze, such as Sophie, remain on Earth, to guard against the remaining Tomogara. On Xanadu, Wilhelmina raises Justus, with Rebeca along as well.
Thoughts/Review:
I'm not sure if the spinning sensation I'm currently experiencing is my having a bad cold, or this episode. *_*
I'm still not sure why Yuuji and Shana had to fight, other than Yuuji is the same moron he's always been from day 1, where he wants to do things his own way.  Whatever. Shana will need to keep punching him in the face whenever Yuuji thinks he needs to say something stupid on Xanadu.
Which reminds me, why couldn't Misaki City be duplicated on Xanadu? Was it because Yuuji wanted it properly restored on Earth?  I didn't get that.
The old man Torch, Lamies, was actually a girl?  What the…?!  So as a chick Tomogara, her whole reason for being was to get some portrait, using the Power of Existence? To accomplish this, she disguised herself as an old man Torch? Whoa!
Regarding the Flame Haze, they tried to prevent the creation of Xanadu, then inserted a single law, and now a fair number of them want to live there?  I didn't understand that.  Why live in a world of Tomogara?  Based on what the three Gods of Earth said, I got the feeling the Flame Haze going over will act like cops or something.
Well, two aren't cops — Wilhelmina and Rebeca.  I guess Rebeca helps raise Justus with Wilhelmina.
Of course, not all the Flame Haze leave, such as Margery Daw.  I guess she returns to a life of hard drinking, only now, she boinks a teenage boy who's house she lives in.  She's a Flame Haze and doesn't age, so what happens to Sato?  I suppose he could get some Hougu artifact to allow him to stop aging, or he could become a Mystes like Johann did.
While on the subject of Margery, her final fight with Sydonay didn't do much for me.  OK, they both juiced up to the max and went unleashed, but somehow, I just knew Sydonay was going to die and he did just that. Well, at least he got to be reunited with Hecate in the afterlife for Crimson Lords.  Why they'd be resurrected though, as they imply, I couldn't say.
I will say that I did like that Hirai was brought back to life. In the first series, it was her becoming a Torch and then being purged from memory that caused Yuuji to want to change things in the first place. So, despite his being a butt-head, he did get his wish regarding her, even though it meant his own sacrifice, as well as Shana's (in that they leave Earth for Xanadu).
Speaking of Yuuji, Lamies gift to him was turning him back into a pure human, rather than a Torch.  However, does he still have the Reiji Maigo within him? It seems that might allow him to become immortal to be with Shana.
Kazumi gets the short end of the stick though. She loses Yuuji to Shana.  She loses Shana as a friend (presuming they never return to Earth).  She does gain Hirai as a friend again, but Ike apparently hooks up with Hirai. Ogata and Tanaka become a couple.  Sato and Margery are a couple.  Nbh'w is dead.  So where does that leave Kazumi?  Alone again, naturally.
I'll save up anything else I'd like to say for my "final thoughts" post in a few days or so.  I'll need time to digest things and reflect on what I want to say.