うる星やつら episode 195 (TV anime final)
Urusei Yatsura Ep. 195 review
SPOILER Summary/Synopsis: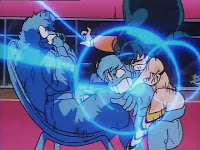 It is the end of spring with the sakura falling, when mysterious invitations go out all over. The night before the school's costume festival, a bunch of folks meet at the Mendou estate (Lum having to keep Ataru in check because he hits on Sakura-sensei), where it is decided that Lum's class will dress as folks from the Amaterasu legend, with Oyuki playing the part of Amaterasu for some reason. However, on costume day, she gets ill and Ten-chan finds the real Amaterasu, who comes down and is hit on by Ataru and Shuutaro. Lum electrocutes Ataru, causing Amaterasu to get angry and order her to stop. Lum refuses, so Amaterasu turns up the light. Lum puts on shades and continues to defy Amaterasu.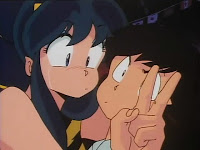 Deciding to teach them a lesson, Amaterasu inflates a portable cave to hide in, taking the light with her. Since that's how the story goes, everyone proceeds to party in the dark. Lum, who's supposed to be Uzume, refuses to dance, so the real Uzume and other deities show up to party, one popping the inflatable cave. Ataru and Lum find themselves suddenly surrounded by rocks, but can see because Lum is glowing. Ataru is concerned, thrilling Lum although the glow is an aftereffect of her power. She gets Ataru to kiss her when the rock is split around them, revealing their actions to all. More beings arrive and things get weirder from there in the party atmosphere.
Thoughts/Review:
And so the series ends in what I suppose is a fitting fashion — weirdness.
There were some interesting nods from Urusei Yatsura as it departed. One was to Takahashi-sensei's best work, Maison Ikkoku, which was the anime that replaced Urusei Yatsura.  For this, Kyoko shows up in her normal attire, sweeping as usual.
The other nod went to one of my favorite classics of the 80's, Dirty Pair.  Both Kei and Yuri scored cameos, but oddly enough, not at the same time.
Finally, there was the moment that I'm sure all viewers had been waiting for — Ataru's and Lum's first kiss.
Beyond that, the episode was simply a way to try to get as many characters to cameo as possible, including the forgotten Kurama character (though she doesn't say anything).
Final thoughts on the TV series coming soon. Hard to believe I made it through. ^_^