劇場版 魔法先生ネギま! ANIME FINAL

SPOILER Summary/Synopsis: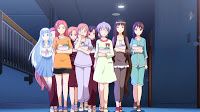 I'm not going to bother with a detailed summary ('cause this movie doesn't warrant one), but in brief, after the events of the Magic World (Mars) have concluded, allowing Negi and his students to return to Earth and Mahora. Negi is told that he has to choose a partner by the following day or else. After he chooses a partner, the other girls he's partnered with will lose their memories of magic and the Magic World. When the girls learn of this, they deal with it in various ways (Kaede, Ku Fei, and Mana fight Negi one last time; Ayaka, Asuna, Konoka, and Setsuna have a sleepover; etc.).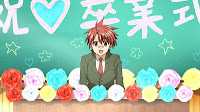 However, Negi's 30-year plan comes to an abrupt end when Mars is about to crash into Earth, meaning he has to become Magister Magi immediately by choosing only one partner or Earth and Mars are destroyed. Negi makes the only choice he can – partnering with all the girls including Eva. His first attempt to save Mars/Earth fails, Chao comes back, he succeeds on her advice, and merges Mars and Earth together, creating Utopia.  The girls graduate and decide to have a final party. Negi announces that he'll be transferring to the high school division of Mahora, thus he'll still be the teacher of all these girls.
Thoughts/Review:
If you came up to me and said, "AstroNerdBoy, what would your one word review of this Negima! movie be?" My answer would be, "contrived."  Those of you who hated the way the Negima! manga ended would find that ending to be pure genius compared to the movie's ending of the series.
The first paragraph above summary is fifty minutes of the one hour and 17 minute (approximate) total movie on DVD, counting credit time. Yeah. Basically, this section of the movie is to allow the various girls to get face time and such because that's what a contrived plot does for ya.
Regardless, the whole notion that Negi suddenly MUST choose a single partner and MUST become a Magister Magi just goes against everything established in the manga (and remember, this movie is supposed to be the "Story B" that takes place after Asuna restores the Magic World and its people).  That's what I mean by "contrived".
For starters, it had already been well established that Negi's father, Nagi, had multiple contracts as an adult. Furthermore, Negi's own prohibition contracts were rather unusual, both in the sheer number of partner's artifacts he was supporting with his own magical reserves, but also in the fact that his partners were scoring very rare pactio artifacts. So, for Negi to suddenly be restricted to a single partner, which was a plot point VERY early on in the manga until it was established that there were exceptions to the rule, was just mind-numbingly stupid and contrived.
The next problem with this contrived plot is that there was ZERO need to erase anyone's memories. After all, if the girls aren't a threat now as temporary partners, then why would they be threats after Negi picked a single partner?
In addition, how many of Negi's partners/students would be unaffected by a pointless memory wipe? Asuna wouldn't be touched due to her magic cancel abilities. Konoka wouldn't be affected because she's now on the path of Magister Magi. Setsuna wouldn't be affected because she's also Konoka's partner. Eva wouldn't be affected because she's freaking Eva, the shinso vampire and one of the most powerful mages in existence.  Mana wouldn't be affected because she's part mazoku, and already does work for the mages. Zazie wouldn't be affected because she's pure mazoku.  Misora would be safe because she's partners with Cocone. Natsumi would be fine because she's partners with Kotaro. So, with so many in the class who'd still remember magic, it would actually cause more problems for their friends to forget, thus making the whole, contrived plot even stupider.
Negi's terraforming plan in the manga makes sense because he's making the surface of Mars inhabitable without the need of a massive, magically powered, artificial, hidden surface.  As such, as Mars becomes inhabitable on its own, the drain of magic lessens, and everything is cool.
In this movie, Negi's plan makes no sense.  Apparently, he was going to take thirty years to figure out how to breach this barrier on Mars, then merge Mars and Earth into a single planet (never understood how that would work), which I'll give the name Utopia, since apparently, doing this would create a utopia. Funny thing though, this place of ideal perfection still forces students to go through the drudgery of school.  Yeah, my idea of Utopia is a place where I'd have to still go to school or work. *_*
Next on my list of complaints is the change of Magister Magi.  In the manga, Magister Magi is a title, like "Doctor" or "Jedi". In Star Wars: Return of the Jedi, Luke Skywalker had all of the skills and knowledge of a Jedi. However, he had a final test to do before he could be officially called a Jedi. Its the same with Magister Magi — it is a title bestowed on mages who'd completed their training and were ready to act without supervision. This anime movie changes that, suddenly making Magister Magi mean "more power".  Really? As a 10 year old kid, Negi already outclasses almost every Magister Magi on Earth, so it made no sense that his becoming Magister Magi could help him solve the Mars crisis other than to be yet another contrived issue.
Shifting topics, it used to be that when it came to anime productions, TV shows were the lowest budgets per episode.  OVA's were next, thus allowing for them to have much improved art and animation. Movies were the top dog, allowing for the best art and animation.
Unfortunately, Mahou Sensei Negima! Anime Final looks to have had the budget of an average budgeted TV show. The animation isn't that great, and sometimes kinda crappy but at other times, it is OK. Some of the distant shots make the characters look like crap, which I couldn't understand even in TV productions.
I could go on and on with the complaints (like Eva's change of character so that she's all down with becoming one of Nagi's ministra's when she still is the superior mage to Negi), but frankly, I'm tired.  I only bought the movie for the pactio cards, and I don't regret that, but the movie stinks. If you hated the manga's ending, watching this movie will make you change your mind on that. ^_~