Hey gang! The good folks at Useless Tenchi have alerted me that the Kamidake Onsen 12.12 from C83 Comiket now has Kajishima-sensei's note translated.  So, without further ado, here goes.
It's been a long time since I've done the Tenchi characters.As far as it goes, I felt a little lost in creating the illustrations for the preceding story. Of course, more and more I think that part of it is because the Seikishi illustrations are so ingrained in me.
Of course, an animator draws different characters, that they have a growing influence on him is like destiny.
This time I drew a Tenchi story because it was Tenchi's 20th Anniversary. For my next doujin I'll be going towards Seikishi because I felt it would be easier. With a new Tenchi novel coming out, there is a lot of material that I just can't use.
If you said "Well, drawing, creating and completing those slice of life scenarios is difficult…" then you'd be right.
Now while I think I will be drawing more Tenchi material next summer, the plan is that it will be about the training and preparation for sending Kenshi Masaki, Tenchi's younger brother, to the other world. So it's like half Seikishi.
Now, let's talk business, the GXP novel is on time, so it will be coming out next January as usual. This time, as it's the 20th anniversary of the anime, and it's the novel's 10 year anniversary, I included a few surprises.
I was going to mention, I've gotten the OK to publish a new novel. Those who came by the booth at the Summer Comi probably saw the characters on the sign that we had up. The novel is about them.
Anyhow, after I get the new project's novel published somehow, I sincerely, earnestly hope I can proceed on an anime.
I'm guessing that in that last sentence, he's referring to Paradise War, which of course the novel did get published.
Anyway, I'm glad to see that the next doujinshi will basically be a bridge between the canon Tenchi Muyo! Ryo-ohki and War on Geminar. Granted, just seeing Kenshi training won't be much of a bridge, but maybe it will have some tidbit that helps explain why Kenshi was sent to Geminar at all.
Of course, the big new for me is the new TM!R novel. Prior to OVA 3 getting a green light, it was rumored that the fourth Shin Tenchi Muyo! novel would be entitled Mihoshi. As of this posting, research is going on into determining what characters Kajishima-sensei is referring to from C82.
Well, regardless of what the novel covers, I'll be picking it up.
By the way, here's the cover of 12.12 for those wondering.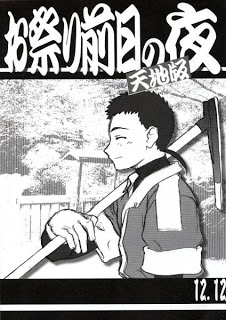 Special thanks to Bishopcruz for the translation. ^_^