On December 27, 2006, I decided to delve into the world of blogging about anime, manga, and things Japanese. Prior to that, I wrote reviews (and still contribute on occasion) to Community Anime Reviews, starting in 2002. In all that time, my only real concerns about bothering publishers & distributors were my Negima! spoiler images that I would post when that manga was active. Thankfully, Kodansha was either gracious and allowed me to pass or ignorant of my efforts.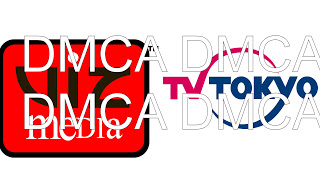 So, imagine my surprise when earlier this month, TV Tokyo (MX International Inc.) slapped me with a DMCA complaint along with a few hundred other URLs for alleged copyright infringement. Because my blog is hosed by Google (for now at least), Google immediately takes down the post in question because I'm guilty until proven innocent.  So, what was this post that was stealing food out of the bellies of TV Tokyo executives, employees, and potentially causing a hole in the space-time continuum? Just a regular, episode review of one of their series.
Yep, apparently my (positive) review of this one episode, which was legally streamed on Crunchyroll, violated the hideous Digital Millennium Copyright Act. Under the GUILTY until proven innocent aspects of this outrageous law, TV Tokyo had to offer zero proof that I was in violation. They do have to do whatever legal things are required to establish they own a copyright, but once that's done, then they can do whatever the heck they want.
As you might imagine, I'm sitting there reading this notice from Google (which they simply point you to a database link where the complaint is filed, after which you have to go dig it out) and my jaw hit the floor. At best, they could complain about the use of screen captures in my blog post, but considering they didn't hit any other blog review for the series, that couldn't have been the issue. Since the complain doesn't force TV Tokyo to specify the exact element(s) are in supposed copyright violation, I'll never know because they don't have to answer jack.  Instead, I filed a legal counteraction to Google, and if TV Tokyo doesn't respond in another week, then I'm shifted from GUILTY to innocent.
Out of the hundreds of URLs that TV Tokyo complained about, every other one but mine was for either an unauthorized streaming site or an unauthorized download site.  Amazing.
That was bad enough, but then when I get up on Thursday, imagine my surprise when I'm slammed with yet another DMCA violation. This time, the culprit was Viz Media.  My crime? You won't believe this — promoting their announced release of Naruto Shippuden the Movie in 2009!  You read that right; all I did back then was post the news that Viz now had the movie up for pre-order, including THEIR official trailer from THEIR YouTube account for promoting Naruto back then. (Additional: It was Viz who reached out to me to promote this stuff.) I also linked to my now defunct Amazon seller account as well as to RightStuf for folks who wanted to buy it.
Wow! MASSIVE copyright violations there, Viz. A four year old article PROMOTING your product and ENCOURAGING people to buy it is a copyright violation? Seriously Viz?
Because these fools don't have to prove jack, they can cast wider and wider nets.  To hell with the innocent they catch. We're just collateral damage. In the case of Viz here, I think they had over 2000 URLs listed in their complaint.  Just giving a cursory glance through the massive list, it again appears that my blog post is being lumped with download and streaming sites. _
Needless to say, I am angry beyond belief. What's the point in helping a company sell its product if they are going to act this way?
Do I think I've been purposefully targeted?  I doubt it.  These companies may hire 3rd party vendors to do mindless sweeps for supposed DMCA violations and then claim success based on the massive URL lists they generate. It is also possible that Viz and TV Tokyo have their own software that their legal team uses to go out and do the same, massive sweeps. For whatever unearthly reasons, I've now twice been flagged as a guilty piece of crap that the crap excreted.
And so my issues with the guilty until proven innocent attitude that I wrote about last year have come to affect me personally. To be frank, I didn't see it coming at all.