中二病でも恋がしたい!戀/ Chu-2 byo demo KOI ga shitai! Ren
Chuunibyou Demo Koi ga Shitai! Ren 10 anime review

SPOILER Summary/Synopsis: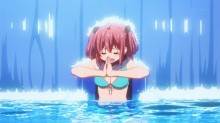 Satone has a restless night as she starts thinking more and more about Yuuta and their past together. Meanwhile, Rikka has been staying out late every night and won't tell Yuuta why. As a result, when they go to the water park where Touka is temporarily working, she's exhausted and sleepy. Satone is also at this water park under a waterfall, trying to purge herself of thoughts of Yuuta. Yuuta showing up doesn't help. Touka notes this, so when Rikka and Yuuta are leaving the park to get some ice cream, Touka asks where Satone is. Yuuta doesn't know, so they leave, causing Touka to realize that Yuuta is blind to the situation as his eyes are only on Rikka.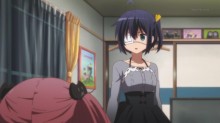 Touka pays a visit to the area where the local obon festival is to be held, where Sanae and Nibutani are engaged in a water balloon fight that ends up soaking Touka, causing her to punish them. She tells them (and Kumin) what's going on. Meanwhile, Rikka and Yuuta are at the library to study, but Rikka is fast asleep. Touka sends Yuuta a text to let him know that she's returning to Italy and that she's there if he needs her. That evening, Rikka texts Satone, then visits her apartment to tell her she's fully powered up and that she's on her quest to find the third token, though finding it is proving tough and Rikka says she can't tell Yuuta about it.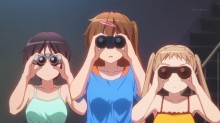 Sanae, Nibutani, and Kumin begin their surveillance of Yuuta, Rikka, and Satone, where they do observe Satone looking depressed. The trio confront Satone on this later, where they are able to confirm that Satone is in love with Yuuta. She says she's not there to steal Yuuta, but does say that in the past, she had feelings for Yuuta. She defeated this enemy before and will do so again. When Yuuta and Rikka come to the area, which is near the place where the bon festival is to be held, the foursome hides nearby to observe. Though Satone vows to not change, Nibutani thinks it won't be that easy for her. Indeed, that afternoon, Satone is depressed over her feelings for Yuuta.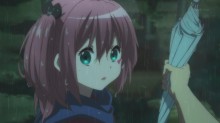 That evening, Kuzuha helps Rikka into her yukata. With that, the two and Yuuta head to the festival as Satone hides on her balcony. At the festival, Kuzuha works a yakisoba stand while Rikka and Yuuta visit the water balloon yo-yo stand operated by Kumin, Sanae, and Nibutani. Rikka sees something and leaves to investigate while Satone arrives in a red yukata, acting her usual self. Yuuta goes off to find Rikka while Satone tells the girls that she has to battle herself to overcome her feelings. Yuuta encounters Satone as the rain starts to fall, so they shelter at a shrine, where Satone gets Yuuta to tell her the truth about him and Rikka. When Rikka texts him, he leaves and Satone thinks she's won the battle. However, when Yuuta returns with an umbrella, Satone breaks down and flees.
Thoughts/Review:
Yeah, unrequited love sure does suck. No doubt, we've all been there at one time or another in our lives. That's why it is so easy to empathize with Satone.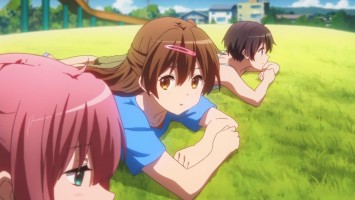 Further, Satone is in that bad position where she had a chance at romance with a person she had fallen for, but because she passed on that opportunity back then, it was far too late when she encountered that person in the present. Now she thinks of what might have been and that makes it worse.  I think we've all been here as well.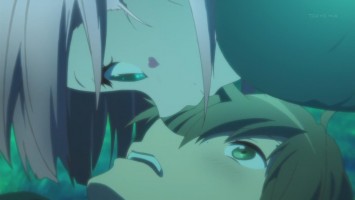 Touka fulfills her role to move this unrequited love plot forward by observing it (which no one else had), and then putting Nibutani, Sanae, and Kumin on the case.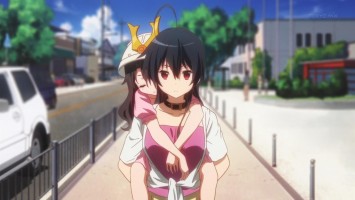 Speaking of which, I loved how Sanae's and Nibutani's sisterly fight ending up involving Touka so that she punished them both. *lol*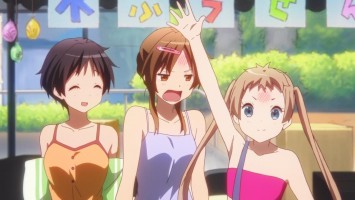 I'm not surprised that Yuuta is oblivious to Satone's growing feelings. After all, Rikka is the girl for him and their relationship continues to grow at a slow, howbeit very slowly.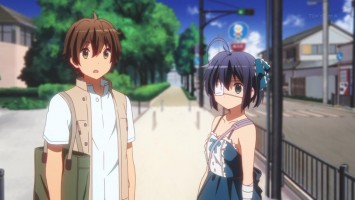 Question is, what will Yuuta do when he realizes that Satone is in love with him? What will Rikka do when she realizes Satone is in love with Yuuta. I think Yuuta will try to be kind, which will hurt Satone more. I suspect that Rikka will be the one to help Satone through this.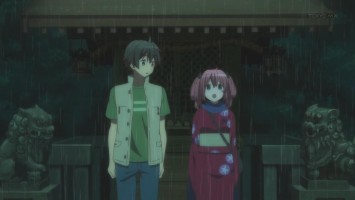 In the end, a bittersweet episode that contained fun and sadness. I look forward to seeing where things go from here.