ハヤテのごとく!/Hayate no Gotoku manga volume 23 review
Hayate the Combat Butler Volume 23
 –> PURCHASE FROM RIGHTSTUF!
 –> PURCHASE FROM RAKUTEN (formerly BUY.COM)
 –> PURCHASE FROM BARNES & NOBLE
 –>  Purchase from Yes Asia! (Japanese tankoubon)
Since I've already reviewed this volume based on the Japanese tankoubon, this review will focus on the Viz release as well as some additional thoughts regarding the content of Hayate the Combat Butler Volume 23.
***SPOILERS***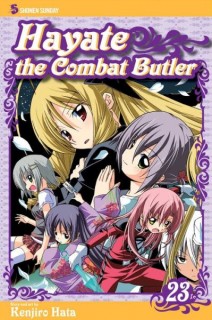 Recently (chapters 435 and 436), Hata-sensei decided to do a flashback where he told the story of the 1st volume's splash page (all manga volume splash pages are canon artwork while the chapter splash pages are not), which featured a young Hayate carrying a crate full of empty bottles as Santa-san has stopped him to engage him.  During that flashback, which took place prior to Hayate meeting Ah-tan, we see events regarding Ah-tan and Mikado that went on then.
I mention it because in volume 23, there is a similar flashback, only it takes place after Ah-tan has left the Royal Garden. Together, the two flashbacks help form more of the incredible backstory that Hata-sensei has slowly been doling out.
Indeed, one of the joys of being current with the Japanese release of the manga chapters is that when Viz can be bothered to publish a new volume, I can reread stuff at my leisure, where I'm always amazed to find were Hata-sensei has carefully, if VERY slowly, lain out the architecture for this rather interesting plot he has for this series. Even after a decade of writing, seeing the pieces of the puzzle come into place is just something else. Frankly, I wonder how Hata-sensei manages to keep track of not only the main plot, but all of the subplot threads as well.
This volume has so much good stuff. Not only was the main plot thread pushed forward, but Hata-sensei also managed to show Isumi's awesomeness as a powerful miko. We got to see Athena as a young adult as well as see Hayate's reunion with her. Plus, Hata-sensei manages to do his normal gag humor (Machina/Makina and the burgers were quite funny for me) as well as some romantic comedy stuff.  So content-wise, there's a lot for fans to be happy about.
On the Viz side, I was surprised that "Makina" was used as the name for Athena's current butler. Fans have been calling him "Machina", which I assumed came from Japanese sources (but obviously, I could be very wrong about that). It isn't a problem though.
Otherwise, for Viz, the usual stuff applies. The Japanese honorifics are retained. The usual omake stuff from the tankoubon is here. The "front cover" comic has a fun parody of Fullmetal Alchemist. Fumi-chan brings up the rear with some hilarity. Sadly (but standard operating procedure), no translator notes are to be found.
For Japanese fans, this volume was published at the same time that volume 24 was. Unfortunately for us losers in the U.S., we have to wait until September 2014 (at the earliest).  It really is a shame that so few people buy this manga. While we are just getting volume 23, the Japanese will soon be getting volume 40. *_*  *sigh*