A look at Nisekoi manga (This generation's Love Hina?)
As I've been blogging for many years now, and have been writing anime and manga reviews since 2003, I often get anime or manga titles recommended to me, or I will see something that catches my eye for one reason or the other.  The latter was the case with Nisekoi, as for whatever reasons, I kept seeing images posted of the various girls, followed by the release of the anime adaptation of the manga. Initially, I thought I might give the anime a look-see, but then I decided that I wanted to give the manga a try.  While I can see the appeal of this series, it isn't one I'd read again.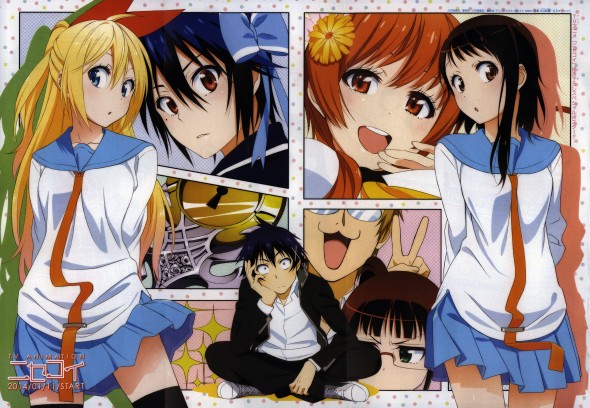 ***SPOILERS***
The premise of the Nisekoi manga has first year male high school student ICHIJOU Raku, the son of a powerful head of a Yakuza family, painfully encounter KIRISAKI Chitoge, a blonde, half-Japanese, half-America girl who's just transferred in from America. As a result of her accidentally knocking him down, he loses his locket from childhood, which was given to him by a girl he made a promise to ten years earlier, and who has the key to said locket. As a result, Chitoge and Raku form a fierce dislike of each other. Complicating matters is the gang war that is brewing, causing Raku to have to officially become the boyfriend to the daughter of the rival family's head. To Raku's shock, that daughter is Chitoge, and to keep the peace, the two have to pretend to be in love rather than despise each other.
Because this is a harem title, naturally there are going to be lots of other girls interested in Raku. For starters, there's ONODERA Kosaki, who has a crush on Raku and is the girl Raku has a crush on, but both are oblivious to the other's feelings. Oddly enough, Kosaki has a key that could fit Raku's pendant, but then so does Chitoge, who just so happens to have lived in Japan ten years ago.
Then there's TACHIBANA Marika, who's the daughter of the police chief and for whom it is said that she was betrothed to Raku as a child. She too has a key.
There are a number of other girls to cover various trope types including Tsugumi (a reverse trap who's a skilled assassin who's worked in the States, who now acts as Chitoge's bodyguard), Haru (Kosaki's younger sister who thinks Raku is a two-timer and thus she needs to protect her "oneechan" until she starts to see Raku in a new light), and most recently KANAKARA Yui (another childhood friend of Raku's who's a bit older than him, so he addresses her as "Yui-nee"; she also has a key and is the head of a Chinese mob group as well as becoming the homeroom teacher for Raku, Chitoge, and the others).
The other two main supporting cast members are Ruri (Kosaki's best friend who wears glasses and stays fairly level headed) and Shuu (Raku's best friend who has a keen eye for seeing the truth of things; he also takes candid shots of girls and sells them as a hobby), and both fill the roles they are required to fill.
Upon starting to read this manga, it was very clear that Nisekoi has its roots in Love Hina.  You have the lead male who made a promise to a girl as a child, and for whom he still holds that promise dear.  You have the lead female who is a tsundere, who takes an immediate dislike to the lead male, and who punches, kicks, and otherwise physically (or verbally) abuses the lead male at the mere hint of the possibility of an "infraction" by the lead male.  However, over the course of time, the lead female starts falling for the lead male, but then can't bring herself to admit it for whatever reasons.  And of course, other females of various trope types in the circle of the lead male come to fall in love with him.
Considering that Love Hina (manga) started in 1998 and ran through 2001, I doubt that many of the younger fans reading the Nisekoi manga (or watching the anime adaptation) have read or watched Love Hina.  From that perspective, I can completely understand and appreciate why Nisekoi is fairly popular, even in the States. Harem titles can be a lot of fun. I should know because I read and watched quite a number of them. People pick the girl they want the male protagonist to end up with, and debate online why their girl is number one.  Fans laugh at the hijinks that always ensue from harem, romantic-comedy titles.
For me, Nisekoi is too much of a "been there, done that" manga. While I like that Raku and Chitoge are on equal footing in terms of social status (both are rich, come from powerful families, and have staffs at home who address them in manners becoming of their status), Raku and Chitoge are too much of a rehash of Keitaro and Naru from Love Hina.  While I still like Love Hina, even back when I started reading that manga, I grew weary of Naru's flying off at the handle and punching Keitaro into next week for the least nothing.  So when Chitoge started doing the same to Raku in Nisekoi, I quickly got tired of that.
KOMI Naoshi-sensei follows all of the standard rules for harem titles. Raku is a good guy, so naturally the women are going to flock to him, even if they don't want to. He has the girls cover many of the various harem trope types, sometimes having a girl cover more than one type — tsundere, childhood friend (x4 through chapter 120), half-Japanese, ojousama, tomboy (pseudo reverse trap), protective little sister (to one of the other girls),  worshipful ("Raku-sama"), frail health, "Yamato Nadeshiko" (more of an ideal Japanese woman), and others I'm sure I've failed to mention.  For me, Nisekoi just brings these types of girls in just to have them in the mix.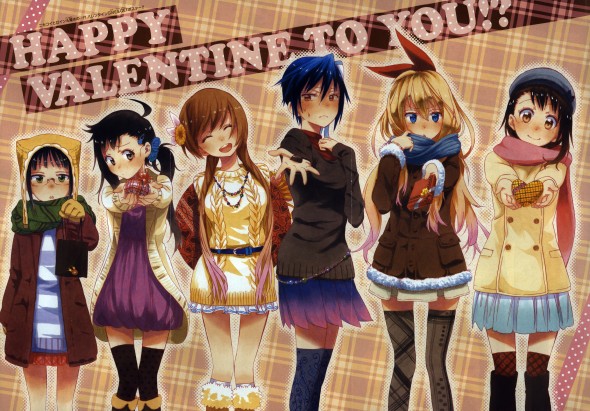 The other problem I have with Nisekoi is that realistically, the manga should already be over, and that should have happened sometime ago based on the story's structure. Once the central harem (girls with keys who'd known Raku as a child) had grown to three and the three along with Raku were educated about the nature of his locket and their keys, it should have been over. Instead, we get some BS reasons for making sure this doesn't happen, followed by the girls agreeing to allow the status quo to remain in effect, so that the manga can continue and shift to a more slice of life setting.
To be honest, some of the more recent chapters have been more entertaining and interesting to me. For example, when quiet, glasses girl Ruri has to enlist Raku to pretend to be her boyfriend and accompany her on a trip to visit her perverted great grandfather, it was both hilarious and touching at the same time. Having Marika challenge Chitoge to a bento making competition allows Komi-sensei to go for the age-old "the girl can't cook" trope, but he pulls this off quite successfully for me by coming up with wildly unexpected elements to emphasize Chitoge's lack of cooking skills (her fried eggs still make me laugh even now as I remember them).
While I wasn't bored with reading the manga and have even enjoyed it a lot at times, I will say that because this manga is just following the numbers of other harem titles laid out before it, especially Love Hina, I find myself realizing that I would never read this manga again. For me, the mark of a really good manga is one that makes me want to reread it to enjoy the good times. Nisekoi doesn't quite hit that mark with me just because I've read all of these other harem titles that came before.
Does this mean I think Nisekoi is bad? Absolutely not. Were I new to anime and manga and this was one of the first harem titles I read, I'd no doubt be all down for this series.  That's why I understand and appreciate why so many people like it.  Indeed, if you like harem titles, do give it a try.  There are a lot of enjoyable things to be found here.
In the end, Nisekoi is too much of a retread for me and doesn't have enough unique elements to get it over my "really good" manga threshold, whereby I'd want to reread the manga multiple times and have a space reserved for it in my manga library. It has its good moments, cute girls, and humorous elements, but it needed to be more unique and actually tell a story rather than continually find ways to bring more harem elements into it just for the sake of bringing harem elements into it.