ユーキューホルダー! Manga Review
UQ Holder Volume 01
–> Purchase from RAKUTEN (formerly BUY.COM)
–> Purchase from BARNES & NOBLE
–> Purchase from RIGHTSTUF!
–> Purchase from Yes Asia! (Japanese tankoubon)
***SPOILERS***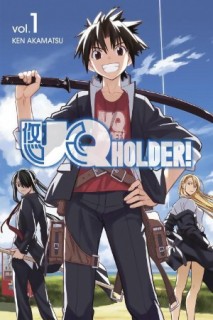 UQ Holder volume 1 covers chapters 1 through 6 (original reviews for chapters 1, 2, 3, 4, 5, 6).  For those who don't know, UQ Holder is the spinoff from Akamatsu-sensei's previous manga, Negima, set some decades into the future. The series features Yukihime, a teacher at a rural Japanese school, and the boy for whom she is the legal guardian, Touta. In this future Earth, the magic of Negima is now widely know and travel to space can be easily accomplished via a space elevator located in Tokyo. Touta wants to head to this tower with his friends, but to do so, they have to defeat Yukihime, which proves pretty impossible.
After another teacher gives them an edge, the students manage to snare Yukihime, where the other teacher, Tachibana-sensei, reveals himself to be an immortal hunter and knows that Yukihime is actually Evangeline, an immortal shinso vampire. In order to save Touta's life and the life of his friends, Yukihime allows herself to be sliced up and causes the injured Touta to drink her blood and become a vampire. This allows him to regenerate and defeat Tachibana.
With that, Yukihime and Touta go on a journey, where they eventually meet Kuroumaru, another immortal hunter who's gender is unknown. Upon discovering Touta is an immortal, Kuroumaru attacks, only to be defeated by Yukihime and Touta separately. Since Kuroumaru cannot come home without defeating Yukihime/Eva, they invite Kuroumaru to join them on their journey since Kuroumaru is also immortal. One day when Touta expresses an interest in forming a group of immortals to do good, he is shown that this already exists as members of the group UQ Holder, whom Yukihime helped form, arrive to pick up the trio.
---
Rereading this volume, I was reminded of how much potential this manga started with. Having the Negima character of Eva crossover (as Yukihime) was a good stroke. Seeing her in her mature, adult form was a good move on the part of Akamatsu-sensei. As a teacher at a rural school and as the official guardian of the orphaned main character Touta, Eva becomes a much more interesting character.
I liked that Akamatsu-sensei had the first chapter be 87 pages as it made for a good splash beginning for the manga.  The second chapter is just filler, but it was still kind of fun and also being a long chapter helped as well.  The rest of the manga is the journey of Yukihime, Touta, and then Kuroumaru, which was setting up to be rather interesting and a way to get some nice character development. Then out of the blue, some of the members of UQ Holder show up and it is time to scrap all that boring character work in favor of something else.
Also, main character Touta, who'd given only a very brief blurb about its past, starts his personal journey of being able to do anything he wants as he starts overpowering anyone encountered (Tachibana, Kuroumaru, and even Eva by snagging her towel after she laid down a challenge).
Kuroumaru is given the scantest blurb of back history, and the ongoing joke of "is Kuroumaru a boy or a girl" starts.
So from a story perspective, there are interesting things here, but I was disappointed that a journey of discovery and development ended up being cut short in favor of pushing things forward to get our trio of characters to UQ Holder and thus introduce the other members of that immortal organization.  Seriously, this would have been the perfect time for Eva to teach Touta more about what it means to become an immortal and speak of her own past, thereby allowing the readers to gain more insight into the character. (And for Negima fans, even more so since so much of her past is still a mystery.)  Alas, that was not to be.
On the Kodansha Comics side of things, this is a bare bones release.  Since the series is being chapter published on Crunchyroll, Kodansha Comics is using the translation/adaptation by the Twins (Alethea and Athena Nibley) that was done for Crunchyroll. So the adaptation is fine with the full use of Japanese honorifics, including the "Ane-san" way UQ Holder members address Eva. However, there are no translator notes, save for whatever margin notes the Twins put into the original Crunchyroll publication.  There are no other extras either. I don't have the Japanese tankoubon, and I don't know anyone who does, but I seriously wonder if Kodansha Comics is going cheap and not licensing extras. If someone has the tankoubon version, let me know.
I don't usually complain about the color pages being MIA in the American volume release of a manga, but this time I'm going to. Chapter 1 starts with color pages, but when those color pages are converted to gray scale, the result is pretty awful. In my opinion, Kodansha Comics should have retained the color pages for the first volume's release as there weren't that many color pages and some unnamed manga companies seem to be able to have color pages at the start of their manga.
As an aside, this volume did hit number 5 on the New York Time's manga best seller chart, but was gone the following week.
So the new series from Akamatsu-sensei starts. Folks new to this Akamatsu-verse seem to like the manga a lot. Folks who followed this series from Negima are a lot more skeptical, myself included.  At only only volume, it is too early to pass judgement, good or bad, against the manga's story. I wish Kodansha Comics had done a better release though.