Here is a SPOILER image for the upcoming UQ Holder chapter 50, courtesy of Manga Kansou. (My review of UQ Holder chapter 50 should come out Wednesday.)
UQ HOLDER CHAPTER 50 SPOILERS
The UQ Holder chapter 50 goodness begins.^_^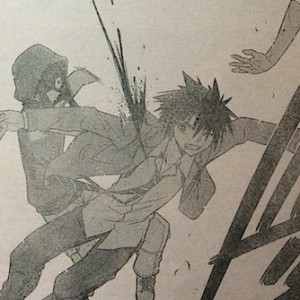 Hopefully, ChaosProphet will have something soon.  Karin and Sayoko will duke it out for sure. It also seems that Touta will fight Santa.  I also get the sense that there will be a new sword being used. But that's all I can gleam from my poor attempts. ^_^;
Oh well. It does look like things will be most interesting. As soon as I'm aware of new info, I'll post it.
UQ Holder chapter 50, Update #1: Here's from ChaosProphet.
Not fully detailed as I'm a bit busy:

Karin takes her sword, cuts the hands and attacks Sayoko but there is no effect. Karin asks why she killed people with no sin. Sayoko answers she carefully observers and only choose the real trash. "Is there even someone in this world without sin?".

Sayoko starts getting strange and blurts out that because she don't have time so she can't select carefully, will have to kill everyone.

Karin attacks with some exorcising techniques and seems like she is about to win but is entangled by Sayoko's hair. Sayoko then attacks with magic. Karin is unable to move and thinks that all the power Sayoko showed means she is not an ordinary wraith. Because Karin is immortal Sayoko only option is to bury her "How far I need to bury you so you wouldn't come back? 50m? 100m? 1000m?"

Santa and Touta were called to the graveyard and are waiting. They talk about a victim being from the magic part of the school. Ikkuu and Kuroumaru come and tell Touta to get away from Santa, then can't contact Karin so there is a big chance he is the culprit.

Santa reveals he was the person they fought the other day, Touta is confused without the context. Santa grabs Touta and is about to bury him so Kurou attacks. Santa don't evade but that was the Zanmaken Ni no Tachi. Touta tries to cover Santa, Touta shoulder is hit and Santa left arm is cut (to his surprise). No blood comes from Santa's wound.

Kuroumaru says Santa already is dead. From a point in the sky Sayoko is watching.
Ah, it wasn't a new sword, but sword techniques, and those weren't new (unless it is from Karin).