Pretty Guardian Sailor Moon Crystal – 15 Review
美少女戦士セーラームーンクリスタル
Bishoujo Senshi Sailor Moon Crystal
SPOILER Summary/Synopsis: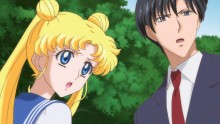 Chibi-Usa's gun turns out to be a toy gun, so she flees to a playground. Usagi and Chiba follow her there, where she sits alone on a swing. She starts to tell Chiba something, then stops. While a new enemy gathers to destroy the Legendary Silver Crystal, Chibi-Usa is escorted to Usagi's house, where Chibi-Usa casts some kind of spell to make Usagi's family think Chibi-Usa is one of them, frustrating Usagi. The following day, Usagi is still not pleased as she meets her comrades. Luna provides the girls with new transformation pens and communication watches. Rei returns to school for the Supernatural Research Club meeting, when she learns of another club doing the same research.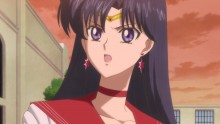 At the Catholic school, Rei's fortune readings are interrupted by word from the Black Moon club, whom are giving death readings. Rei is going to report this to the nuns, but discovers one of them has the Black Moon mark. The other girls arrive and transform into Sailor Senshi, where they battle Black Moon henchmen after discovering a nun burning to death. Koan, on of the Black Moon Specter Sisters, reveals herself, leading to a fight that they are losing. Rei is being burned alive, but when Tuxedo Mask arrives to save Sailor Moon, the two create the Moon Rod with which Sailor Moon defeats Koan.   Crimson Rubeus of Black Moon arrives and following Prince Demande's orders, kidnaps the helpless Sailor Mars (Rei).
Thoughts/Review:
And so a new arc begins…*shudder*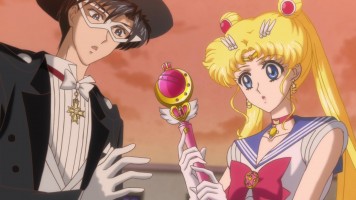 So, some pink haired girl drops through a portal in the air, carrying something that looks suspiciously like Luna, and only Usagi is troubled by this? (And to be fair, she's mainly troubled because Chibi-Usa has snogged her man.)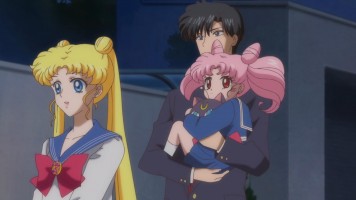 Our new Black Moon villains are as laughable as the Dark Kingdom fools were. I'm going to take a wild guess and say that are the anti-Moon people, kinda like elves and dark elves.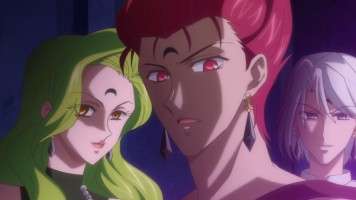 Naturally, the Sailor Babes can't do jack in a fight despite supposedly having greater powers. So Rei is kidnapped and thanks to the power of teenage hormones in overdrive managing to create a Moon Rod (*snicker*), Usagi is able to defeat their first enemy, Koan. I'd say she killed Koan, but this anime has shown a reluctance when it comes to death, though they did appear to also kill a nun and others in this episode.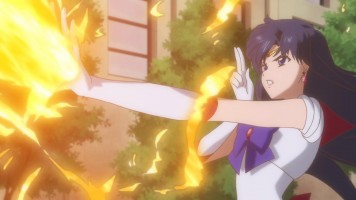 I will admit that I liked how Usagi and Chiba can walk and talk shop now. I think for the first time, the two actually seem more like a real couple to me.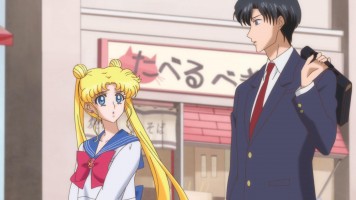 Could we have a LONGER henshin sequence please? I know there are more Sailor Jailbaits in the future. It will take five minutes if everyone has to transform one at a time. *_*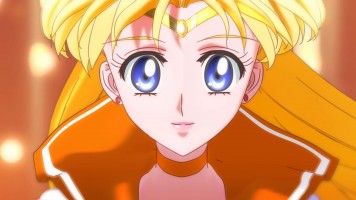 And while we are on that subject, there's still that whole "waiting around" thing that villains and heroines like to do. "Oh no! There's my enemy! Better stand over here looking worried. Oh no! I'm being attacked! I'm going to stand here looking shocked but determined and wait for it 'cause getting out of the way is for LOSERS!"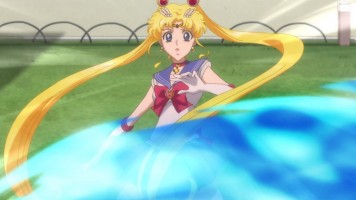 Finally, why is is that the words "papa" and "mama" have to be translated? These are words that have long been in the English language (mama far longer than papa), yet the official English adaptation feels that these words need to be translated into "mom" and "dad" for some reason. It really boggles my mind.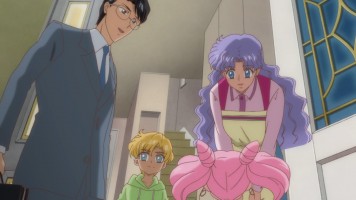 In the end, this episode was more of the same that we've seen before, only slightly modified.