ユーキューホルダー! Manga Review
UQ Holder Chapter 72
SPOILER Summary/Synopsis: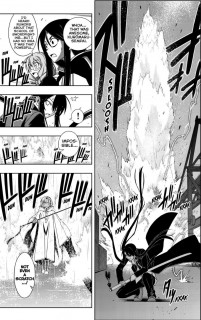 Santa and Kuroumaru surge to attack Hoodie, but she avoids them, moving past them to attack Kirie. To Hoodie's surprise, Kirie avoids all of Hoodie's attacks. Santa observes that Kirie's eyes are those of a gamer who stayed up all night trying to beat hard game on a difficult level.
Kirie continues to avoid Hoodie's attacks, then gives Santa the signal to attack. Santa blasts Hoodie away to where Kuroumaru is waiting. However, Hoodie quickly recovers and defends against the attack. Kuroumaru uses a Shin Raikouken finishing attack from the Shinmei(ryuu) school. However, Hoodie appears untouched by this attack and decides to end the fight, saying she'll consider this her way of saying hello, then she disappears.
Touta wakes up at the home he stayed at with Yukihime. He looks for Yukihime before finding her outside under an umbrella being held by a man, about to get into a sedan. She tells him that he was just a substitute for the man she loved, then gets into the car. The man and car driver turns out to be Fate, who flies off.
Touta's friends from school arrive, but they leave him because he's a monster.
Touta is about to give pursuit, but he's grabbed by Hoodie, who accused Touta of just being a monster who won't die.
Touta wakes to see Kuroumaru looking at him. Kuroumaru explains that they are in Afro-san's attic and that Touta's injuries are pretty severe, thanks to whatever Hoodie did to him. Kirie and Santa come in, causing Touta to realize they saved him. He then apologizes for them not seeing him at his best.
Thoughts/Review:
Well, I didn't get my wish to see Hoodie beat the snot out of Kirie, Kuroumaru, and Santa. However, considering Kirie is in the group, that's not unexpected.
Santa's remarks on Kirie's eyes being like a gamer who's been playing a very hard game all night long implies that Kirie has likely gone through a ton of resets in order to memorize Hoodie's moves so as to avoid them.
Further to that, I note Kirie has a flame at her finger. I wonder if she's doing instant resets on the spot, thereby not having to repeat quite so much. I may be reading too much into that though.
I do find it interesting that while Santa has an effect on Hoodie, Kuroumaru's massive attack failed. I don't remember if Asuna's magic cancel ability also applied to techniques or not. However, Hoodie may have the ability to cancel techniques like Kuroumaru's, but not psionic attacks like Santa has.
So why did Hoodie leave? Stalemate. Having failed to take out Kirie, whom Hoodie rightly saw as the weakest link, Hoodie used discretion and simply exited the field for a time to gather more info and plan her next attack.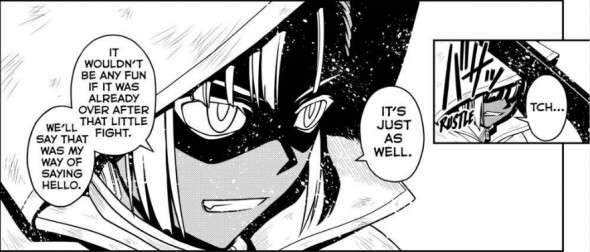 Touta's nightmare, combined with his other recent experiences, will hopefully end his airheaded stupidity about blindly doing whatever just because he's the immortal Touta who can master anything (save magic) on a whim.  I suspect he'll have some recovery that needs to be done before he can do anything else.
Assuming that's the case, I'd love for Akamatsu-sensei to do some character work here.  Kuroumaru could have a flashback story to tell Touta so that Touta could better understand Kuroumaru and relate it to his own situation. Ditto Kirie possibly.  I doubt I get my wish since Akamatsu-sensei is always pretty loathe to go too deep into character backgrounds and such in order to allow him plenty of wiggle room for future stories.
I know a lot of you are wanting this to go to the tournament, but at the moment, I don't see how that happens. Although Hoodie is not "chaotic evil" (to borrow D&D alignment classification), as demonstrated by waiting to attack Touta when he was alone and by her setting up a barrier to keep others out (which apparently didn't work on Kuroumaru and company), she still wants Touta's hide. In my mind, one doesn't say, "Hmmmm. This crazy bitch is out to kill me. I think I'll go fight in a tournament now and not worry about her. Yeah, that's the ticket!"
Of course, I could be wrong about this. The logic could follow Hoodie possibly being lawful evil, thus not wanting to harm innocent folks, thus Touta could get into the tournament and win. I think Hoodie is observing them even now, and is going to look for that moment to hit Touta when he's alone again, or at the very least, away from his friends and allies.
In the end, this was a pretty enjoyable and interesting chapter. We'll see what happens next.