Magical Girl Lyrical Nanoha ViVid – 01
魔法少女リリカルなのはViVid
Mahou Shoujo Lyrical Nanoha ViVid episode 01
SPOILER Summary/Synopsis: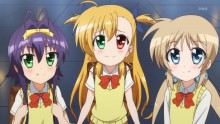 TAKAMACHI Vivio, a fourth grader attending the Magical Academy Shoutaka on the planet Mid-Childa (Midchilda) attends her first day of the new school term with her friends Corona and Rio before the three of them do some training with Nove, a Numbers cyborg. That evening, Vivio's adopted mother Nanoha and her godmother, Fate T. Harlaown present Vivio with an Intelligent Device, which looks like a small,toy bunny. Vivio names it Chris and gives its official designation as Sacred Heart. This allows Vivio to assume an adult (older teen) form, which shocks Fate since Nanoha hadn't told her about this. Vivio returns to her child form to reassure Fate.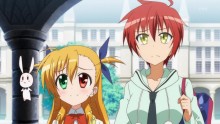 Vivio and Nanoha head to a part to do some magic training, where Nanoha makes Vivio promise not to abuse the powers granted her by her adult form. Elsewhere, Nove, Wendi, Cinque, and Dieci get a briefing from Ginga about a possible threat from someone identifying themselves as the High Queen Ingvalt. Sometime later, Nove, Wendi, Cinque, and Dieci escort Vivio to the Saint Church so that Vivio can visit her unconscious friend, Ix. Wendi and Deici visit their former Numbers companions Otto and Deed. Cinque briefs Knight Carim on the attacks, causing Carim to increase security at the church. When Vivio is ready to leave, Wendi escorts her home. Nove sets off to see Subaru, but is confronted by High Queen Ingvalt, also known as Kaisa Arts Master Heidi E.S. Ingvalt.
Thoughts/Review:
It is funny, as I started watching this first episode of Magical Girl Lyrical Nanoha ViVid, I thought back to how I got involved in this franchise through the four episode OVA series, Triangle Hearts 3: Sweet Songs Forever.  It is amazing that I continued because that OVA series wasn't too impressive, and I had no interest in watching the hentai OVA that came before it, nor getting the hentai game (visual novel) that the Nanoha franchise originates from. And yet for some reason, I decided to watch Magical Girl Lyrical Nanoha and actually made it past the first four episodes, which were underwhelming. The rest, as they say, is history.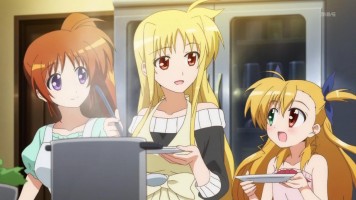 Episode 01 of Magical Girl Lyrical Nanoha ViVid really did induce feelings of nostalgia in me. Vivio being the star here made me think of Nanoha getting her start. Nanoha had to be baptized by fire in her introducti0n to this world of sci-fi magic. Vivio, whom Nanoha rescued in the StrikerS series (pardon those posts having messed up/missing images and such as of this post), has no such baptism since she doesn't live on Earth, thus she lives in a world where magic-technology is normal, so we don't get the cliched normal girl gets forced into being a magic girl.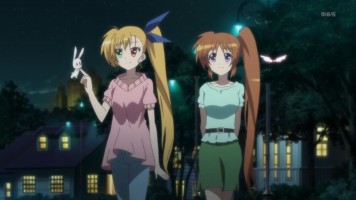 While we may have avoided one cliche, this is a mahou shoujo title, thus we are going to get those other cliches in, such as the lengthy henshin sequence so that Vivio can transform into a magical girl, making sure there's plenty of time to show off her loli body to the lusting otakus who are panting like dogs. I hate henshin sequences, but I did laugh seeing Vivio become an adult at the end of it. I will also say that it is kind of funny seeing Vivio hold what looks like a toy bunny to start this transformation process.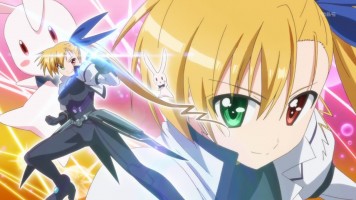 Because Magical Girl Lyrical Nanoha ViVid takes place a few years after StrikerS, there are a TON of characters to be introduced. I thought the writers did a decent job introducing introducing so many characters. If Magical Girl Lyrical Nanoha ViVid is your first trip into the Nanoha franchise, it might be overwhelming. You get Vivio, her two best friends, her adoptive mother and her adoptive godmother, Ginga, the eight reformed Numbers characters, Knight Carim, Sister Schach, Caro (Fate's underling in StrikerS), and Erio (another of Fate's underlings in StrikerS). That is a lot of characters, and we haven't mentioned the new adversary,  Heidi E.S. Ingvalt, nor the unknown character to me, Ix. And there are still more characters that I expect will get introduced in future episodes.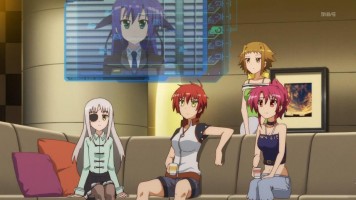 Speaking if Ix, she was unknown to me, so I had to look her up. She originated from the canon StrikerS Sound Stage X audio drama. One of the frustrating things for non-Japanese fans of the Nanoha franchise is that the canon story covers a wide variety of media on top of the anime that we might get to see. There are multiple manga titles as well as the Sound Stage X audio drama that fill in the blanks of events that happen in the years between anime series. So if you aren't versed in the entire canon, things can be confusion and maybe a bit frustrating since you can't get an official English version of them (I'm not sure how much of them can be obtained unofficially).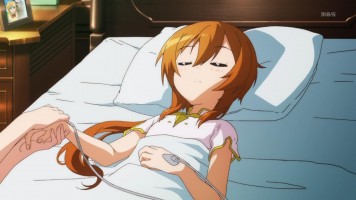 As to Heidi E.S. Ingvalt, I had seen her image before. I'm guessing if I check my Nanoha image folder, she'll be there with Vivio. It isn't a stretch to say that she'll follow the pattern of Fate, Hayate, and the eight reformed Numbers characters and become a good guy once all is said and done.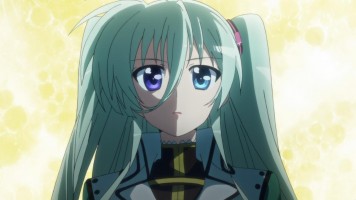 It does amuse me (in a good way) when I think of how the Nanoha franchise if very keen on redemption. That's why there are so many characters in this franchise because most of the opponents faced by our heroine(s) are actually pawns of some evil/deranged mastermind. I expect this will be the case with Magical Girl Lyrical Nanoha ViVid as well.  So I'm seeing the various reformed Numbers girls either working for the church or working as part of the Nakajima family (who adopted some of them) and I think, "I remember when you were the villains." But hey, I like redemption, so I like seeing these cyborg girls in their new roles.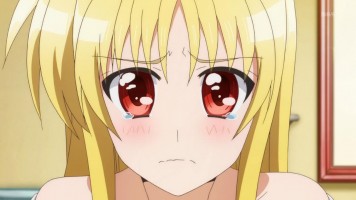 I was happy to hear Donna Burke (at least I think it was her) returning as Raising Heart. (Remember when we all thought it was Raging Heart since that's how the Japanese were pronouncing it?) For some reason, I never remembered Raising Heart flying around on its own. I always remember it being a pendant that Nanoha wore when not activated for combat.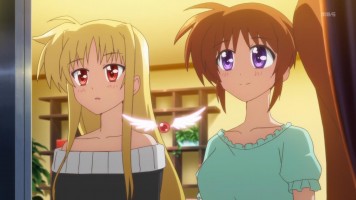 In the end, watching this first episode of Magical Girl Lyrical Nanoha ViVid was like the joy of coming home after a long absence, combined with the marveling of how things have changed since you were last there, including how everyone is older now. It will be a pleasure to continue watching this anime series this season.