ユーキューホルダー! Manga Review
UQ Holder Chapter 78
SPOILER Summary/Synopsis: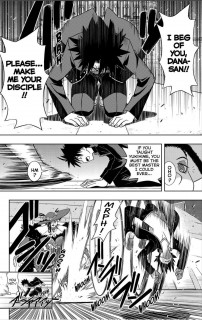 Eva, speaking a foreign language, is not interested Touta, though she does notice he's not a normal human. She darts off to the end of the balcony and leaps off to a bridge, so Touta follows her. They arrive at the tower at the end of the bridge, where inside, Dana is in a night gown and cap, sleeping on a large bed. Eva produces two blades, then leaps to kill Dana. However, Dana wakes and stops Eva's attack immediately, but when Touta screams out the name Yukihime, Dana notices him and immediately, "clocks" all over start ringing.
Touta is being overwhelmed by the noise, then it stops. It is night now and no one is in the bed. Dana, dressed as she was in the mall, appears behind Touta and asks what he wants. Touta protests about being kidnapped and killed, but Dana says she was being nice, pointing out that she healed his eye for him.  Touta realizes he's been feeling pretty good in this sky castle, and when he learns that Dana was the one who taught Yukihime how to fight, he begs her to make him her disciple.
Dana kicks Touta, who avoids a lot of damage by flipping away from the attack, impressing Dana. She scolds him for groveling, so he tells her that's what Yukihime taught him to do. Since Dana was planning on training Touta anyway, she agrees to be his master. She tells Touta that he's the only one who can teach Yukihime love since he's her man of destiny. She tells him that Yukihime will never acknowledge Touta since he is inferior, but Dana will train Touta to watch Yukihime's back.
After this embarrassing conversation, Touta is relieved that no one else heard it, then discovers that Dana has invited Afro (Laszlo), Kuroumaru, Kirie, and Santa to this floating castle.
Thoughts/Review:
Hmm. Well, Akamatsu-sensei is just not going to go anywhere you want him to go, apparently all in the name of keeping people from guessing where he's going to go. So randomness triumphs!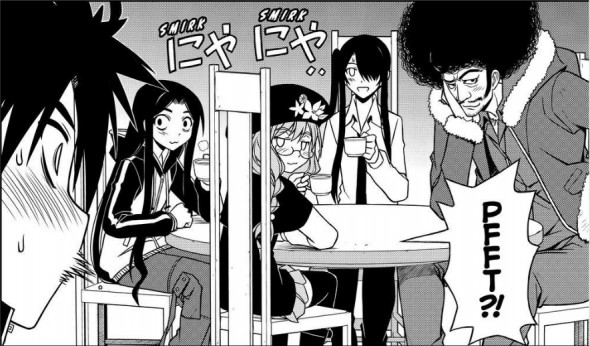 That aside, last chapter, I wondered if we were getting a retcon, or maybe we were getting an alternate timeline. With Dana being called the Witch of the Rift, combined with the fact that whatever place this castle is at, it appears to be outside of the normal binds of space and time, we very well may be in an alternate timeline/universe.
Still, it was VERY disappointing that we didn't get to see more than a tease of Eva in the past. I so want to have her past explored, but Akamatsu-sensei has been VERY loathe to do this since Negima. Of course, the more he reveals, the more trapped he is by his own canon continuity, thus the real reason he keeps us from knowing as much as possible. That way, he can play fast and loose with things if needed.
We may get to see more of Eva's past though, at least in the very limited scope of Eva's time with Dana. Dana's warning to Touta about not going to far after things he might see in this place since this place is "warped" (per the English translation).
I note with interest how Eva's fighting style in the past is identical to Chachazero's fighting style. One of my old theories about Chachazero was that she'd been ensouled, thus becoming sentient. After learning that Eva had left a sentient piece of herself in the Magia Erebea Scroll, I wondered if Eva might have put a piece of herself into Chachazero, thus ensouling it, thus being able to make a pactio with a doll since it had a piece of a soul in it.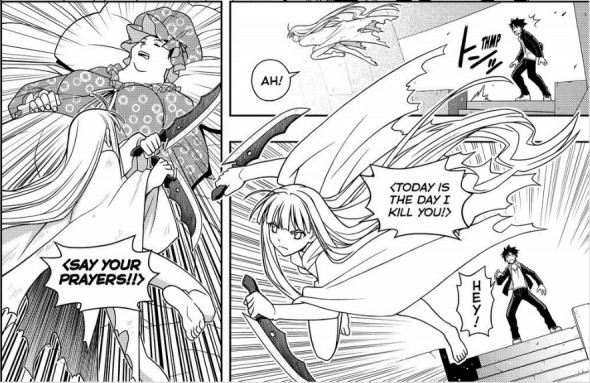 Man, I'd love to see Eva not only create Magia Erebea for the purposes of trying to kill Dana, but also to create Chachazero, also with that purpose in mind. The rags she is wearing in this chapter are the same as the ones she wore in the flashback in Negima where she's shown with Chachazero wandering from place to place and fighting for her life. So it is possible that if Akamatsu-sensei wanted to do the fanbase a favor, he'd show this.  (And he'd explain what happened to Chachazero in chapter 1 of UQ Holder.)
Of course, I doubt Akamatsu-sensei does anything like this. It is more likely that we'll get more random events happening 'cause of reasons, and a great opportunity to explore Eva's past will have been squandered.
Still, it does appear that Akamatsu-sensei is attempting to force-inject a harem element into the manga which really hasn't been there. He's shown hints of Karin possibly liking Touta. He's shown hints of Kirie liking Touta. We already know that Kuroumaru is on the cusp of becoming a lovely girl just to be at Touta's side. So hey, let's ramp up the harem trope by forcing Eva into the mix. Then maybe we can have some lovely chick conflict over who likes Touta and who does Touta REALLY like in a "boom-boom" kind of way.
I've no idea when the next chapter is coming out. If anyone has heard, let me know. Just to be safe, I'll start looking for spoilers this weekend. I am curious to see where this latest twist takes us.