ユーキューホルダー! Manga Review
UQ Holder Chapter 80
SPOILER Summary/Synopsis: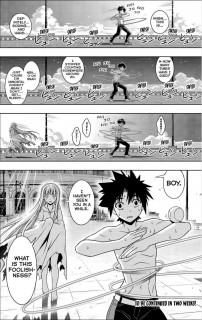 Touta finds himself alone in bed as Eva comes in to kill Dana. She speaks Japanese and when asked, tells Touta that she's going to kill Dana in order to escape this place. Touta tries to ask her if her name is Yukihime, but she turns and leaves. Touta pursues, asking her if her name is Evangeline McDowell. This causes Eva to stop, turn, and put her blades to Touta, demanding to know how he knows that name. He says it is the name of an acquaintance who looks like her. Eva decides Touta isn't lying, so Touta asks about Evangeline. Eva claims it is a distant relative, whom she has nothing to do with.
Touta is pondering this as Eva walks away and collapses. Touta comes to her aide, where she weakly says she is hungry. Touta takes her back into the castle, puts her on a couch, then finds a giant kitchen full of food. He brings some back and attempts to give her something to drink, but she becomes alert suddenly and begins draining Touta's blood through his finger. Because Touta is immortal, he's able to survive the massive loss of blood. When Touta pats her on the head, she gets irritated, but she apologized for drinking his blood, citing the fact that she lost her wits due to hunger. When Touta treats her as a kid, Eva gets tsundere, telling him she thinks she's older than him. He says he's fourteen, and she says she's 16.
Touta asks Eva for her name, so she says he can address her as Kitty. Touta offers his help in going after Dana, but she declines and walks away, around a corner of a passageway. When Touta follows, he finds an anxious Santa and Kuroumaru looking for him since Dana is upset that Touta has gone missing.
After their training session, Dana tells Kuroumaru and Santa that their problem is indecision. Dana tells Kirie her problem is fear of being alone. As such, she sends the three to individual training sessions where they have to face magical beasts. Touta is excited to get his own training, even though Dana says he'll never reach the top since he's a shoddy knockoff. She has Touta spin a hula hoop counter-clockwise and roll a baseball around his arms to behind his back. Any time the ball or hoop touches the ground, Touta dies. He has to do this for a week non-stop without food. As he works on this, "Kitty" shows up, asking him about the foolishness he's doing.
Thoughts/Review:
Hmmmm. It seems as if Akamatsu-sensei is setting things up (retconning) so that Eva knew Touta when she took him in and became his guardian. It also seems that Eva is being set up to take on the name "Yukihime" because of Touta. In addition, it is highly possible that Eva will get her vampire upgrade because she drank Touta's blood, thus the reason she never needed blood to live in Negima.  And finally, it is possible that Eva gets ME from Touta. If that happens, I will scream.
I just do not like this forced  romance thing between Eva and Touta. I was fine with Touta loving Eva as a mother, but since Eva of the past is 16, she's young and is likely to have a greater interest in guys. As such, we get this tsundere moment from Eva when she's talking with Touta after having consumed his blood. Ugh.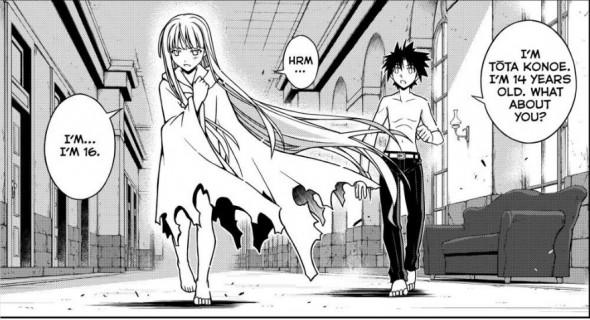 Eva goes by name "Kitty" in the past. I'm guessing that at this point in her life, Eva considers the name "Evangeline McDowell" to be when she was a human, thus her statement that Evangeline is a distant relative she has nothing to do with.
While I am not liking the closer, forced linkage between Touta and Eva, I still want to see more of Eva's past. I would be OK with Touta helping Eva find a library, whereby Eva learns the Doll Master skill, magic (or more about magic), and ultimately the pactio system. I'd love to see Eva make Chachazero and form a pactio with my favorite psycho doll. I would even love to see Eva NOT gain ME because she consumed Touta's blood, but to learn about how to do it, whereby she ultimately puts it into a scroll. (Though she did that centuries later, it would appear.)
Somehow, I don't think I'll get much of my wishes.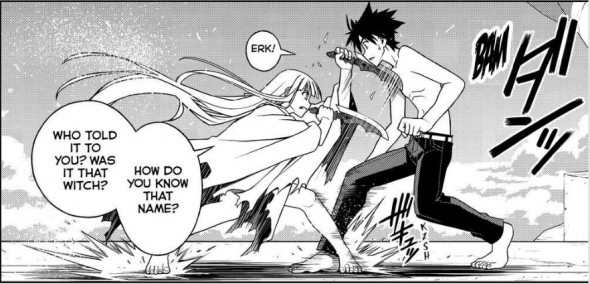 As for the individual training of Kirie, Santa, and Kuroumaru, they get to fight dragons. We'll see how much Akamatsu-sensei deals with that. If he does, how will he handle Kirie's abilities?
As for Touta's training, I'm not sure what that accomplishes or why Touta can never get to the top as a clone.
As for Touta's shifting through time, I guess we'll have to wait to see what the explanation for that is, other than Dana setting it up. I can't believe she wasn't aware that Touta had jumped back in time, thus the reason he was late for the training session.
I'd like to like this chapter, but I'm in an ugly mood at the moment, which isn't helped by the thought that Akamatsu-sensei is forcing an Eva x Touta ship from out of nowhere.