Here is some SPOILER info for the upcoming UQ Holder Chapter 85, courtesy of 2ch. (My review of UQ Holder Chapter 85 should come out Tuesday or Wednesday.)
UQ HOLDER Chapter 85 SPOILERS
The UQ Holder Chapter 85 goodness begins.^_^
This looks to be Chapter 85's spoilers.
何年過ぎても会いたかった

刀太の修行は次の段階に入り、魔獣退治に挑むが瞬殺される
それでも成長著しく、キリヱに"女"の存在を疑われる(九郎丸だと思ってるようだが)

さて、その"女"はというと
あれから人形遣いの能力を磨き、茶をたしなむ余裕もできた
"女"は刀太と違い、長い年月の中から飛び飛びで喚ばれているため
"女"にとって前回刀太と会ったのは2年ぶり、今回は8年ぶり
実に18年ぶりに"頭なでなで"されたのであった
■温もりと感触を静かに胸に刻む……
As usual, we'll have to wait for some gracious person to come along and translate. 🙂 More training for Touta. Kirie and Kuroumaru get a name drop. And I believe Eva is discussed. I suspect we'll get the "explanation" of Eva in the present having met Touta but acting like she never had. I could be wrong though.
Anyway, updates when we get translations, more info, and of course, spoiler images. 🙂
Update #1: DerGilga does some translating.
何年過ぎても会いたかった
No matter how many years pass, I wanted to meet you

刀太の修行は次の段階に入り、魔獣退治に挑むが瞬殺される
Touta's training, he enters the next stage and he's takes on an elimination of a demon beast, but gets instant killed.

それでも成長著しく、キリヱに"女"の存在を疑われる(九郎丸だと思ってるようだが)
Neverless, growth remarkably, the presence of 'a woman/female being' is suspected by Kiriwe/キリヱ (But it seems she is thinking it is Kuromaru)

(ANB's note: I believe "Kiriwe/キリヱ" is "Kirie" — it has been in the past.)

さて、その"女"はというと
Well, if it is this 'woman', then…

あれから人形遣いの能力を磨き、茶をたしなむ余裕もできた
After that, improvement in the puppeteer abilities and there is also time to enjoy some tea.

"女"は刀太と違い、長い年月の中から飛び飛びで喚ばれているため
The 'woman' and Touta don't match, because she is summoned scatteredly from a timespan of many years.

"女"にとって前回刀太と会ったのは2年ぶり、今回は8年ぶり
For the 'woman' the previous meeting with Touta was after 2 years, this time it is after 8 years.

実に18年ぶりに"頭なでなで"されたのであった
Indeed, it was 18 years ago the 'head stroking' happened.
//best to google: 頭なでなで

■温もりと感触を静かに胸に刻む……
She gently etches/remembers the warm feelings in her chest….
// no idea how to translate that better
And some additional from Mahou.
1) 頭なでなで is indeed stroking or patting one's head. Google image search is quite helpful in this regard
実に18年ぶりに"頭なでなで"されたのであった Indeed, it has been 18 years since since someone stroke gently/patted her head.
2)温もりと感触を静かに胸に刻む… She(?) gently/calmly engraves the warmth and feeling on her mind
More updates as warranted.
Update #2: From MK!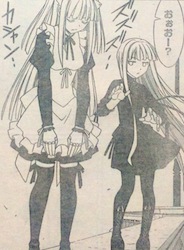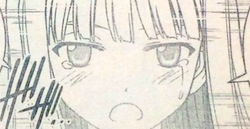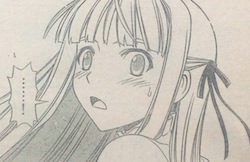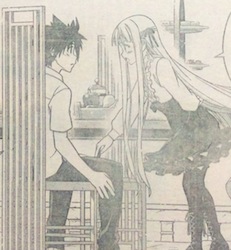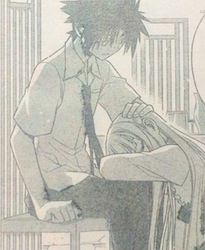 There's lots of Eva love here, though I'm not digging that Touta x Eva ship. I do like seeing Eva working on Doll magic.
Well, we'll have to see what fun awaits us tomorrow. 🙂