境界のRINNE ep 20
Kyoukai no RINNE – 20

SPOILER Summary/Synopsis: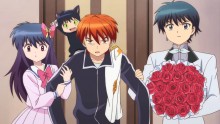 Sakura finds her house suddenly filled with wandering ghosts, so she asks Rinne to look into this and invites him to her home. Tsubasa sees Rinne skipping and suspects something is up. At home, Rinne attempts to decide which canned fruit item he'll bring as a gift for Sakura. Rokumon reminds him about the Shinigami tool workshop, so Rinne tells Rokumon to attend for him. Ageha arrives via a Reidou portal to go to the workshop with Rinne, so Rinne uses a smoke bomb to make a fast getaway. Tsubasa shows up at the door, wondering what activity Rinne is up to, so Rokumon reveals that he's tied a tracking reel to Rinne, thus allowing them to be there with Rinne when he arrives at Sakura's door. Tsubasa is now wearing a tuxedo and has a bouquet of roses for Sakura as she invites them to her room.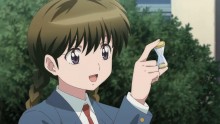 Ageha wants to leave things to Tsubasa, but Rinne wants to get to the root of the problem, which he suspects is something that was protecting the house is now gone. After Ageha fails to solve the problem, Rinne decides to get rid of Tsubasa and Ageha and uses a variety of free sample Shinigami tools to do so, but the two always return. Sakura's mother feeds them dinner, after which Rinne gets rid of the "pests" again and seals the place off. He discovers that Sakura had an exorcism hourglass that kept spirits at bay, but the sand no longer works. He has replacement sand, but Ageha and Tsubasa returning destroys the hourglass. Rinne visits Tamako, only to discover the hourglass cost ¥20,000 plus tax to replace, which he spends, but doesn't tell the happy Sakura it wasn't free.
Thoughts/Review:
I seem to remember bits and pieces of this story from the manga (I could be mistaken though), however, that really doesn't matter as I found this to be a funny, enjoyable episode.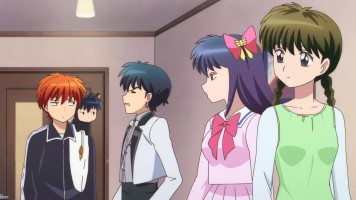 The humor derives from Rinne's desire to be alone with Sakura and doing all kinds of things to be rid of Tsubasa and Ageha. Even though I knew that Ageha and Tsubasa would repeatedly return (even if battered), it was still rather funny to me seeing Rinne send them packing.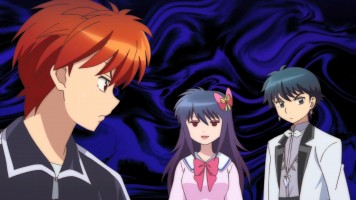 I think the final solution that Tsubasa had to get in by ringing the doorbell may have made me laugh the most because of its simplicity.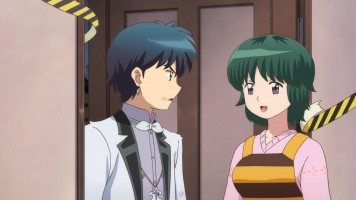 I also got a good laugh from Rinne punishing Tsubasa and Ageha for breaking the exorcism hourglass.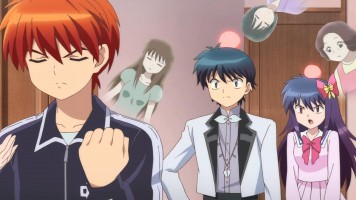 The stuff with Tamako giving the lecture at the Shinigami workshop smacked heavily of filler, even though this was what Rinne was supposed to go to with Ageha. However, Brain's Base did make it somewhat relevant by having Rinne visit Tamako in the end, hoping to get another hourglass as a free sample.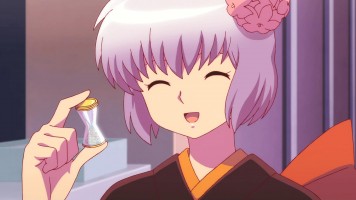 As funny as the episode was, I liked how this episode touched on Rinne's feelings for Sakura.  The pleasant thing about it is the fact that Sakura never acted cold toward Rinne, even after catching Ageha embracing him and stating she wished they wouldn't do that in her room.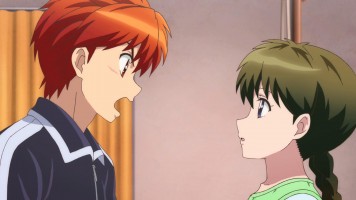 The really sweet part was Sakura's happiness at the end of the episode when Rinne gave her a replacement hourglass and her ghost problem went away. Sure, there was a comedy element since Rinne spent a ton of money for it, but having Sakura with a big smile and holding the dolphin plushie that Rinne got for her was heart warming to me.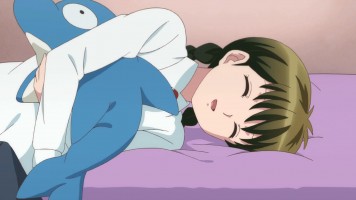 As an aside, I hate to say this, but seeing that "fruits mix" can made me a child for a moment, remembering those small cans of fruit cocktail that my mom would sometimes include in a lunch. It was always so disappointing when there was no cherry in the can. It would ruin the rest of my day. 😆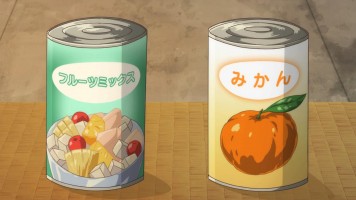 Anyway, this was a really enjoyable, fun, and funny episode with just a little sweetness on top.