Here is some SPOILER info for the upcoming UQ Holder Chapter 107, courtesy of 2ch.  (My review of UQ Holder Chapter 107 should come out late Tuesday night or Wednesday, U.S. time, depending on when Crunchyroll publishes the chapter.)
UQ HOLDER Chapter 107 SPOILERS
The UQ Holder Chapter 107 goodness begins. This looks to be the chapter's spoilers. ^_^
一言申す

刀太は無能先輩に「俺だけのものになってくれねぇか!?」
何事かと思えば、「素直に心情を吐露してしまう薬」の効果だとか
その薬は…
■はい、夏凜も食べました!素直になった夏凜は何を喋る!?
Really light on info this time, but Karin gets a name drop as "Useless-senpai" — please oh please be the start of the Karin in the harem mini-arc. 😀
Well, we'll have to wait for a gracious person to provide a translation. The usual updates to follow, as required. Thanks to Hata as well for tipping me off that the spoiler was out. 🙂
Update #1: Translation from Gamen.
Touta to Karin "Would you become mine alone!?"
Thinking what is this, is it the effect of "Medicine to make someone frankly speak their mind" or something.
That medicine is…

* Yep, Karin ate it too. What will a frank Karin say!?

…Given the context, I'm going with the frank and honest meaning of 素直, not the meek and docile one. Because of course "do what you're told" and "say what you mean" would be the same word.
As always, thanks for the translation.
Update #2: Some images, courtesy of MK.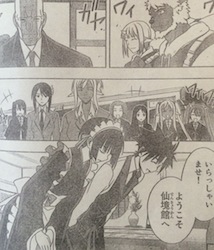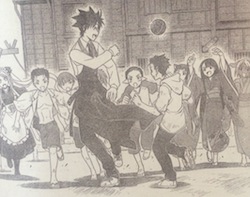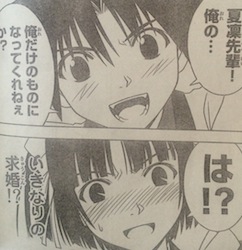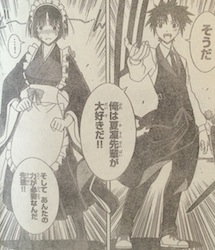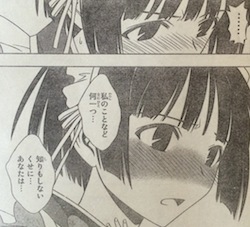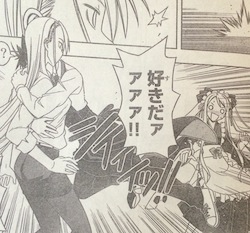 In this chapter, Karin reminded me very much of Motoko from Love Hina and her reactions around Keitaro after she started developing feelings for her. 😉
So, after the Touta hug and love declaration of Eva here, I'm predicting a beat down is in order for Touta.