Lupin the Third PART4 01 Review
Lupin the Third (2015) episode 01
Lupin III / ルパン三世
SPOILER Summary/Synopsis: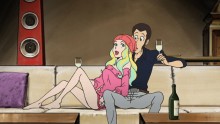 Lupin is in San Marino, where he's marrying the famous model, singer, and actress Rebecca Rossellini, who's father runs the largest hotel chain in Italy. Zenigata arrives at the church to break it up but gets thrown in jail. After the wedding, a jealous Fujiko sits with Goemon and Jigen to discuss Lupin's romance. After she leaves, she lets Jigen know she suspects something is up. That night, Lupin and Rebecca discuss honeymoon plans, but Lupin is forbidden by Rebecca's butler from sleeping with his new wife. After she goes to sleep, Lupin takes off to steal San Marino's Royal Crown of Libertas. Jigen briefs Goemon on the plan as Goemon had to be kept in the dark to keep from accidentally revealing things.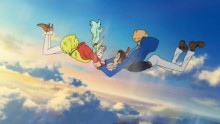 After Captain Patrick receives a card from Lupin, he lets Zenigata out of jail. They meet with the heads of San Marino's nine territories. Zenigata spots Lupin and Jigen and gives chase as one of the nine heads (Lionello) takes the crown to secure it. Since Lupin didn't send the card, he suspects Fujiko, who indeed had disguised herself as Lionello. Jigen's sniper shot stops Fujiko, but she's captured by Patrick and Zenigata. Lupin gives up the crown to save Fujiko. After making their escape, Lupin confronts Patrick, who's actually Rebecca in disguise. She shows similar skills as Lupin on getting away, explaining to him that she's doing it for the thrill. She escapes, impressing Lupin. Rebecca's butler praises her, but she says she actually lost and praises Lupin. Meanwhile, Fujiko confronts Lupin over his fake marriage, causing him to realize he needs a divorce.
Thoughts/Review:
Well, I have to give it to the writers of this episode. It was everything I wanted from a Lupin III episode, but contained things that surprised me.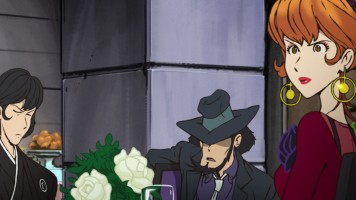 While I had no doubt that this marriage was part of a scam on Lupin's part, what I didn't expect is that he actually married Rebecca and had apparently dated her for a month before the wedding. Then at the end of the episode, he's STILL married and realizing he needs a divorce. I loved it!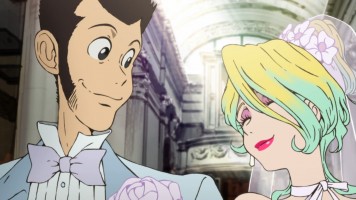 Rebecca is a great character. I've always liked Lupin pursuing Fujiko and how they play each other, but Rebecca is on another level. As an heiress (an "ojousama" by Japanese standards), model, actress, singer, and more, Rebecca is not the kind of person who would seem to be a thief. Yet she's a really good one and has skills on par with Lupin. She attempted to pull off things while making sure Lupin got the blame, but she didn't expect Lupin to catch her. So while she got away, that's why I think she says she lost, even though she got the crown.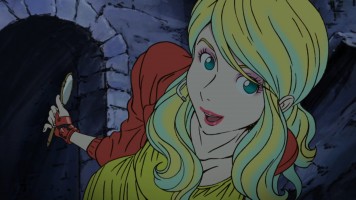 Frankly, I would love for Rebecca to come back and stay married to Lupin. That could be quite interesting on a number of levels, starting with "Mrs Lupin."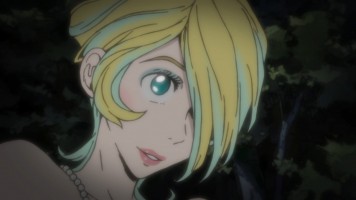 Fujiko comes off well in this episode. I loved how she was jealous of Lupin getting married to Rebecca. At the same time, she's smart enough to know there's more to this marriage and she has her own eyes on the prize. I don't remember Fujiko disguising herself as a man before. While I know Rebecca also did this, Rebecca was shown to have a mic, which could explain her male voice. How was Fujiko able to pull off a male voice? It is a small thing, but it did stand out to me. (Hey, this is a series with "Lupin physics" so that is a small complaint.)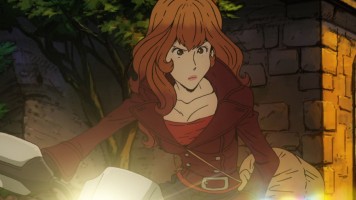 Regardless, Fujiko was her normal self in that her interest paralleled Lupin's. With Goemon and Jigen on Lupin's side and with Zenigata and Rebecca (as Patrick) in her path, she really didn't have good odds for successfully stealing the crown. I loved her confrontation with Lupin at the end, where she demands her wedding present back.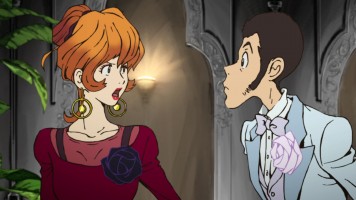 Jigen does his normal role as Lupin's loyal sidekick. And his sniper skills are used to great effect in stopping Fujiko from escaping with the crown.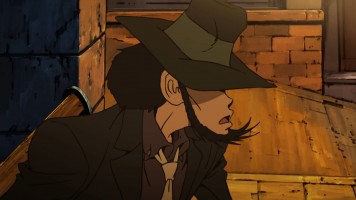 The same can be said of Goemon, who does his usual sword skills with Zantetsuken to help Lupin and Jigen escape from Zenigata.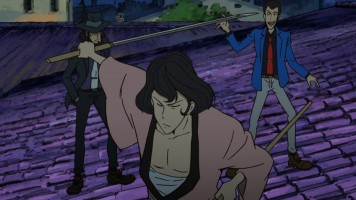 Zenigata plays his standard role as well as the Lupin obsessed ICPO police inspector who lives to capture Lupin. I was a bit disappointed in this because I was led to believe that Lupin the Third PART4 was the sequel to the Lupin the IIIrd: Daisuke Jigen's Gravestone as they both are "blue jacket" titles. At the end of that movie, Zenigata is shown with more gravitas.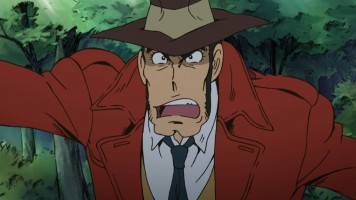 One thing I noted in this episode is that there appeared to be some small nods to Lupin III: Castle of Cagliostro here. I noticed that when Lupin and Jigen were running across the various rooftops. Then later, after Rebecca escapes by free falling into her plane, Lupin has to use his wrist string to catch a small tree on the side of a cliff to stop himself from crashing into the ground, after which said tree comes free and hits him on the head. It was a lovely moment for me as a longtime fan.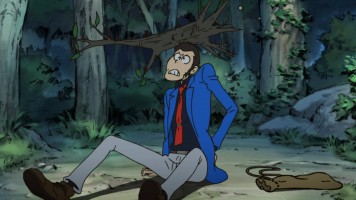 There was also when the guards used their swords to block Zenigata from entering the church, only for him to grab them and shove them aside before he's ganged up on by the guards. That was another fun moment where got paid Castle of Cagliostro homage to.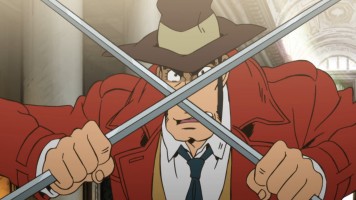 In the end, Lupin the Third PART4 01 was a really good Lupin III adventure and a great way to start a new Lupin III TV series. I really can't wait for more! Good thing I have at least eleven more episodes waiting in queue. 😉