Lupin the Third PART4 05 Review
Lupin the Third (2015) episode 05 review
Lupin III / ルパン三世
SPOILER Summary/Synopsis: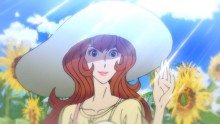 Fujiko leaves Lupin, reminding him that he broke up with her when he married Rebecca. As such, Lupin decides to investigate whom Fujiko is hooked up with. He finds her working for a circus, so he poses as a journalist to interview circus workers. With Jigen acting as his camera man, the investigation leads to Luka, who's in the hospital. The circus magician Tony handed off his 100 magic recipes to Luka when Luka was a boy. However, a magic trick they did for a show went horribly wrong and Tony died. Tony's son became Ringmaster and allowed Luka to stay on, but over the years, Luka never revealed the secrets. When Fujiko arrived in Luka's life, he became infatuated with her. She became a star in the circus and over time, she managed to encourage him to work on his magic act.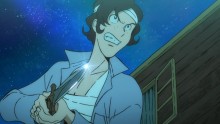 He works on a trick and is going to show her, but he discovers that the Ringmaster has her captive. He's forced to give up one of his recipes, but then Fujiko manages to escape. The Ringmaster knocks Luka out, which is why he's in the hospital. Lupin and Jigen attempt to convince Luka that Fujiko was using him, but he refuses to believe it. He's then shown a video clip where Fujiko is standing with the Ringmaster, announcing the magic trick. Since Luka gave them a death recipe, Fujiko is in trouble. Luka and Lupin race to the circus ring where it appears Fujiko is burned to death. However, she has escaped. Later, Luka confronts the Ringmaster with a knife after figuring out the Ringmaster killed Tony. Fujiko stops him from killing the Ringmaster, then later gets him to sign on with a new circus, which nets Fujiko a massive payout. Lupin confronts Fujiko about this, so she leaves him to wonder about her motives.
Thoughts/Review:
This was certainly a different kind of episode in that most of it was flashback or a nested flashback, and Lupin isn't involved in stealing anything.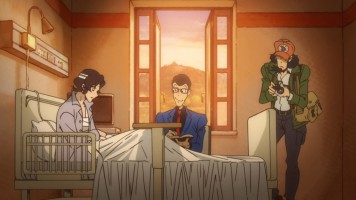 I liked that the episode established that Fujiko and Lupin had been a couple, but Fujiko considers their relationship to be over since Lupin went and married Rebecca. And yet at the end, there's that moment where one can see that she'd return to Lupin if it suited her.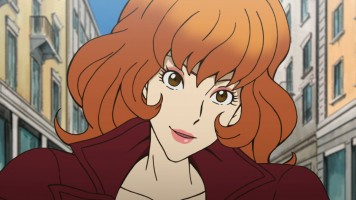 I'm glad we got to see a flashback of Rebecca, though I am disappointed she's apparently not the major player I thought she'd be, at least at this point.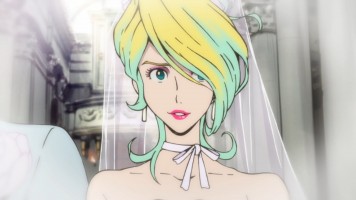 I found it enjoyable that Lupin's sole motivation in this episode is chasing Fujiko. Initially, he's probably just trying to scope out Luka and determine if Fujiko is really interested in Luka romantically. Lupin knows Fujiko can't be trusted and always has an angle, so in that regard, this is something he acknowledges in his relationship with her. However, someone like Luka has no clue how Fujiko plays men.  So I saw Lupin as being honest in trying to warn Luka off Fujiko, but at the same time, it serves Lupin's interest to separate Luka and Fujiko.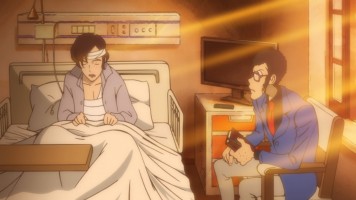 Then there's Lupin's confrontation of Fujiko at the end of the episode. He wants to know if she was saving the kid by firing him up for his full potential, of if she was just playing him in order to get paid. Her response by asking him which answer he preferred before taking off made me smile. For Lupin, Fujiko is the ultimate treasure that if not handled just right, will get you hurt or killed.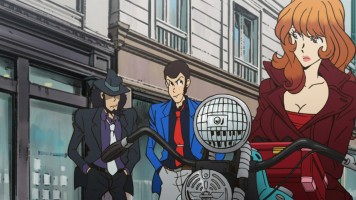 I'm not sure why, but the production staff continue to make nods to the Lupin III: Castle of Cagliostro in this series. This is not a complaint at all as every time one of these nods are made, I can't help but smile. This time, the song Fire Treasure (an instrumental version) from the movie is used for Fujiko's final scene with Luka, hearkening back to Lupin's final scene with Clarisse in the movie. The movie's scene was better, but the song worked well in this episode.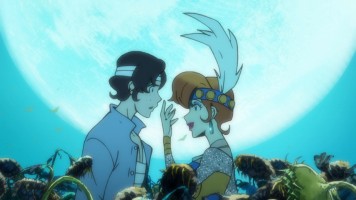 My only complaint about the episode is that it makes use of nested flashbacks. The episode starts with Luka and Lupin coming to save Fujiko, then flashes back to Lupin interviewing Luka in the hospital some hours earlier, then has repeated flashbacks to things like Fujiko leaving Lupin (which then had yet another flashback to Lupin's wedding with Rebecca), Lupin interviewing people, with those people then flashing back to other moments in time. I'm not sure why this episode just couldn't have been played straight.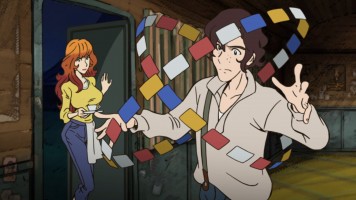 Jigen's role is just a minor supporting character for Lupin. Goemon and Zenigata are no where to be found, but then the episode didn't need them. I'm all cool with characters who are not needed sitting it out on the sideline. I do hope we get some good Zenigata and Goemon episodes though.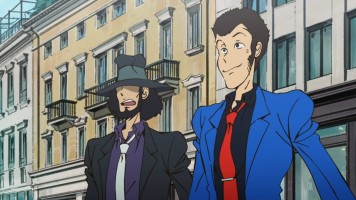 In the end, Lupin the Third PART4 05 is a good episode with a bit of a frustrating story structure that depends on nested flashbacks.