Here is some SPOILER info for the upcoming UQ Holder Chapter 113, courtesy of 2ch.  (My review of UQ Holder Chapter 113 should come out late Tuesday night or Wednesday, U.S. time, depending on when Crunchyroll publishes the chapter.)
UQ HOLDER Chapter 113 SPOILERS
The UQ Holder Chapter 113 goodness begins. This looks to be the chapter's spoilers. ^_^
さて本編 強引に行きましょう

双子の強力な連携攻撃の前に
刀太は窮地に陥るが、黒棒の助言に従い"白"を発動
双子に全裸パンチを叩き込む

帆之香は刀太を連行し、フェイトの陣営に加えると言ったが
フェイト自ら現れ、そんな指示は出してないという
いきり立つ刀太に、帆之香は雪姫がネギを殺すつもりだ
フェイトはネギを助けようとしてるんだ、と寝返るよう言う

■衝撃走る…!!
Isana and Honoka are still here, and I think Touta strips them (but I could be very wrong about that). Fate is name dropped and there might be a new character entering. However, as usual, we'll need a gracious person to provide a translation for us.
Updates to come.
Update #1: Sorry for the late update. I was up most of the night with work and had to get some sleep. I'll post both translations that were sent. First up. DerGilga.
now this chapter: to press forward

In front of the strong, coordinated attacks of the twins
Touta falls into a dilemma, but according to the advice of Kurobou he activates the 'white'
he trows a nude punch at the twins

Honoka says that she will drag and add Touta to Fate's group/faction,
Fate personaly pops up and says that he didn't gave such instructions
Touta, who gets angry, says that Honoka believes, that Yukihime killed Negi,
and that Fate is trying to help Negi, in a changing sides kind of manner

■ he shockingly walks (forward)

—
not sure about the last part, sentence structure is kind of confusing
Next up, Gamen.
Now the original story Let's go forcibly

Before the twin's strong, coordinated attack
Touta is in a pinch, but following Kurobou's advice he activates "White"
and throws a stripping punch at the twins

Honoka said she will drag Touta away and add him to Fate's faction but
Fate himself shows up and says he did not give out that kind of order
To the angry Touta, Honoka says Yukihime intends to kill Negi
Trying to turn him she says Fate is trying to save Negi

*A shock runs through him…!!
Well, this is a shocking little turn. Isana and Honoka working for Fate? (I didn't recognize the Kanji for Honoka, which is why I thought we may have had a new character, especially since the character appeared to be with Fate.)
Anyway, thanks to DerGilga and Gamen. ^_^
Update #2: Spoiler images from a Korean scanlation. (No link 'cause of the nature of the images.)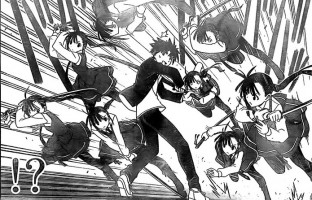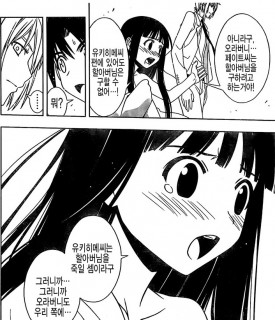 Isana and Honoka are quite skilled as a team and quite powerful, but obviously are no match for Touta's stripping ability. 😉