Nurse Witch Komugi-chan R 08 Review
ナースウィッチ小麦ちゃんR episode 08
SPOILER Summary/Synopsis: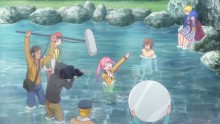 Komugi, as Magical Nurse, is chasing down a White Bear (mecha) Monster through the woods and gets lost. Nearby, Tsukasa, Yuuta, and Kokona are shooting a special at an onsen, but the director isn't feeling it. When the battered Komugi shows up, her reaction to the onsen is just what the director ordered. After the shoot, Komugi is asked why she was out in the woods. She starts to say that she was chasing a monster, but then says she was walking. This causes Neko-P to voice his suspicions to Tsukasa about Komugi, which Tsukasa dismisses. Likewise, Tanu-P voices the same suspicions to Kokona, which are also dismissed.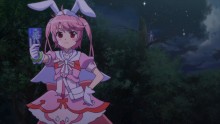 Yuuta decides the group should play ping pong, where he teams up with Komugi and pairs Tsukasa and Kokona together. After losing the game, he buys ice cream bars for Tsukasa and Kokona, but Komugi scores one too after whining. Yuuta sees Tsukasa not looking pleased, so he comes up with a courage test to get Tsukasa with Kokona. When White Bear Monster arrives, Komugi takes off to battle it. Kokona and Tsukasa split to change, but Tsukasa is thwarted when Yuuta hears the bear and pulls her down to keep her safe. Later in the onsen, Kokona reveals she knows of Tsukasa's feelings for Yuuta and of her girly side. Kokona arranges for Tsukasa to be alone while Yuuta is on the other side of the wall in the onsen.
Thoughts/Review:
So, we get a little more Tsukasa love in this episode.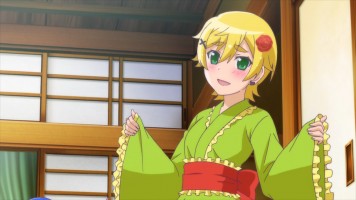 While this episode was partially an excuse for an onsen episode, I did like that Tsukasa got to have a couple of romantic moments with Yuuta. Yeah, I'm a romantic like that and like the vanilla stuff. 😉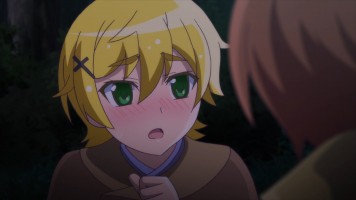 I also liked that Kokona is in on Tsukasa's girly side, so now, Tsukasa can act herself in private in front of Komugi and Kokona.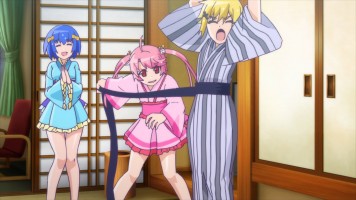 I'm guessing that eventually, Komugi will become aware of Tsukasa's feelings for Yuu-nii, and I would guess she'd be down for them being together. This is the only romance element in the story, so I hope the writers go for it.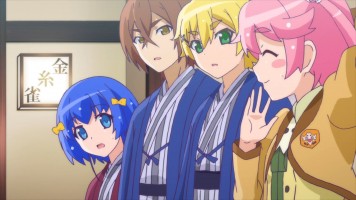 The laughable element of the girls (and their magical mascots) not recognizing each other is…well, laughable. Here, the episode addresses that a tiny bit by actually making folks think that Komugi is one of the magic girls, but then dismiss it. Whatever. 😆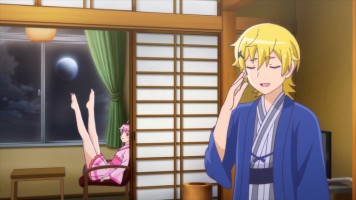 Here too, I'm guessing that the three girls will figure out each others magic girl identities.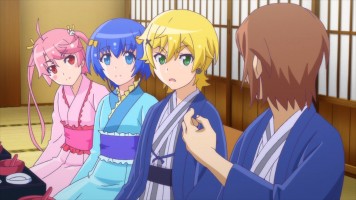 On the Crunchyroll side of things, I was amused to see that the translator decided to go down a path I wanted in the last episode. The Japanese term mushoku was used, but since the translator couldn't rewrite the episode to insert some American pun (that would have failed), I appreciated that the Japanese pun was acknowledged.\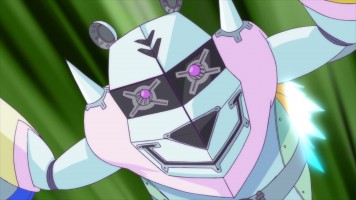 In the end, Nurse Witch Komugi-chan R 08 isn't much, but it was fun for what it was.