境界のRINNE ep 40
Kyoukai no RINNE 40

SPOILER Summary/Synopsis:
Refuto and Raito have a restoration cream they want Rinne to try for his scythe. Rokumon has a bad tooth, which he pulls. The tooth gets into the cream, causing an evil Rokumon to be cloned.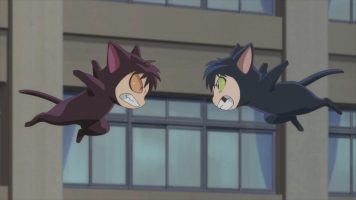 Rumors spread through the school about a ghost teacher in a storage room. Although Sakura, Tsubasa, and Rinne sense nothing, Rinne takes the case because of all the offerings. A ghost of a teacher in deep debt does turn up, drawn there by the rumors Rokumon spread to keep people away from his savings box hidden there.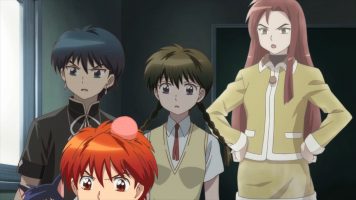 Kurosu, Suzu, Rokumon, and Oboro join other black cats on a mushroom hunt. Rokumon leads them to the ¥100,000 Kuekuedake mushrooms, which eat other mushrooms. Because of the money, Rinne joins the fight to capture them, but ends up netting no money from the venture.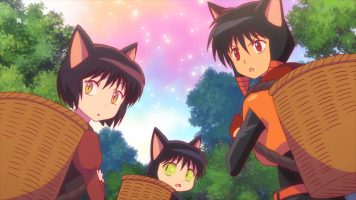 Thoughts/Review:
I modified my summary approach here. I'm working so many hours, it is just simpler to do the summaries I did. Hopefully, no one minds too much.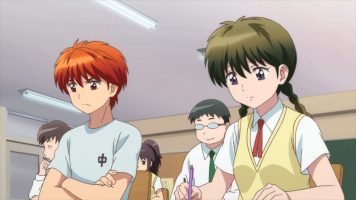 For the first story, it is amusing to see an evil Rokumon clone. Refuto and Raito making water to be the counter agent to their new cream is amusing as well.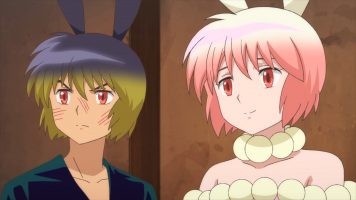 The second story is amusing only because of Rokumon hiding his spare change at the school. The female teacher spirit who'd been hunted by the yakuza for outstanding debts didn't really do anything for me.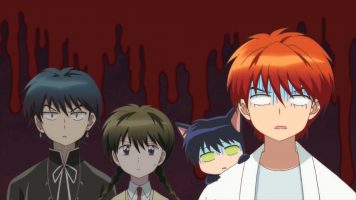 The final story is OK for what it is. I do admit to chuckling at Suzu deciding to try to eat the Kuekuedake despite the warnings about how nasty they are.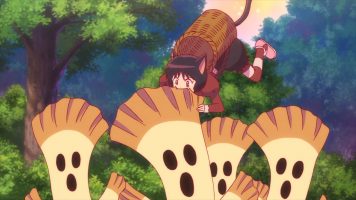 Otherwise, not a lot to say about this episode.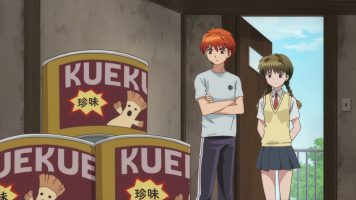 In the end, Kyoukai no RINNE 40 is an entertaining episode, but not anything special.