Sweetness and Lightning 02
Amaama to Inazuma episode 02
SPOILER Summary/Synopsis: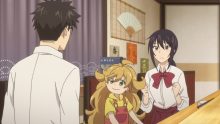 Kotori invites Kouhei-sensei back for another meal, using Tsumugi to make a cute face to bring home the point. She explains that she's often alone due to her mother working outside their restaurant, which is frequently closed. The next morning, Kouhei attempts to make a better breakfast and lunch for Tsumugi. At school, Kouhei consults with an older teacher about visiting Kotori at home. Although home visits aren't done much these days, Kouhei is encouraged to meet with Kotori's mother about it, especially since a part of Kouhei wants to do the visit. Elsewhere, Tsumugi is at school and draws about her father, Kotori, and herself eating. She shows it to her father that evening.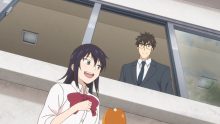 The next day, Kouhei sees Kotori in a secluded place, eating a giant bread product. He tells Kotori he wants to meet her mother. Kotori invites them over for that night, promising to make hamburger (steak) for Tsumugi. However, when they come over that night, Kotori's mother isn't there. Kotori apologizes, shows them the letter from her mother, then asks for them to stay. Kouhei is uncomfortable doing this, but seeing Tsumugi in an apron, combines with Kotori's request, he gives in. Kotori wants to make tonjuri (pork soup) and hamburger steak, so her mother has provided illustrated instructions. Kouhei finds all of the side dishes too many for them to eat, but he thinks that the soup and burger (with rice) is fine.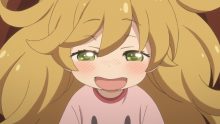 Kouhei starts preparing the vegetables, but when he tries to get Kotori to assist, she confesses she has a fear of knives. As such, she's not much help. However, she says she can be a taste tester. He gets Tsumugi and Kotori to break apart the konnyaku for the soup. Tsumugi also uses shape cutters from Kotori to make the thin sliced carrots into stars, hearts, and such. After the soup is made, Tsumugi's growling stomach makes it apparent they don't have time to make the hamburger steak. So they have pork soup and rice, which Tsumugi loves, pleasing her father. Kotori is sad when they have to leave, but when Kouhei indicates they will come back (after settling on rules and a schedule), Kotori is cheered greatly.
Thoughts/Review:
Dah! This anime feels like a clean, hot shower after a long day of getting covered in nasty grime. Thankfully, the manga will be coming out in book form very soon so I can have a hard copy of that for my collection!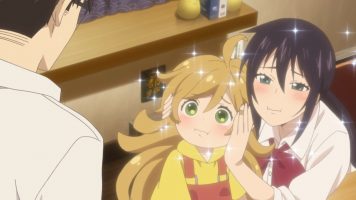 While I felt that the first episode played up a potential romance between Kouhei and Kotori, this episode did not do that.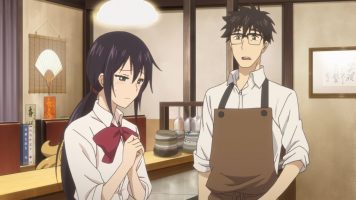 On Kotori's side of the equation, her loneliness due to apparently not having many (if any) friends combines with her mother always being absent is really apparent. Were her mother to be with her in the evenings, Kotori might not be so desperate to have her teacher and his daughter over.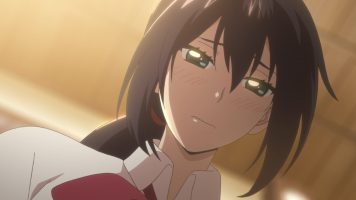 When we learn that Kotori's mother and father are divorced, her desire to have Kouhei around could be seen as a desire to have a father figure around. However, Kouhei doesn't seem to be much older than 25 or so in this anime. He might be a little older. However, because he's Kotori's math teacher, he doesn't have to be the age of her father. He just needs to be a male figure she can look up to and respect.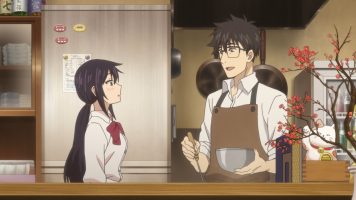 On Kouhei's side, I liked how he is very cautious about spending time with Kotori. Sometimes, just the mere appearance of wrongdoing is more than enough to tarnish someone for life. Naturally, he doesn't want to give the impression that he's doing anything improper with Kotori. I respect that greatly, more so since Kouhei consulted with an older teacher about this.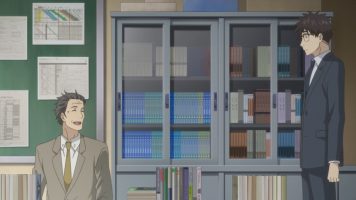 Of course as cautious as Kouhei is, Tsumugi is his weakness. I couldn't help but chuckle and have a big smile when Tsumugi wore the apron Kotori gave her, which caused Kouhei to cave and decide to spend the evening with Kotori even though her mother wasn't there. Tsumugi's happiness is his chief concern, and clearly, she's happy with Kotori and eating delicious food they make.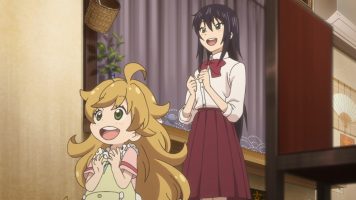 If the story shies away from a romance between Kotori and Kouhei, I'm cool with that. However, when I see Kotori, Kouhei, and Tsumugi together, I can't help but think they would make a great family together. As such, I'm cool if a romance does form between them, provided things are kept clean (meaning no student-teacher sex, though I don't think that's in the cards, even if there is a romantic element).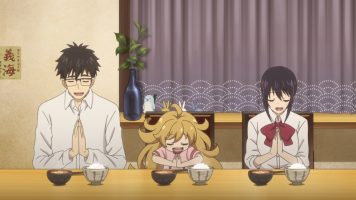 I did get a laugh out of Kouhei teaching class and Kotori hiding behind her textbook when he looked for someone to call upon. I wonder if we'll get more classroom situations with them.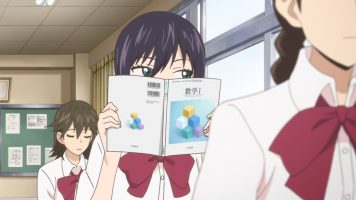 In the end, Sweetness and Lightning 02 is a delightful episode, full of sweetness and light. This series has quickly become a favorite of mine.