境界のRINNE ep 43
Kyoukai no RINNE 43

SPOILER Summary/Synopsis: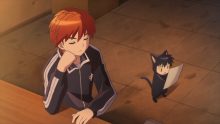 Rokumon heads to the afterlife market for a sale on Shinigami tools, but finds things sold out. He runs into Suzu and Oboro, whom are taking a Black Cat test, allowing them to get discounts if they pass. Rinne is reluctant to pay the ¥500 entry fee until he learns about the discount. Rokumon does well on the written test. Oboro gets a zero, not having put his name on the test. Suzu only gets points for having her name on the test. During the lunch break, Rinne is enjoying free tea when Ageha arrives with her giant bento, including a bento tray filled with what looks like scrambled eggs. Suzu ends up eating everything but the eggs, irritating Ageha and depressing Rinne and Rokumon.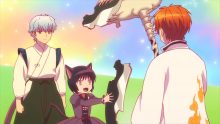 In the next competition, the Shinigami have to give up their scythes for their Black Cats to retrieve. The event is full of cat traps and the scythes are being damaged by bugs. By luck, Suzu gets to Kain's mirror-staff first. For the next competition, the Black Cats and Shinigami have to get to the top of an elaborate cat tree. In the room at the top, the Black Cats have to get a key from an office where the the 6th ranked Black Cat Kurosu is helping his master Shouma do his homework. Kurosu keeps throwing everyone out because they are bothering him. Rokumon comes up with a plan to get the giant key from Shouma.
Thoughts/Review:
I have to say that I am surprised that we got a cliffhanger episode with Kyoukai no RINNE 43. Fortunately, the episode is pretty fun, though I've no idea how they'll fill another episode with stuff.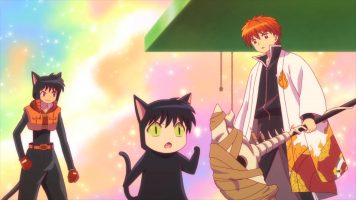 I suppose they could do what they did in this episode. In order to give Sakura a bit of screen time, the pre-OP scene has Sakura in a cameo to suggest that Rinne and Rokumon not spend so much money on Shinigami tools. So the next episode could have similar filler.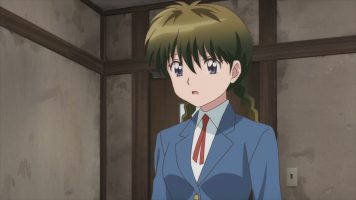 That aside, I found this episode to be rather amusing. Suzu pretty much stole the episode by being bored and eating everything in sight, except Ageha's eggs. I have to admit, I really like Suzu. She may be an idiot, but she's adorable and she wants to do right, at least for a little bit.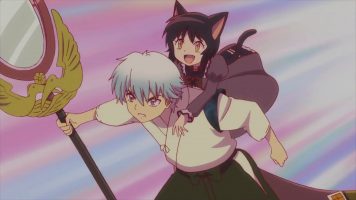 The bickering between Oboro and Ageha is amusing as is Oboro's cliched "I didn't put my name on the test" moment. I figured the cliched aspect of Oboro's actions might put me off, but thankfully, they didn't.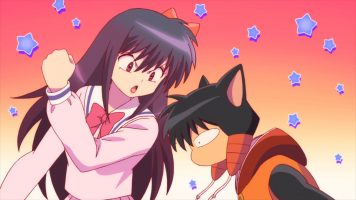 Rokumon is his normal self. Nothing special to report there.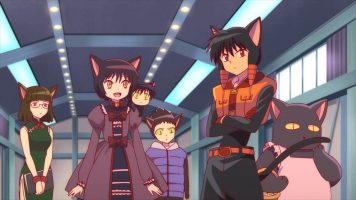 I did laugh out loud when Shouma and Kurosu were the "boss" for the cat tree trial. I get a kick out of how seiyuu ISHIDA Akira (Xellos in The Slayers franchise and Fate in the Negima! franchise) plays Kurosu.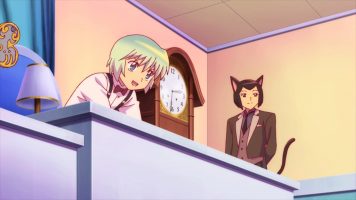 The only weird element to the story is having the various Shinigami scythes targeted for destruction. It makes me think that Raito and Refuto are involved somehow in a scheme to get a lot of repair business. 😆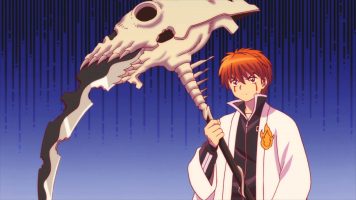 In the end, Kyoukai no RINNE 43 turned out to be enjoyable and amusing. Oddly enough, there was apparently more story than a single episode could contain. We'll see what happens next episode.