Spotted Flower Chapter 19 (Manga)
Spotted Flower manga chapter 19 review

SPOILER Summary/Synopsis: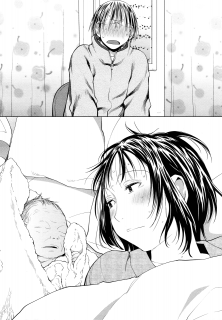 NOTE: For the purposes of this and future reviews, until the characters are given names, since these characters are obviously from Genshiken (or Genshiken Nidaime), I will call the "not-Saki" character !Saki, the "not Madarame" character !Madarame, and so forth for all other unnamed Genshiken characters.
!Saki and !Madarame have been at the hospital for five hours. !Saki is still irritated by the birth of their first child interrupting her carefully laid plans for seducing her husband. She's also mad with him for making her go through this for him. Eventually, the child starts coming out, amazing !Madarame.
After !Saki gives birth to their daughter, the infant is eventually wrapped up and placed with !Saki in the bed. !Madarame says nothing but look at them in flushed amazement. !Saki looks lovingly at her daughter. She then laughs, telling !Madarame that their daughter looks just like him, something he denies.
Thoughts/Review:
So, !Saki finally gives birth to…a thing. 😆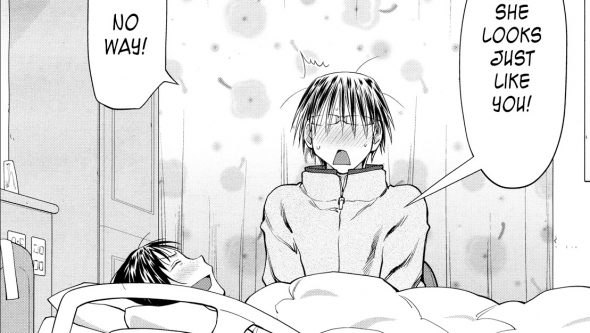 This chapter reminded me of an old Howie Mandel standup routine that I saw back when I lived in Japan (Howie Mandel live in Howie Would). The first four minutes of this old VHS tape rip should explain completely. (NSFW profanity warning!)
Seriously, their baby is as ugly as can be. I'm guessing that's exactly what !Madarame is thinking. !Saki looks lovingly at the baby, then laughs because she sees !Madarame in the child. Naturally he's going to deny that this creature from the unknown darkness looks anything like him. 😆
If I had to guess, I'd say that in the next chapter, the baby will look cuter, depending on how much time has passed.
I got a chuckle out of Madarame's relief that he didn't actually do anything with his wife because having sex with her right before she delivered would have been embarrassing. 😳
I really hope that Spotted Flower becomes a regular series now that Genshiken Nidaime is ending. I'd love to see !Saki's and !Madarame's life as a married couple with a child explored. With a full manga, this could produce some very interesting stories.
In the end, Spotted Flower chapter 19 is a nice, twelve page chapter where our couple finally are joined by their first child.