Izetta: The Last Witch 02
Shumatsu no Izetta episode 02
Izetta, Die Letzte Hexe 02
SPOILER Summary/Synopsis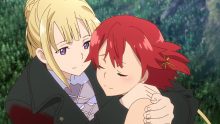 Using an anti-tank rifle as a flying device, Izetta takes Princess Finé away. However, they are intercepted by a squadron of Germania fighter planes. Izetta is forced to use her blood magic to cause ice shards from the mountain to attack and destroy some of the planes. In the end, all of the planes but the squad leaders are destroyed, so Finé fires the rifle, causing the fighter to stall and glide away from them on the other side of the mountain. Izetta takes the now unconscious Princess Finé to the location of the fortress that Finé had mentioned. However, Izetta's magic reserves are gone, so she has to go by foot.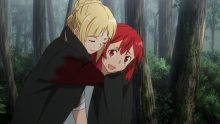 On the way there, they run into the surviving, retreating soldier of that fortress. The troops take in the princess and Izetta, treating their wounds. Izetta frets about Finé, thinking about the time they met. Finé is out for some time, but eventually regains consciousness. The troops march to an old, abandoned, ruined palace. Princess Fine has recovered enough to be able to sit in a chair. She takes a briefing from the officer in charge, Major Obermeyer. Izetta's powers have recovered as she is summoned to see Princess Finé and the Major. Finé attempts to release Izetta from any further obligation to Eylstadt, but since Izetta feels a debt to Finé, she tells the princess she'll protect her country.
Elsewhere, Major Belkman is with his aid and Germanian troops investigating the crash of the transport plane. Belkman believes their specimen may have been a real witch and says they need to find her.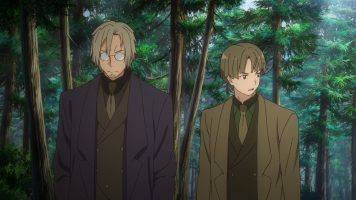 Thoughts and Review
Whew. I finally got to watch Izetta: The Last Witch 02, made more difficult by my increasingly busy schedule. Fortunately, it is an interesting, entertaining episode, setting the table for two sets of quests.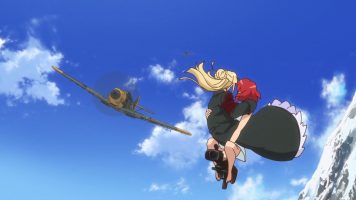 German WWII Fighter Planes vs a Witch on an Anti-tank Rifle
Visually, I found the notion of a squad of German fighter planes chasing two girls riding on top of a large, anti-tank rifle to be humorous on one level. There's a certain absurdity to this. Thankfully, the German fighter pilots (I'm using German instead of Germanian) reacted in what I felt was an understandable way. They are freaked out by this, more so when they start getting destroyed.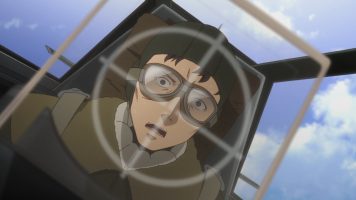 As for Izetta, I was surprised that she used blood magic in the fight. My only exposure to this concept was while playing the now defunct game Marvel Avengers Alliance. The character Nico Minoru used it. I guess that in lore, witches use blood magic, but I'm not versed in that line of lore. So seeing a magic user using magic in a way I've never seen before is quite interesting.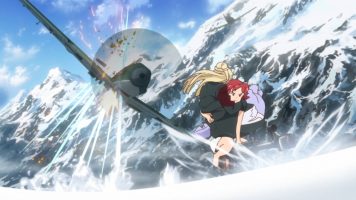 I expect the squad leader, who appears to have survived the encounter, to be interviewed by Major Belkman.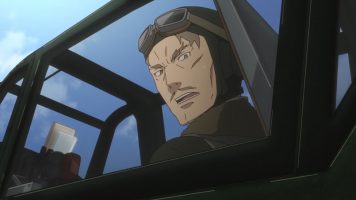 Princess Finé
I continue to like the character of Princess Finé. She could easily become a clichéd character and thus uninteresting. I say this because we have Izetta with her massive concern for the princess. We have the army talking about how much Princess Finé means to them and the people of Eylstadt. So yeah, we get this clichéd picture being told to us of a princess the people love.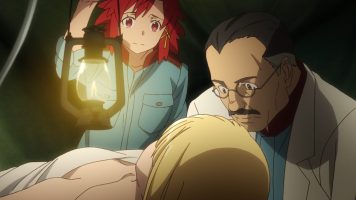 However, when I saw how Princess Finé acted, it became understandable that such a person would be appreciate by her people. Even while being carried on a stretcher, Finé was shown to have poise and grace. Then at the ruined palace, she essentially holds court. She gets a briefing from her military commander. She understands the military situation, clearly having studied things a great deal.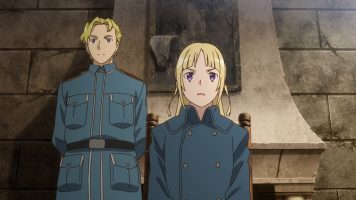 Then there's her friendship with Izetta. I think it is pretty clear that when Izetta and Finé were kids, some locals freaked out about a witch and Finé saved Izetta's life. Finé considers Izetta a friend. Izetta worships Finé, which is understandable since Finé risked her life to save Izetta's. That's why I can totally understand Izetta's desire to enter the fight and defend Finé's country from the German invaders.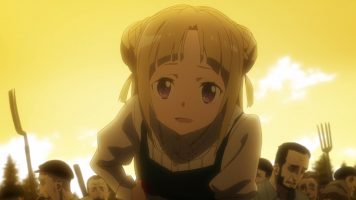 Final Thoughts and Conclusion
Since I'm so pressed for time, I'd better wrap this sucker up. Before I go, I have to say that I got a kick out of the German Air Force joking about the Army's failing to have conquered Eylstadt via the blitzkrieg. If you've been in military service, you know how inter-service rivalries are. 😉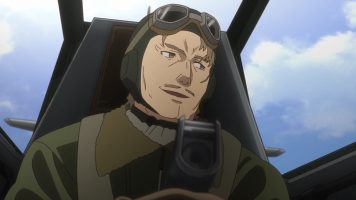 Izetta left her massive rifle behind, which I didn't expect. I half expected it to show up on its own since all of the promotional art shows Izetta riding the thing like a broom.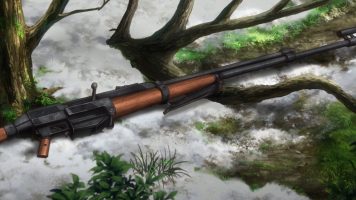 Finally, it looks like the series is becoming a quest. Major Belkman is on a quest to capture Izetta. Princess Finé is on a quest to get herself and her troops home before they are cut off by enemy forces. Somehow, I feel that before all is said and done, Belkman will get Izetta and Finé will be forced to send people in to rescue her. It also seems obvious that Izetta will be the Weisse Hexe — the White Witch.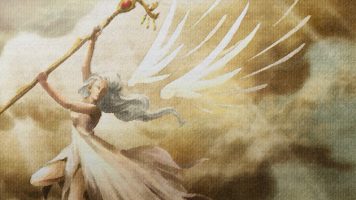 In the end, Izetta: The Last Witch 02 ended up being an enjoyable episode with more emphasis on character development without neglecting the action and drama.