My Monster Secret Volume 07 Manga Review
Jitsu wa Watashi wa/実は私は 07
My Monster Secret: "Actually, I am…" 07
–> Buy My Monster Secret Volume 07 from Amazon.com
***SPOILERS***
I love a good, wacky comedy series. As such, the My Monster Secret manga series has certainly fit the bill thus far, providing laughs galore, a side of romance, and a bit more. Thankfully, My Monster Secret Volume 07 continues this trend and pushes more hints about a possible plot to come.
The My Monster Secret Volume 07 Story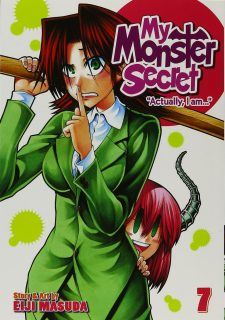 For chapter 53, Shirou gets Asahi to introduce him to Akari-sensei since she's the legendary yankee gangster named Hundred Rites Akari. However, Akane dribbles out the truth the two guys, how Akari was always being rejected by men.
The next two chapters see Asahi, Youko, Nagisa, and some of their other friends take a free trip to a ski resort after Okada scores tickets. Akane starts a massive snowball war which ultimately results in Youko and Asahi being forced to take shelter in a small hut after a blizzard moves in. Youko's father learns about this trip and flies out with his bats to stop things while Youko and Asahi get closer.
In chapter 56, Asahi gets sick from the mountain trip, so Nagisa decides to nurse him back to health. She again has to deal with her feelings for Asahi as she spends the night with him, turning his room into an armed camp. Chapter 57 has Youko, Akane, and Akari all vying to get Asahi's nose to bleed after Rin doesn't sense nympho (pervert) energy coming from them.
Youko's mother invites Shirou and Asahi to their family home to snap her husband Genjirou out of his shock to start chapter 58. Youko knows nothing of this and doesn't make the New Year's trip home. Shirou panics at Genjirou's outrage and transforms to Shiho. Eventually, Genjirou plays the game of Life with his guest and wife, leading Asahi to learn a bit more about Youko's parent's.
For chapter 59, the goddess Fuku is offended by Mikan is going to a shrine for New Years and so gets help from fellow deities to give Mikan good luck, all without success.
Finally, chapters 60 and 61 properly introduce the "fallen" angel Karen, who is hired by her former classmate Genjirou to bring Youko home. While she tries to act like a demon due to her self-proclaimed fallen status, she is really still an angel who's halo was stolen by Akane and used as a replacement for a circular florescent bulb.
The Wacky Comedy Continues
One of the things I love so much about My Monster Secret is the fact that the comedy here is just wacky as can be. Masuda-sensei's art really helps capture this. It could be the looks of horror from characters fearful of the wrath of another character. Maybe it is the evil grin Akane gives when she's causing trouble and someone challenges her. In many ways, Masuda-sensei's art style looks like it would come from some dark, horror manga, not some insanely funny comedy manga that happens to have supernatural entities and aliens in it, living on Earth. In a twisted sort of way, I think this helps make things funnier.
Akane has always been the best character in terms of comedy. From her introduction, she's just been a madhouse of laughs. For My Monster Secret Volume 07, she continues that roll, stirring the pot in teasing Akari's failed love life. She engineers the snowball fight that causes Youko and Asahi to become stranded, then makes sure Touko knows so that she can tell her husband, causing the enraged Genjirou to catch them, leading to Touko threatening to put a stake in her vampire husband's heart. And it goes on and on, but it is all so very funny.
I think the moment that gave me the most laughs were when the goddess of good fortune, Fuku-chan, is assisted by her senpai to try to help Mikan. I'm pretty sure I've seen the face plant/pratfall gag in other manga/anime titles, where the target character is made to face plant into the genital area of another character who's just been made to pratfall with their legs conveniently spread. Yes, it is terribly wrong of me to find this so funny, but having Mikan face plant into Shiho, then into Asahi just cracked me up. It was made funnier by the one deity giving this move the name, "The Lucky Lech." 😆 Good times.
New Character, Fallen Angel Karen
Of course, it isn't all laughs in My Monster Secret Volume 07. Masuda-sensei introduces us to yet another supernatural character. This time, we have the airheaded, supposedly fallen angel Karen. Karen tries to act evil and has a lot of power. She thinks of herself as a demon because she lost her halo, thus making her a fallen angel turned demon. But unlike Akane, Karen's price for granting wishes is simply saying "thank you" or the like. But because she does it in an evil way, it is funny, more so because Youko and Asahi can tell that she's really still an angel.
I had to laugh when Akane not so subtly reveals that Karen's missing halo is in fact being used as the circle florescent bulb that lights the room Karen stays at in the school. Masuda-sensei gives us a 4-koma comic strip later on where Akane explains how her prank on Karen got out of control. Oddly enough, this moment makes Akane actually seem to feel some regret at how out of control the prank has gone, but she can't bring herself to stop it now.
A Main Plot Begins to Form?
Throughout My Monster Secret, Masuda-sensei has frequently compared Youko's and Asahi's relationship to Youko's parents, Genjirou and Touko. With volume 7, I'm starting to get the feeling that this comparison is pushing a bigger plot to bloom. For starters, Masuda-sensei made a few blatant points (in the form of gags) about how Youko's and Asahi's story is running parallel with Genjirou's and Touko's. In an earlier volume, Youko learned to swim from Asahi when the two snuck into the school's pool after hours. We as an audience discover that Genjirou and Touko did a similar thing. It is a repeating theme in the manga.
This time, Akane seems to arrange for Youko and Asahi to become stranded in the same mountain cabin during a blizzard that Genjirou and Touko had become stranded in when they were in high school. At the end of that adventure, Touko confirms this to Asahi, then cryptically mentions how Genjirou grew nearly six feet in his senior year in high school. This too has been a recurring theme covered in a gag, but I now begin to suspect that Genjirou's growth in his senior year is what forced him to have to quit high school. That implies that maybe Youko will have a similar growth spell, though maybe not as severe since she's only half vampire.
That said, it was Karen's introduction that really made me aware of how the manga is seeming to focus on a bigger plot rather than just wacky comedy. Karen was a classmate of Genjirou and Touko. She discovered Genjirou's secret the same way Nagisa discovered Youko's. Genjirou's secret was eventually discovered. I'm guessing that his massive growth spell, combined with his wings sprouting in front of folks didn't help. So now, Asahi has to try to make sure something similar doesn't happen to Youko.
Still, I couldn't help but think that there's more to the story of Genjirou and Touko than we've been told. And I still get the feeling that Akane has her own agenda. In her own twisted way, she is helping Asahi and Akane by pushing their relationship forward. She too was around and knows everything that happened with Genjirou and Touko. So is Akane attempting to recreate the environment for Asahi and Youko to see if they can avoid the mistake Genjirou and Touko made? That's what I think is happening, but we'll see. After all, Akane is a devil, so it is difficult to imagine her doing things to help other people, though she seems to at times.
Final Thoughts and Conclusion
I'm way out of time, so I'd better wrap up my review of My Monster Secret Volume 07.
The Nibley Twins are still doing the translation for this volume, so no complaints on the translation/adaptation.
I'm glad Shirou got a chapter, even if it ultimately resulted in getting knocked out when he inadvertently insulted Akari. Of course he immediately bails and transforms back to Shiho when Genjirou gets mad, but that's to be expected. 😀
I had mentioned Mikan getting a chapter to touch the romance story for her and Asahi. Nagisa got one as well. While there was no progress with Nagisa's romance story, her chapter did give me the 2nd best laugh due to her spending the night in Asahi's room. I've seen gags about teen guys and girls sharing a bedroom and the guy being done up so that he can't attack the girl. Nagisa stringing barbed wire everywhere and being on armed guard duty was something new and hilarious.
In the end, My Monster Secret Volume 07 continues the great, wacky comedy that I've come to love. At the same time, there seems to be a bigger story at work, going beyond the obvious of Youko's and Asahi's relationship running parallel to Youko's parents. I can't wait for the next volume to come out!